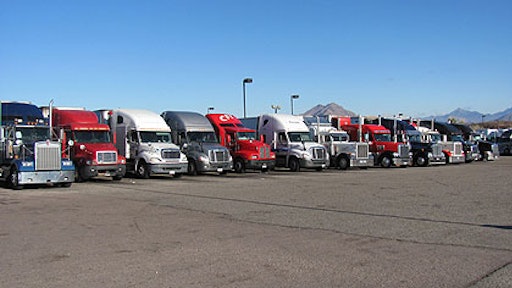 FTR's Trucking Conditions Index (TCI) for April was up month-over-month to a 6.2 reading, however, this number reflects soft market conditions, according to trucknews.com.
FTR says the market is in a slowdown with truck freight growth slowing and a modest amount of excessive equipment. FTR is forecasting a transition to moderate growth toward the end of 2016, but sees some downside risk that freight could slow further. It added that it does not expect any freight-driven capacity restraints on the sector over the next several years.
Jonathan Starks, chief operating officer at FTR, commented: "There is enough uncertainty swirling around the trucking markets right now to force a manager or business owner to keep the antacids handy. Spot market rates are still negative, contracts rates are moving in that direction, and freight growth has stalled out for several segments. Luckily, not all of the news is bad. The driver shortage is no longer the immediate concern it once was, and the economy continues to trudge along. I am watching inventory right now because of its quick impact on freight demand. Inventory levels are at highs that we haven't seen outside of a recession since the turn of the 21st century. Does that mean we are heading into a recession? Perhaps, but not definitively. The other conclusion is that higher inventory is the new norm, and it's just going to take some time for supply chains to optimize their inventories. That could slow freight growth but wouldn't put the brakes on truck demand."
To read more, click here.
Editor's Insight: Shippers are able to leverage a weak freight market. It's hard to say where rates are going to end up in the long term, but the economy isn't showing any signs of improvement in the short term, meaning demand will likely stay more in the shippers' favor.
As the spot market plays a bigger role in commercial transportation, more transportation companies will be active in the brokerage business. This allows transportation providers to diversify their services and it gives shippers more options for finding the least expensive rates. 6-8-16 By Elliot Maras