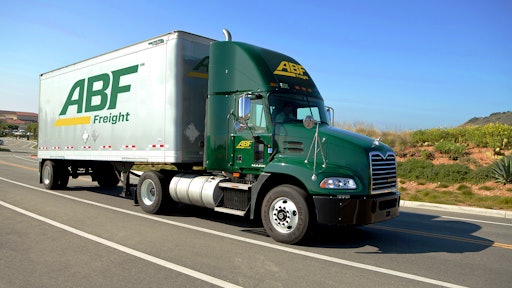 Two large trucking companies have started charging shippers extra to move freight in and out of California, where they say new labor regulations are raising the cost of doing business, according to The Wall Street Journal.
The nearly $6-per-shipment surcharge, levied by ABF Freight System Inc. and Old Dominion Freight Line Inc., comes after California this year began requiring trucking companies to pay drivers for time spent refueling, on rest breaks and other periods.
Trucking companies typically pay per mile driven, and industry groups say calculating additional wages in California add to the already elevated cost of moving freight in California. The state is home to the country's two busiest ports, as well as some of the strictest labor protections and environmental standards.
For shippers, the surcharges are "just part of ongoing concerns over the increasing cost of doing business in California," said Jonathan Gold, supply chain and customs policy lobbyist for the National Retail Federation. He said retailers' costs are also raised by congestion at California's seaports.
The rules come at a time when poor demand from shippers is driving down the rates trucking companies can charge, squeezing their profits. Shares of ArcBest Corp., ABF's parent, are down over 50 percent in the last year, with Old Dominion's stock down about 10 percent over the same period.
To read more, click here.
Editors Insight: California has among the highest transportation costs in the country, and more regulations are on the way that could bring further cost increases. On Friday, the California Air Resources Board (CARB) announced a plan called California's Sustainable Freight Action Plan to reduce emissions on freight vehicles to improve freight efficiency in the state by 25 percent by 2030, according to LandLineMag.com.
In the meantime, diesel fuel prices have been heading upward in recent weeks, with California having the highest diesel fuel prices of any state besides Hawaii, according to the U.S. Energy Information Administration. 5-9-16 By Elliot Maras
Companies in this article