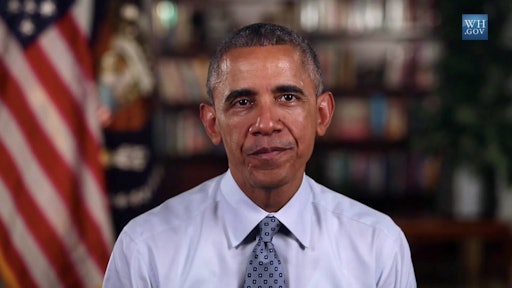 President Barack Obama will launch a long-shot bid next week to impose a $10-a-barrel tax on crude oil that would fund the overhaul of the nation's aging transportation infrastructure, the White House said on Thursday, Reuters reported.
The proposed fee, which would be paid by oil companies and phased in over five years, was quickly met with scorn by lawmakers in the Republican-controlled Congress.
In the last year of his presidency, Obama has said the country must stop subsidizing the "dirty" fossil fuels of the past and focus on clean, renewable fuels that do not exacerbate climate change.
"By placing a fee on oil, the President's plan creates a clear incentive for private sector innovation to reduce our reliance on oil and at the same time invests in clean energy technologies that will power our future," the White House said in a statement.
Set to be officially announced in Obama's fiscal 2017 budget plan on Tuesday, the fee would provide nearly $20 billion a year to help expand transit systems across the country and more than $2 billion a year to support the research and development of self-driving vehicles and other low-carbon technologies.
Republican lawmakers, who have repeatedly clashed with the Obama administration over energy policy, panned the proposal on social media. House of Representatives Majority Whip Steve Scalise asked on Twitter whether the proposal was "Obama's worst idea yet?"
To read more, click here.
Editors Insight: This proposed tax hike is a bit ambitious, but Congress needs to address highway funding given the condition of the nation's roads. Congress should work with the President on a compromise that will provide the necessary infrastructure funding but won't saddle U.S. consumers with significantly higher fuel costs.
Patrick DeHaan, senior petroleum analyst for GasBuddy.com, which tracks gas prices nationwide, told USA Today that a 15-gallon fill-up would cost at least $2.76 more per day. That's too big of a hit for most consumers. The declining fuel prices has been one of the few positive economic developments, leaving consumers with more money to spend on food and other necessities.
Congress and the President need to work on a compromise. The highway infrastructure needs repair, but not at the cost of overburdening consumers. Food and beverage industry organizations should send this message to their elected officials. 2-5-16 By Elliot Maras