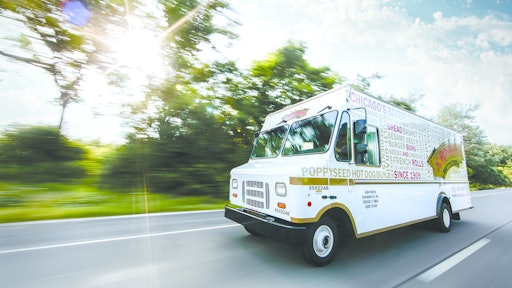 Propane autogas vehicles are providing considerable advantages for urban food and beverage delivery fleets at companies including Nestlé Waters North America and Bimbo Bakeries, among others.
Autogas is best known as a clean fuel that can reduce a fleet's emissions profile, notably greenhouse gases and NOx emissions. But fleet owners and managers are sometimes surprised to learn that propane autogas's benefits extend well beyond the fuel's emissions profile to help fleets build a more efficient and profitable delivery operation.
1. The lowest total cost-of-ownership
Along with reducing emissions, propane autogas vehicles cost less over the lifetime of the vehicle because of reduced fuel costs and maintenance savings. Some fleets have reported seeing 30 to 50 percent savings per gallon on fuel compared to gasoline and diesel. And propane autogas vehicles require less routine maintenance compared with diesel vehicles, reducing the costs associated with service downtime. Other fuels require additional fluids and filters, which can add up costs quickly, too.
2. Safe for everyone
Propane autogas is a cleaner fuel for the environment, but it's also better for drivers. Propane autogas doesn't emit harmful exhaust like older diesel engines do. The World Health Organization and the Environmental Protection Agency have identified diesel exhaust as a carcinogen, creating a potentially unsafe environment for delivery drivers constantly stepping in and out of the vehicle.
3. Low emissions can mean green marketing
Fleets can take advantage of propane autogas's low emissions in marketing, too. Positioning your company as "green" or "clean" can give a boost to corporate image and help with driver recruitment and retention.
4. Infrastructure for growing fleets and flexible routes
Two common options for propane autogas refueling infrastructure allow fleets to refuel based on the needs of their operation. On-site, private stations provide a centralized refueling location that can easily grow with a fleet. Or, fleets can make use of a public or private network, with refueling stations located along their routes and accessed by a card lock system.