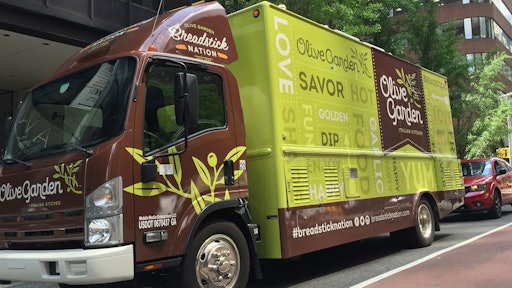 Boston's North End is a popular destination for authentic Italian food, but last weekend local restaurants had some unusual competition when an Olive Garden food truck found a parking spot on the edge of the Boston neighborhood to hand out free samples of its newest menu item: breadstick sandwiches.
Olive Garden is jumping on the food truck craze, with the Italian restaurant chain sending the green truck emblazoned with the words "Breadstick Nation" and "Italian Kitchen," around the country to launch new menu items.
NPR covered the Olive Garden's food truck launch with a podcast of the story, complete with reactions from many who were in the neighborhood to try the free samples. To listen to the podcast, click : http://www.npr.org/2015/06/15/414561537/olive-garden-jumps-on-the-food-truck-craze-visits-boston-s-italian-neighborhood.