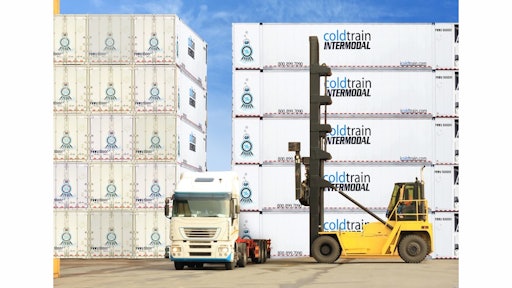 Steven Lawson, the former president/CEO of Cold Train and Mike Lerner, the former managing member of Cold Train, have filed a $41 million lawsuit against Burlington Northern Santa Fe (BNSF) Railway in the US District Court in Spokane, Wash., as a result of damages incurred for having to shut down the Cold Train Express Intermodal Service in August of 2014.
The shutdown of Cold Train was caused by a significant slowdown in BNSF's service schedules on its Northern Corridor line beginning in the fall of 2013 because of increased rail congestion as a result of BNSF hauling larger volumes of oil and coal from the Northern Plains region, Cold Train claims. In fact, from November of 2013 to April of 2014, BNSF's on-time percentage dramatically dropped from an average of over 90 percent to less than 5 percent. To makes matters worse, in April of 2014, BNSF abruptly sent out an announcement to customers indicating that it would be immediately reducing intermodal train service from Washington State to only one train a day from Washington State (instead of two), and that transit time would be twice as slow (3 days slower) from Seattle/Quincy to Chicago.
In 2009, Lawson and Lerner had discussions with BNSF about starting a refrigerated intermodal shipping service in which the primary focus of which was to ship fresh produce grown in central Washington State to retailers in the Midwest. The success of this business hinged on consistent expedited rail service between the Cold Train's intermodal terminal in Quincy, Wash. (leased from the Port of Quincy) and the BNSF's intermodal ramp in Chicago, Ill. BNSF notified Cold Train of a special service for expedited container movement with a 72-hour eastbound transit time between these cities. It was known as the "Z Train" service. This expedited service schedule was used to establish the Cold Train express intermodal service.
From the beginning, BNSF knew that Cold Train's success depended upon this expedited service. The special, 72-hour service is essential for apple and other produce shippers because the fresh produce must ultimately be delivered to retail warehouses within a short period of time. Anything longer than the 72-hour shipping precludes most fresh produce growers and shippers from using this service.
Based on this 72-hour service schedule promised by BNSF, Cold Train developed a business plan using refrigerated intermodal shipping containers that allowed fresh produce to be directly loaded into a refrigerated container, delivered by truck to the intermodal terminal at the Port of Quincy, and loaded onto an eastbound train the same day. BNSF also knew that a guaranteed shipping time of 72-hours was absolutely necessary for shipping the fresh produce.
The refrigerated intermodal rail service to/from Quincy, Washington proved to be very popular with both growers and retailers, Cold Train noted. In 2011, the Cold Train shipped approximately 300 containers a month, rising to 500 per month in 2012, and to nearly 700 per month in 2013 with a realistic goal of 1,000 per month by the end of 2013. During this period, BNSF required the Cold Train to acquire a minimum of 111 containers. BNSF also required the Cold Train to ship a minimum of 95 percent of the Cold Train's entire container movements with BNSF, effectively prohibiting the Cold Train from using other carriers.
By May 2012, Cold Train had 175 containers in service with another 100 on order for delivery in January 2013. Cold Train continued to purchase and lease containers, and by September 2013, Cold Train had over 400 refrigerated shipping containers in service and delivered refrigerated cargo from Quincy, Wash., and Portland, Ore., to terminals in the following 19 states: Illinois, Indiana, Michigan, Wisconsin, Ohio, Pennsylvania, New York, New Jersey, Connecticut, Massachusetts, Delaware, Maryland, Virginia, North Carolina, South Carolina, Louisiana, Mississippi, Georgia and Florida.
BNSF knew that Cold Train was acquiring the refrigerated intermodal containers to grow its business and encouraged it to do so. BNSF even helped to advertise the Cold Train's business to potential shippers. Michael Lerner, the owner of Cold Train, incurred significant personal liability to acquire these assets, and he turned down other business opportunities to focus on building the Cold Train business.
From Cold Train's inception until August 2013, BNSF's on-time delivery service was such that Cold Train could retain/attract produce shippers and thereby keep the business viable. In August 2013, for example, the on time percentage (OTP) was 92 percent. The Cold Train continued to draw new customers at a steady rate, adding approximately 200 loads per month for the last part of 2013 alone.
During August 2013, Lawson and Lerner began looking for a capital partner to provide the needed funds to continue the expansion of the Cold Train's business. They hired Resource Capital Advisors as a capital consultant, who prepared a portfolio of the business and sent it to possible investors.
In September 2013, BNSF's OTP abruptly dropped to 81 percent. In response, BNSF representatives assured Cold Train that the OTP issues would be addressed and that service would be restored to previous levels. Based on these assurances, Cold Train continued to invest additional money into its business and to add new customers.
In October 2013, the OTP dropped even more dramatically to 54 percent, but again BNSF continued to provide assurances that the issues would be resolved. The OTP continued to get worse, falling to 44 percent in November, 35 percent in December, 28 percent in January 2014, and 4 percent in February. Throughout this time, BNSF continued to assure Cold Train that it was working hard to resolve the OTP issues and represented that timely, consistent service would be restored. Lawson and Lerner accepted and relied upon BNSF's representations.
On Jan. 13 and 14, 2014, Lawson met with BNSF's representatives in Fort Worth, Texas, to inform them of an offer they had received to sell the Cold Train business to Federated Railways, Inc. BNSF responded enthusiastically to the news that the sale would allow for further expansion of its business and traffic on the BNSF line from Quincy, Wash. to Chicago, Ill. BNSF encouraged Cold Train to proceed with the sale.
Based on this encouragement, Lawson and Lerner signed a letter of intent dated Jan. 20, 2014, formalizing the deal with Federated. The sale was worth approximately $32 million, and also provided Lawson ownership in the new entity, a multi-million dollar cash payment and a long-term employment contract for him to remain as president and CEO of new entity.
In March 2014, Cold Train and Federated met with BNSF representatives in Fort Worth to discuss the Cold Train's business and its future with BNSF. At the meeting, BNSF continued to encourage Cold Train and Federated to proceed with the sale. Immediately thereafter, as a direct result of the encouragement, Federated provided Cold Train a $1.25 million capital infusion based solely on that meeting and then publicly announced that it was acquiring Cold Train.
In April 2014, BNSF's OTP dropped to a dismal 3 percent. Cold Train repeatedly complained to the BNSF that the continued degradation of service was detrimental to the Cold Train's business and that if timely service was not restored, the viability of Cold Train was in serious jeopardy. The extreme delays in service and low OTP ultimately caused Cold Train to lose most of its business as its customers refused to tolerate the delays.
Despite the service failure, BNSF asked Cold Train and the Port of Quincy to enlarge the Port of Quincy Intermodal Terminal to accommodate larger trains. BNSF wrote a letter dated April 24, 2014, to the U.S. Secretary of Transportation in support of the Port of Quincy's application for a TIGER VI grant, which would allow the Port to expand its intermodal facilities in Quincy. The Cold Train was the only intermodal operator at the Port of Quincy, so the expansion was sought in order to support Cold Train's use of the terminal.
Meanwhile, on the same day (April 24, 2014), BNSF informed Cold Train that it was cancelling the 72-hour service and substituting a new 125-hour service, effective the following business day. However, shortly thereafter, Cold Train learned that BNSF was planning to make this change for at least several months prior to this date and purposefully concealed this scheduling change from Cold Train until the last minute.
As a result of the scheduling change by BNSF in April of 2014, BNSF's rail transit time nearly doubled. This caused Cold Train's costs of equipment, fuel and other costs to double, and caused many customers, especially fresh produce shippers, to look for other transportation service options. In fact, because of BNSF's scheduling issues (beginning in November 2013), Cold Train lost most of its fresh produce business, including apples, onions, pears, potatoes, carrots and cherries, which was more than 70 percent of the company's business.
From April of 2010 when the Cold Train Express Intermodal Service was launched up until the fall of 2013 when BNSF's on-time percentage began dropping and its rail schedules slowed sharply, Cold Train had been enjoying tremendous growth with perishable shippers in the Pacific Northwest. Until the fall of 2013, the Cold Train business model was based on three-day rail service to and from Chicago. As a result of BNSF's decision to terminate Cold Train's three-day service and replace it with six day service, it took twice as much equipment, refrigeration fuel, etc. to move the same freight. BNSF's business decision to direct its resources away from Cold Train resulted in millions of dollars in operating losses and millions of dollars in capital investment losses.
It also became evident that BNSF has chosen to ignore all produce growers and shippers in Washington and to forgo devoting trains and track to them, but instead to commit all of its resources, including trains and track, to more profitable oil and coal shipments, Cold Train claimed. BNSF has not only abandoned the produce growers and shippers in Washington, it has decided to drastically enlarge its facilities and add terminals for the sole purpose of transporting oil and coal.
Cold Train had repeatedly told BNSF that the 72-hour service and a high OTP were vital to Cold Train's economic viability, and had also repeatedly explained to BNSF how critical the 72-hour service was to produce growers and shippers. Lerner and Lawson again met with BNSF representatives on April 28, 2014 to reiterate just how disastrous the service change was to their business, but BNSF declined to restore the service.
As a direct result of the service change, Federated withdrew its offer to purchase the Cold Train. In essence, Lawson and Lerner would walk away with nothing from a business that had been worth over $40 million prior to April 24, 2014.
After the April 28, 2014, meeting, BNSF did not restore its 72-hour service, nor was it willing to provide any substantial concession or compensation to the Cold Train to make up for the ruinous effects of its abrupt change of service. By terminating the special, 72-hour service, BNSF effectively destroyed the ability of Washington State produce growers and shippers to use rail service to transport their produce to the rest of the country in refrigerated containers, not only a devastating blow to those growers and shippers, but also an enormous loss to retailers and consumers nationwide.
As a direct result of BNSF's actions, Lerner and Lawson lost the value of their Cold Train business and now face significant liabilities, which were incurred based on BNSF's 72-hour service and repeated assurances that the service would continue.
Lerner and Lawson had a valid business expectancy in the sale of the Cold Train to Federated, as evidenced by the letter of intent with Federated and the March 4, 2014 meeting with BNSF.
BNSF knew about that the sales value of Cold Train was based upon Cold Train's direct communications with BNSF representatives that the sale was being negotiated and was finalized in January 2014, and again at the March 4, 2014, meeting where Federated met with BNSF and left very encouraged about the future of the Cold Train's relationship with BNSF.
BNSF intentionally interfered by preferring business from other customers over the Cold Train's business, leading to an abysmal OTP for the Cold Train's shipments, and most importantly by cancelling the 72-hour service from the Port of Quincy to Chicago, which effectively destroyed the bulk of the Cold Train's business. BNSF's motive was to devote its trains and its tracks to a more profitable type of product being shipped (i.e…oil and coal).
Throughout the latter part of 2013 and well into 2014, BNSF represented to Cold Train that it was taking steps to improve its OTP. BNSF reiterated these statements at the March 4, 2014 meeting and at other times. BNSF intended for Cold Train to rely upon these statements in the guidance of their business decisions and BNSF knew that these statements were false, as evidenced by continued decline in the OTP and then culminating in the cancellation of the 72-hour service from Quincy to Chicago.
The lawsuit filed by co-plaintiffs Lerner of Kansas and Lawson of Washington State states that BNSF caused significant damages in an amount which is estimated to be over $40 million.