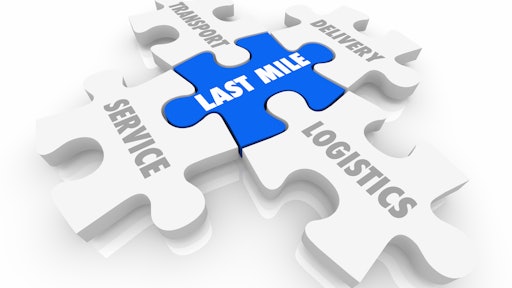 iQoncept - stock.adobe.com
Demand for last-mile grocery delivery skyrocketed during the pandemic as online grocery sales soared and many sheltered in place. And both delivery and online sales continue to grow despite inflation.
Food-at-home prices increased more than 13% over the past 12 months, marking the largest 12-month increase in 43 years. Though consumer price sensitivity is at an all-time high, Americans have become dependent on online ordering and delivery services for staple consumer goods because of the convenience and added health safety.
In fact, online grocery sales are expected to top $85 billion in 2022, as consumers spend an average of $6.7 billion each month for groceries, more than double the pre-pandemic spend. And, 53% of Americans say they plan to get groceries delivered at least some of the time in 2022, according to a Harris Poll survey commissioned by Onfleet in December 2021.
So, as we hopefully near a post-pandemic era, what will the future hold for the last mile? Below are trends and forecasts for the last-mile grocery delivery market as we move into 2023.
1. Demand for faster, more streamlined last-mile grocery delivery will continue to grow as consumer expectations rise. The way consumers are shopping has shifted. Delivery, driven by consumer demand and the COVID-19 pandemic, is increasingly becoming the critical channel for businesses, especially in the grocery, prepared meals and restaurant, alcohol, cannabis and retail categories. Modern consumers are accustomed to a streamlined customer experience from online ordering to same-day or even on-demand delivery. To that end, 71% of Americans expect timely delivery of online purchases from retailers despite the supply chain issues and delays that are occurring, according to the December 2021 Harris Poll survey.
Retailers are recognizing this demand and are looking for ways to expand their delivery options rapidly. But just adding delivery will not be enough. Businesses that position themselves at the forefront of the online grocery shopping and delivery market will offer customers unprecedented levels of visibility into real-time delivery status, including confirmation that the delivery is scheduled, when it has left for delivery and exactly when it arrives. These businesses will have a higher chance of gaining favor with consumers as the market continues to mature.
2. Ease of scalability will be key to grocer success with last-mile delivery.
Rapid growth was the hallmark of last-mile delivery at the onset of the pandemic. Today, the ability to quickly scale operations will distinguish those who can deliver on consumer expectations from those who cannot.
Most grocers are ill-prepared to properly scale their delivery operations to handle rapid growth and changing consumer expectations for on-demand delivery. And, the last mile costs and complexities associated with delivery, especially for newcomers, are challenging to manage. To make scaling their last-mile delivery operations significantly easier, grocers will need to decide whether to build delivery technology in-house, outsource delivery to a third party or integrate delivery management software into their existing systems.
Grocers that optimize delivery with scalable, on-demand delivery technology will now gain competitive advantage as consumer expectations continue to accelerate over the coming years.
3. Grocers will leverage delivery management technology to make delivery a competitive advantage.
Building technology takes time and expertise. Completely outsourcing delivery means less control over the customer experience. Integrating on-demand delivery management software makes the most sense for grocers looking to quickly scale their business while making delivery a competitive advantage.
Delivery management software offers end-to-end route planning, dispatch, communication and analytics to provide grocers with a top-down view of their delivery operations while helping to efficiently streamline the connection of businesses, dispatchers, drivers and deliveries to happy customers.
The software typically integrates seamlessly with existing infrastructure to help facilitate a better experience for customers, companies, drivers and all stakeholders in the ordering and delivery process. Specifically, delivery management software can help grocers:
● Ensure fast, on-time delivery with route planning and optimization. A state-of-the-art routing system can analyze a multitude of factors, including customer addresses, promised delivery times, traffic, driver schedules, vehicle capacity and more, allowing businesses to experiment with delivery models and service levels that fit their unique requirements. The results? Improved warehouse operational efficiency, route capacity and efficiency and on-time delivery rates.
● Improve driver and customer relationships with real-time communication tools. An essential part of a modern delivery management platform is an internal communication tool that connects dispatchers to drivers and drivers to customers, so important information like detailed tracking and predictive ETAs can be funneled to customers well in advance of their scheduled delivery. These tools should also include an instant feedback channel so any real-time issues or complaints can be resolved, improving customer relationships.
● Make data-backed decisions with in-depth reporting and analytics. Data-backed decisions are at the heart of any successful business that wants to drive efficiency and build competitive advantage. We live in a worldwide ecosystem of information created by interconnected data points and advanced real-time analytics. Using anecdotal evidence and verbal accounts is no longer enough.
Businesses can measure delay rates, service times, idle vs. active driver time, mileage, batching efficiency, and more with the right data collected. Beyond that, they can analyze their operations and pivot to provide customers with an optimal delivery experience.
The most advanced delivery platforms use machine learning for driver optimization and prediction, providing operations teams and consumers with to-the-minute information, decision automation and proactive notifications. Predictive ETAs can even be updated as real-life events change conditions on the ground, enabling a progressive and dynamic delivery estimate. Robust filtering also allows for comparison between drivers, teams, regions and customer segments.
4. Modernization of the last mile will become a reality as more grocers begin their digital transformation.
More grocers are seeing the need to streamline their operations and use their customer data to grow their business. Unfortunately, last-mile operations are still largely stuck on paper, spreadsheets or legacy platforms that don't integrate with the rest of the technology stack consistently, accurately or securely. This problem is exacerbated by the fact that the last mile is the most expensive segment of the supply chain and where the customer retention stakes are the highest.
Not only can last-mile delivery management software streamline operations, but it can also integrate with other systems. Grocers can capture all last mile activities digitally and provide real-time, accurate data to the rest of their enterprise. In modern, hyper-competitive e-commerce, this modernization is essential.
5. As last-mile delivery becomes essential to consumers, the cost of inaction in the grocery delivery market will be steep.
With fierce competition in the last-mile delivery software space, venture money pouring in and delivery giants poised to take over large segments of the market share, small- and medium-sized grocers must secure a foothold in grocery delivery now, as it will only get tougher as time goes on. The cost of inaction is more than the sales grocers miss out on — it's the market share and industry standing that will pass them by as customer habits change in the evolving grocery landscape.