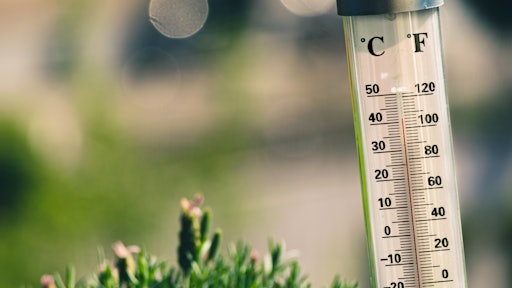 Lizard Monitoring, a Software as a Service (SaaS) provider of food safety solutions using battery-powered, wireless environmental data collection sensors, has announced a new partnership with IT infrastructure as a service (ITIaaS) provider, TenFour.
Currently deployed across several major retail grocers, food and beverage chains, and cold storage transport companies, Lizard Monitoring's sensors track food and pharmaceutical environment data and regulation compliance to ensure inventory preservation, food safety, and end-customer satisfaction.
In addition to real time notification of temperature and other environment threshold events, Lizard Monitoring provides end-to-end support for deployed devices and an online portal through which customers can monitor their facilities, set thresholds, and analyze collected data. By automating the refrigeration temperature monitoring process, Lizard Monitoring is able to provide a host of benefits to any business that relies on perishable food storage, eliminating the need for in-person data collection and inventory shrinkage due to temperature control failure. This turn-key solution includes rollout planning, on-site support, and ongoing training and support to make it easy for more customers to embrace automation.
"As consumers become more health-conscious, demand for high-quality fresh perishables in grocery retail has increased. Real-time, automated environmental compliance has immediate ROI in terms of preventing product loss, ensuring food safety, and eliminating manual data collection costs across all refrigeration in stores," explained Terry Cates, Co-founder of Lizard Monitoring. "We're excited to work with TenFour to offer environmental compliance solutions as a fully managed service. This partnership makes it just as easy for customers to start with a localized trial as it is to execute a roll-out at scale across several states. There are lots of retailers still doing temperature checks by hand, or trying to use a set of disconnected systems that aren't intelligent or intuitive. We believe they can get much better results for less money."
As a provider of all-inclusive, on-demand IT infrastructure to several major retail grocer, logistics, and food manufacturing customers TenFour sees this partnership as a natural extension of its service. Alongside an array of additional capabilities, such as Wide Area Network (WAN), Local Area Network (LAN), and Unified Communications & Collaboration (UCC), TenFour's Internet of Things (IoT) capabilities will provide invaluable new opportunities to its customers to automate data collection and more efficiently protect their products and brand.
"Given the value of TenFour's service to the retail and food industries, this combination of capabilities is a no-brainer," remarked Dan Nacinovich, Chief Revenue Officer at TenFour. "Providing the best consumer experience means providing the freshest food, and Lizard Monitoring's elegant solution assures that, and addresses a compliance data gap that's gone unfilled too long. What's not to love?"
Going forward, Lizard Monitoring's sensors and services will be available to all of TenFour's new and current customers as an addition to their IT infrastructure service.