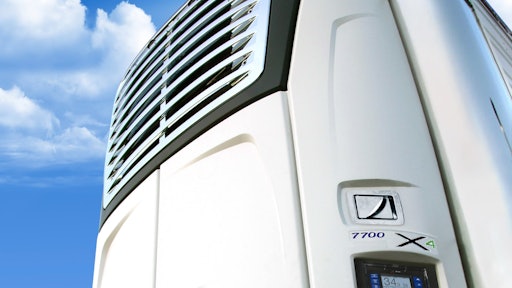 Carrier Transicold
Carrier Transicold, part of Carrier Global Corporation, released the new X4 7700 trailer refrigeration unit, which boasts high refrigeration capacities, demonstrated fuel savings of 20-25% and reduced emissions for greater sustainability and regulatory compliance.
"In full production at our world-class manufacturing facility in Athens, Ga., the new premium performance X4 7700 single-temperature unit builds on the X4 platform's decade-long reputation for high capacity and rugged, dependable service," says Bill Maddox, senior manager of product management, Truck Trailer Americas, Carrier Transicold. "Continuing the tradition of reliable design and simply smarter engineering, the X4 7700 unit offers a 96% reduction in particulate emissions and double-digit gains in fuel efficiency compared to standard X4 models."
From Carrier Transicold:
Under current regulations, the X4 7700 provides lifetime compliance with the California Air Resources Board's (CARB) stricter rules for trailer refrigeration systems.
The advanced engine features common-rail fuel injection for optimized fuel delivery that reduces fuel consumption by 5-10%.
The unit uses R-452A refrigerant with a global warming potential 45% lower than that of the traditional transport refrigeration unit refrigerant, R-404A.
All X4 7700 units are equipped with

Carrier Transicold's

Lynx Fleet telematics solution for remote monitoring of temperatures, location, movement and system operating performance.
"The X4 7700 provides more BTUs of cooling per engine RPM than competitive units, meaning competitive units must run harder than an X4 unit to achieve similar results," Maddox says.