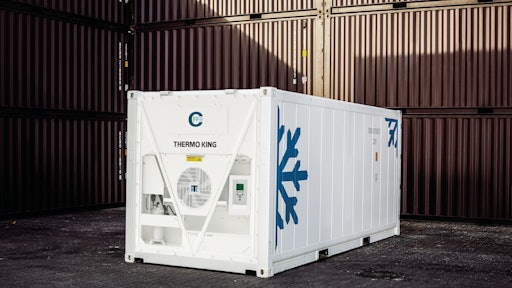 Thermo King
Thermo King introduced new Container Fresh & Frozen (CFF) refrigeration solutions for containers, featuring improved temperature and humidity control and R-134A low global warming potential (GWP) refrigerant.
"With CFF, Thermo King brings in decades of container refrigeration knowledge acquired from the intermodal use of reefer units on rough roads and even rougher seas," says Peter Hansen, product leader at Thermo King Marine, Rail and Bus. "Since the 1950s, Thermo King has been raising the bar for reefer performances, designing solutions that last longer and better protect our customers' high-value cargo. The CFF makes use of our proven technology and combines it with the latest in smart, connected and customizable cold chain innovations to set new standards in operating efficiency."
From Thermo King:
The new

Thermo King

CFF unit features advanced temperature management control system that delivers precise temperature control of +/- 0.25°C in chilled mode and +/- 1°C in frozen mode.
Other features include automated smart pre-trip inspection performance audits, advanced fresh air management to protect fresh produce, synchronized defrost cycles, energy data logging and compatible water-cooled condensers.