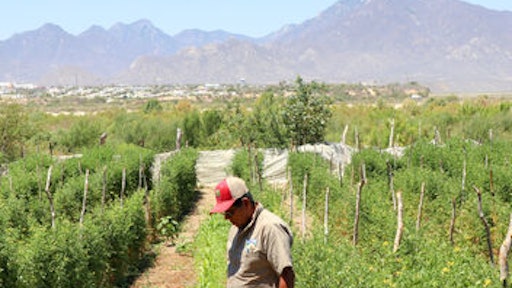 Jacobs Farm Del Taco
United Fresh Board Sees Turnover for 2020-2021
United Fresh is focusing on strategy for its 2020-2021 timeline with a new slate of officers and directors on its board.
Chairman of the board is now Michael Muzyk, president of Baldor Specialty Foods Inc., who started out in the industry with hands on experience as a chef. Senior vice president of N.A. sales and product management of Del Monte Fresh Produce Danny Dumas is now chair elect, while Michael Castagnetto, Robinson Fresh president, becomes secretary-treasurer.
Current chairman Greg Corrigan who is also the CEO of United Vegetables Growers Cooperative is moving to Immediate Past Chair. He will stay on the board and executive committee.
Additionally, Melissa Melshenker Ackerman, José Antonio Gómez Bazán, Lisa McNeece, James Rogers, Natalie Shuman and Mary Thompson have all been nominated to serve a two-year term on the United Fresh board effective this month. These members will take over as members Cindy Jewell, Jeff Cady, John Jackson, Doug Kling, Phil Muir, Kristen Reid and Brent Scattini conclude their terms.
Litehouse Gains New Sales Vice President, Senior Marketing Director
Former J.M. Smucker Company and Kraft Foods executive Brad Horn is joining Litehouse Inc. as vice president of retail sales, while Chris Blanford is promoted to senior director of marketing from within.
Horn is responsible for overseeing the produce and deli sales team. Blandford is focused on building marketing strategies to drive brand awareness. He moves up from his position as director consumer marketing and communications that he has held since 2017.
Prior to Litehouse, he's held various executive roles in marketing and advertising.
Jacobs Farm Del Cabo Welcomes Back Former Sales Exec
Day-to-day sales and marketing of Jacobs Farm and Del Cabo brands has gained a new leader. Brad Stark comes from Awe Sum Organics in sales and is moving back to Jacobs Farm Del Cabo as sales manager.
Previously, Stark worked in sales at Jacobs before taking a brief hiatus while working for Awe Sum.
Bacteriology Scientist Supports Business Development for FSNS
Food Safety Net Services (FSNS) is gaining new representation in technical business development in the poultry and egg sectors.
Krista Krish joins the network as business development manager in the east, coming from Ceva Animal Health. She was a bacteriology research and development scientist at Ceva, which specializes in poultry vaccines.
SpartanNash SVP Promoted to Executive Vice President
Former senior vice president and general manager of corporate retail at SpartanNash Thomas Swanson has been promoted to executive vice president and general manager of the division. He gains the executive title after two years as SVP and the company feels he has been instrumental in its growing comparable sales.
Swanson is also responsible for overseeing 20 Martin's Super Markets integrating into SpartanNash stores. In addition to six years total at SpartanNash, he has more than 30 years in the grocery retail field.