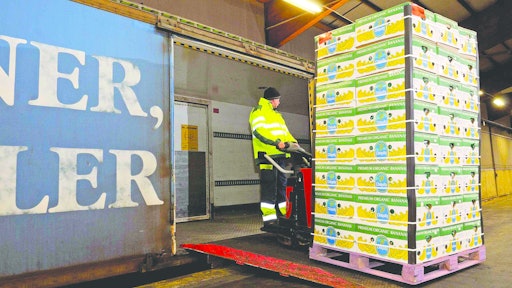 The refrigerated transportation market in the U.S. will grow at a compound annual growth rate of 12.44 percent from 2014 to 2019, according to a report from Research and Markets.
The need for product-specific refrigerated vehicles is one of the major trends emerging in this market. End-users need product-specific refrigerated vehicles that can prevent food contamination by avoiding cross-product transportation.
According to the report, the growth in the organized retail sector and growing demand for frozen food are among the main drivers of the market in the U.S. Food consumption patterns have changed worldwide and people prefer convenience foods, which require efficient logistics services. Temperature-sensitive food products are part of this changing trend, as these require efficient refrigerated transport services.
Further, the report states that government regulations and policies constitute one of the main challenges in this market. The U.S. government has passed several regulations concerning environmental safety because of the increasing emissions of GHGs. Refrigerated vehicle users and service providers are struggling to reduce GHG emissions to comply with the US government's regulations.
The study was conducted using an objective combination of primary and secondary information including inputs from key participants in the industry. The report contains a comprehensive market and vendor landscape in addition to a SWOT analysis of the key vendors.
Key companies noted are:
- C.R. England
- Greatwide Logistics Services
- Prime
- Stevens Transport
- Baldwin Distribution Services
- Brent Redmond Logistics
- Colonial Freight Systems
- Comcar Industries
- Continental Express
- Earl Henderson Trucking
- Escro Transport
- Frock Bros Trucking
- Frozen Food Express Industries
- FST Logistics
- Grand Island Express
- HF Campbell & Son
- J & R Schugel Trucking
- J.B Hunt Transport Services
- John Christner Trucking
- K & B Transportation
- Kelle's Transport Service
- KLLM Transport Service
- Knight Refrigerated
- M Bruenger
- Marten Transport
- May Trucking
- National Carriers
- Navajo Shippers
- Pride Transport
- Rocky Top Trucking
- Schneider National
- Shaffer Trucking Lincoln
- Sorenson Transport
- Southern Refrigerated Transport
- Swift Transportation
- TransAm Trucking
- WEL Companies
- Werner Enterprises

Key questions answered in this report are:
- What will the market size be in 2019 and what will the growth rate be?
- What are the key market trends?
- What is driving this market?
- What are the challenges to market growth?
- Who are the key vendors in this market space?
- What are the market opportunities and threats faced by the key vendors?
- What are the strengths and weaknesses of the key vendors?
For more information visit:
http://www.researchandmarkets.com/publication/mreegx7/refrigerated_transportation