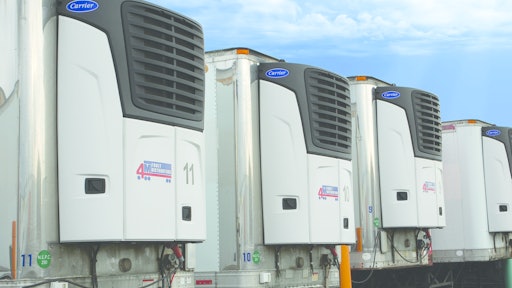 The growing need to transport temperature sensitive products like food and beverage, pharmaceuticals, chemicals, plants, flowers, among others, is helping fuel demand for refrigerated vehicles, according to a new market report by Global Industry Analysts Inc. on commercial vehicles. The global market for commercial vehicles is projected to reach 29.1 million units by 2020, driven by economic growth and growing commercial, business, and industrial activity, and the ensuing rise in demand for transportation and logistics services.
The rise in home delivery of frozen and chilled food and beverages, for instance, is helping spur market opportunities for refrigerated transportation. Increased online delivery of food services offered by restaurants and supermarkets is a key reason cited for the increase in home delivery of food and beverages.
As stated by the market report, the U.S. represents the largest and the fastest growing market worldwide with a compound annual growth rate of 5.9 percent over the analysis period. Asia-Pacific ranks as a production hub for commercial vehicles led by shifting of the automobile production base to low cost Asian countries. Rapid industrialization, development of road infrastructure, and steady rise in logistics, distribution and public transportation will drive growth in the region. The region is also expected to witness strong demand for buses encouraged by rapid urbanization and increasing need for safe and efficient public transportation in populous countries such as China and India.
Key players covered in the report include AB Volvo Group, UD Trucks Corporation, BAIC Group, Chrysler Group LLC, China National Heavy Duty Truck Group, Daimler AG, Dongfeng Motor Corporation, FAW Group Corporation, Fiat Chrysler Automobiles N.V., Iveco S.p.A, Ford Motor Company, General Motors Corp., Hyundai Motor Company, Isuzu Motors Ltd., MAN Truck & Bus AG, Mitsubishi Fuso Truck and Bus Corporation, Navistar International Corporation, Nissan Motor Co. Ltd., PACCAR Inc., Scania AB, Tata Motors Ltd., Toyota Motor Corp., Hino Motors Ltd., and Volkswagen AG.
The research report titled "Commercial Vehicles: A Global Strategic Business Report" provides a comprehensive review of the commercial vehicles market, industry overview, trends, growth drivers and issues, and recent industry activity. The report provides market estimates and projections for commercial vehicles in volume sales and production in Units for major geographic markets including the US, Canada, Japan, Europe (France, Germany, Italy, UK, Spain, Russia and Rest of Europe), Asia-Pacific (Australia, China, India, Indonesia, Malaysia, South Korea, Taiwan, Thailand and Rest of Asia-Pacific), Latin America (Argentina, Brazil, Mexico and Rest of Latin America) and Rest of World.
For information visit http://www.strategyr.com/MarketResearch/Commercial_Vehicles_Market_Trends.asp