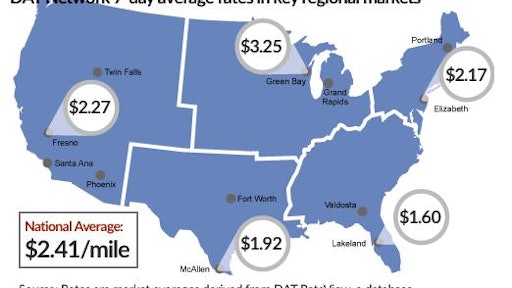 Activity on the DAT network of load boards picked up after Thanksgiving, according to DAT Solutions, as available capacity jumped 11 percent and the number of posted loads increased 20 percent during the week ending Dec. 6. The gains are typical of the first full week after a holiday.

The bigger storyline is the continued general strength of spot market rates.

Compared to the previous week, the national average van rate gained 5 cents to $2.10 per mile despite a 1-cent decline in the fuel surcharge. The average rate for flatbed loads increased 2 cents to $2.33 per mile while the refrigerated rate jumped 4 cents to $2.41.

A 17 percent increase in demand for reefer capacity on the spot market, coupled with a 7.7 percent capacity increase, moved the national average refrigerated load-to-truck ratio up 8.9 percent from 11.6 to 12.6 loads per truck. That means there were 12.6 refrigerated loads posted for every available reefer truck on DAT load boards last week.

The average reefer rate from McAllen increased 6 cents to $1.92 per mile. Other key regional markets reflected a downward rate trend, including Chicago (down 15 cents to an average of $3.21 per mile), Philadelphia (off 5 cents to $2.76 per mile) and Los Angeles (20 cents lower to $2.90 per mile).
Regionally, the average van rate from Los Angeles fell 12 cents to $2.46 per mile. The highest-paying van lane in the West was Los Angeles to Denver at $3.37 per mile, up 22 cents compared to the previous week. Van freight availability was up 9.6 percent for the week while available van capacity increased 7.6 percent. The national average load-to-truck ratio for vans increased 1.8 percent, from 4.4 to 4.5 loads per truck.
Flatbed load availability increased 40 percent after a 28 percent decline during the Thanksgiving week. The number of available trucks increased 28 percent, which pushed the load-to-truck ratio up 8.9 percent to 18.2 loads per truck as a national average.

Load-to-truck ratios represent the number of loads posted for every truck available on DAT load boards. The load-to-truck ratio is a sensitive, real-time indicator of the balance between spot market demand and capacity. Changes in the ratio often signal impending changes in rates.

The national average fuel price fell 6 cents to $3.54 per gallon. Declining fuel prices tend to have a dampening effect on market rates. When fuel prices slip, the surcharge drops and the total rate may decline accordingly.

Rates are derived from DAT® RateView, which provides real-time reports on prevailing spot market and contract rates, as well as historical rate and capacity trends. RateView's database is comprised of more than $24 billion in freight bills in more than 65,000 lanes.

For complete national and regional reports on spot rates and demand, visit dat.com/Trendlines. DAT Trendlines is a weekly report on spot market freight availability, truck capacity, and rates.