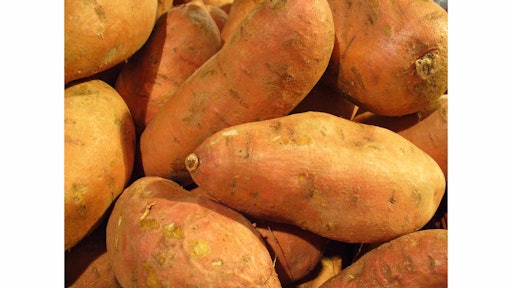 Export sales of U.S. sweet potatoes rose 80 percent in the past five years, according to The Packer. The value of sweet potato exports has risen to $95 million, according to a news release from the Benson, N.C.-based American Sweet Potato Marketing Institute. Exports to Europe alone are up 17 percent so far this year, according to the institute. "There's no doubt that global demand for U.S. sweet potatoes is on the rise," the institute's president, Johnny Barnes, said in the release. "And thanks to our efforts at introducing American sweet potatoes to health-conscious consumers around the world, we believe we're on the cusp of seeing unprecedented exports over the coming years."
The institute, founded in 2013 to promote U.S.-grown sweet potatoes in domestic and export markets, works with U.S. Department of Agriculture Foreign Agricultural Service-administered programs—including Emerging Markets Program and Market Access Program—to promote sweet potato exports.
To read the entire article, click HERE.
Editors Insight: Rising produce exports are only one sign of the expanded capabilities of today's cold food chain. More growers today are able to tap into export opportunities thanks to the availability of cooling warehouses. 3PLs are playing an important role by allowing more growers cooling facilities.
The United Fresh Produce Association recently reported that fresh food volume is rising in multiple retail channels while frozen food sales are flat to declining. The association's most recent FreshFacts on Retail report noted that produce department sales in 2013 posted a 4.8 percent sales gain over the prior year.
With the implementation of the Food Safety Modernization Act, 3PLs will play an even bigger role in supporting the cold chain for smaller growers. By Elliot Maras, 12-4-14.