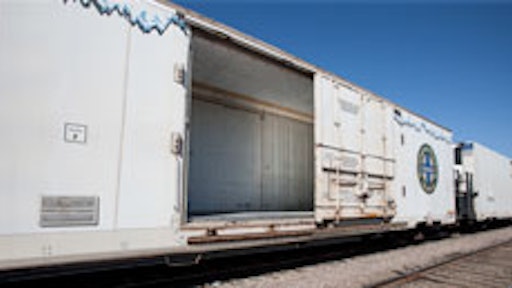 Ridge Development has launched TransCold Express, a hub-to-hub refrigerated boxcar service operated by McKay TransCold that runs bi-directionally between Wilmington, Ill., and Selma, Calif. As the first refrigerated boxcar unit train connecting the Midwest and West Coast in over half a century, TransCold Express presents produce growers and meat and dairy producers the opportunity to distribute products more cost-effectively and provides a valuable link to all U.S. destinations.
TransCold Express will operate on BNSF Railway, with cargo being transferred from truck to boxcar through a new refrigerated building operated by National Logistics and Cold Storage (NLCS).
"McKay TransCold is dedicated to finding the most efficient and cost-effective transportation methods for its clients," said Randy McKay, CEO of McKay TransCold. "Because TransCold Express connects to transportation hubs on both ends, this service is not point A to point B; it's from point A to anywhere."
TransCold Express will haul products such as vegetables, fruit, cheese and butter from California to the Midwest and carry meat, eggs, cheese, butter, finished goods and dairy creamers westbound. The service takes four days to reach the Midwest from California − the same speed as by truck, but at a significantly lower cost. Depending on the circumstances, a shipper could save between 5 and 15 percent by using the boxcar service versus trucking. TransCold Express is also a more environmentally friendly method of transport, as one boxcar holds the same volume as four trucks, making it four times more fuel efficient.
"BNSF Railway is excited to provide rail service for McKay TransCold's new dedicated refrigerated boxcar unit train between the Chicago area and the Central Valley of California as a supply chain solution to shippers who will benefit by moving fresh and frozen products by rail," said Dave Garin, BNSF group vice president, industrial products. "The advantages to this new opportunity are important and we look forward to offering an attractive alternative for the market."
The NLCS building was uniquely designed for cargo to be transferred between trucks and boxcars. Developed by Ridge Development, the 49,000-square-foot refrigerated facility is approximately 700 feet long, allowing for eight boxcars to be unloaded at once, and only 70 feet wide, providing a minimal transfer distance between the two modes of transportation.
RidgePort Logistics Center, a 1,500-acre industrial park 40 miles southwest of Chicago, is being developed by Ridge Development, the industrial arm of Transwestern Development Co.
NLCS and McKay TransCold selected the RidgePort Logistics Center for TransCold Express because customers will have expanded transportation and occupancy opportunities in the future as more of the acreage is developed.
"With fresh product coming in on TransCold Express, RidgePort is an ideal location for food processors, baking companies and other food industry firms," said Jim Martell, president of Ridge Development. "The park has a total of 1,500 acres, so there is plenty of room for additional development."
RidgePort is strategically located three miles south of the Interstate 55 Arsenal Road exit that leads to the BNSF Logistics Park-Chicago in Elwood. RidgePort is flanked by more than two miles of BNSF mainline frontage to the west and Interstate 55 to the east. The park would serve as the western terminus of the proposed Illiana Expressway, a toll road that would connect I-55 and I-65 in northern Illinois and Indiana. Located in the Will County Inland Port region, the largest inland container port in North America, RidgePort provides economic incentive packages to qualified companies, has an Enterprise Zone designation and qualifies for a Foreign Trade Zone designation.
For more information, visit the RidgePort website at ridgeportlogisticscenter.com.
Companies in this article