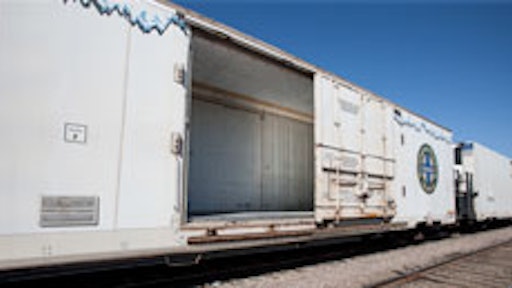 Five months after launching its refrigerated rail service TransCold Logistics LLC, parent company McKay TransCold LLC closed up shop and filed for Chapter 7 bankruptcy liquidation with debts of about $7 million, according to The Packer.
Food Logistics reported on Dec. 1, 2014 that the company ended its operations.
General manager Randy McKay signed separate Chapter 7 cases for McKay Transcold and Transcold Express Dec. 31, and Jan. 16, respectively, according to The Packer.
The website of the Edina, Minn.-based McKay TransCold is no longer operational and its domain name is up for grabs. The company's LinkedIn profile page was still live as of Jan. 28 and did not indicate that it had ceased operations.
Founded in 2011, according to the LinkedIn profile, McKay TransCold worked with BNSF Railway to operate the TransCold Logistics hub-to-hub, dedicated refrigerated boxcar train between Wilmington, Ill., and Selma, Calif. The operation began with two trains pulling 50 refrigerated boxcars in each direction, making the trip in four days.
McKay began as a small trucking and brokerage firm, selling its trucks in 2012 to focus on a business model that included rail, truck brokering and freight forwarding. It offered cold storage in California and as of September 2014 was still planning to add cold storage services in Illinois, according to statements vice president Jason Spafford made to The Packer last year.
To read more, click HERE.