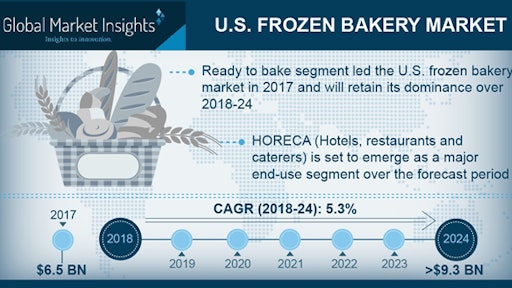 Owing to innovations in robotics, digital printing and smart packaging, the U.S. frozen bakery market has garnered immense momentum in the recent years. Technological advancements have been able to enhance the safety and flexibility of the refrigerated and frozen food operations in the past few years. Bearing this in mind, numerous major U.S. frozen bakery industry players are investing in research and development facilities to manufacture production systems that deliver both increased productivity and greater flexibility. For instance, the leading maker of frozen bakery and dessert products Sara Lee Frozen Bakery has recently announced to build a new R&D center and test kitchen at its corporate headquarters.
The Illinois-based company also plans to construct a pilot facility to accelerate innovation and facilitate collaboration with other stakeholders in the industry. Apparently, the outcomes of such proactive research projects would undoubtedly assist frozen bakery product manufacturers to tackle an increasing number of challenges such as customization and constraints of foraying into new distribution channels.
Apart from focusing on research and development projects, the U.S. frozen bakery market participants have been unveiling new products in the recent past. For instance, Prairie City introduced a new soft frosted cookie, PInkalicious, at the recently held NCAS Show at Las Vegas. Reportedly, the company claimed that the new cookie would boost its presence in the convenience stores across the country in the forthcoming years.
A brief outline of how strategic acquisitions have been reshaping the U.S. frozen bakery market trends
Owing to a rapidly changing landscape driven by a combination of developments in new food safety regulations, the disruption caused by e-commerce and the evolving needs of customers, the demand for higher quality and customized frozen bakery products has witnessed a steep rise lately. In this regard, it would be imperative to mention that convenience has always been the major driving force that has helped the U.S. frozen bakery industry to thrive in the recent past. As lifestyles become increasingly busy with more frequent travel, the significance of supermarkets, bakery chains and convenience stores in providing ready to eat food products cannot be denied.
Considering the impact of the aforementioned factors on the overall industry, numerous prominent bakery firms across the globe have been focusing on acquiring upcoming startups and small-scale companies to get hold of the swiftly flourishing U.S. frozen bakery market share. Grupo Bimbo, for instance, had announced in 2017 that it took over the operations of one of the most promising frozen bakery firm Panattiere. Termed as one of the world's foremost bakery products manufacturer, Grupo Bimbo aims to enter in the in-store and food service bakery channels of the frozen bakery by acquiring Panattiere.
Speaking of another major acquisition that concluded recently, Lancaster Colony Corporation's wholly-owned specialty food subsidiary T. Marzetti Company purchased the New York City-based producer and marketer of frozen mini stuffed pancakes and mini stuffed bagels Bantam Bagels. Reportedly, Lancaster would now be able to tap into the nationwide distribution channel of Bantam Bagels which has a strong presence across foodservice, e-commerce, club stores, and traditional grocery stores. As Bantam Bagels is noted for reinventing the frozen bagel products, Lancaster would also be able to enter newer end use segments of the U.S. frozen bakery industry in the times to come, claim analysts.
Driven by the initiation of research and development facilities coupled with the rising number of strategic acquisitions, the commercialization scale of the U.S. frozen bakery market appears highly promising. Spearheaded by firms along the likes of Custom Foods Inc., Tyson Foods Inc., Flower Foods and Grupo Bimbo, the overall revenue share of U.S. frozen bakery industry is projected to surpass USD 9.3 billion by the year 2024, as per a research report compiled by Global Market Insights.