**Content brought to you in partnership with IQAX**
The current environment for food logistics and shipping is fraught with challenges due to unique, almost unprecedented, conditions.
Before COVID-19, it had been more than a century since a pandemic all but froze entire tracts of global supply chains. Back then, during the pandemic caused by the Spanish Flu in 1918, climate change was not yet creating the violent and unexpected weather events, heat waves or freak storms that are becoming a staple of today's shipping environment.
Adding to these challenges this year, a tense global geopolitical situation that has grown increasingly complicated, is making efficient food logistics more difficult by forcing reroutes, limiting shipping capacity and creating shortages.
Reefer container freight rates have skyrocketed. Drewry's Global Reefer Container Freight Rate Index, which averages rates of shipping along 15 deep-sea reefer trade routes, rose by almost half (48 percent) through the third quarter of 2021 and by more than half again in the fourth quarter (55 percent). Dry cargo shipments costs have also increased significantly.
Shipping capacity remains tight. As a result, shipping rates are expected to continue rising throughout 2022. Meanwhile, delays at ports remain a feature of the global shipping environment, even as port and logistic operators continue working to clear legacy logjams left behind by work stoppages caused by the COVID-19 pandemic or deal with new ones.
All these disruptions to supply chains and challenges to reefer shipping have been driving up costs for shippers and are expected to continue pushing up costs through this year and into the next.
Technology gives shippers and logistics providers new options to address the current challenges. IQAX solutions, driven by state-of-the-art technology and platforms that are easy to integrate and adopt, can make it easier for shippers and logistics providers to tackle both long term and short-term challenges to food logistics. More specifically, in the face of disruptions and unexpected challenges, shippers might find some respite in the technology-driven, software-as-a-service solution IQAX Focus.
Technology-driven solution
IQAX Focus is a cold chain management solution driven by the Internet of Things (IoT) and powered by artificial intelligence (AI) and machine learning. IQAX Focus allows users to track and monitor cargo with little effort and virtually in real time. IQAX Focus can go a long way towards addressing the multiple challenges facing the sector while also permanently strengthening shipping and logistics operations, facilitating cargo quality control, strengthening customer service and protecting the profits and margins of shippers.
IQAX is a global information technology company that delivers innovative digital solutions for the logistics industry to create a harmonized global trade environment. The intelligent solutions that IQAX develops are based on strong foundations of technology, the IoT, big data, AI and machine learning.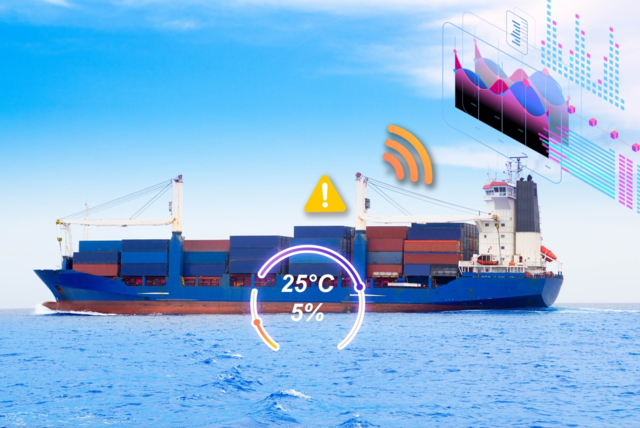 IQAX Focus provides real time alerts on the condition of cargo and monitors what happens or might happen to containers in terms of the environmental conditions and the route they follow. These are all features that translate into real and practical benefits for IQAX Focus users, helping them keep up the quality of their customer service and preserving profit margins.
One customer, a shipper of fresh food cargo that has to remain refrigerated to maintain its quality and avoid spoilage, found significant benefits from using IQAX Focus and tapping into its alerts, which helped stay on top of cargo movements, receive alerts before sensitive cargo arrives at its destination, and gain visibility into potential problems as early as a month before they actually happen, making it possible to react to problems and find timely solutions that can help minimize costs.
The benefits of fast and efficient reactions can be significant.
Penalties for late deliveries can be large and unplanned logistics costs downstream can be much higher if they are the result of last-minute route changes than when they are prearranged. Timely alerts to changes have made it possible for the customer to arrange for downstream transportation at lower costs while cutting down on labor costs.
Fast alerts, quick reactions
IQAX Focus helps minimize the negative impacts of changes to vessel schedules or temperature changes in containers. The solution allows customers to subscribe to a reefer container monitoring service, check the status of cargo, and track individual containers. By combining the IoT, AI and machine learning, IQAX Focus can make this process fast and efficient.
Advanced notifications and alerts that IQAX Focus gives allow the customer to not only react to problems in shipments but also take steps to adjust arrangements for future shipments with a few weeks of lead time.
These benefits, when combined, generate yet another one for the customer. The greater visibility that IQAX Focus can provide into shipping, gives the customer the ability to keep up its customer service, ensure shipped products retain their quality, and retain the trust of its clients.
It also makes it possible to prevent excess cargo from piling up at any one destination, which would have to be sold at a discount or lost. This, in turn, helps the customer maintain its profitability and margins.
And there is yet another benefit from using IQAX Focus. Automated alerts generated by the solution's underlying AI helps lower the amount of time staff spend monitoring cargo and specific containers by about 99 percent, from hours to just a few minutes.
AI combined with more sensor data and a handy tool for real time and immediate tracking, monitoring and collaboration make all this possible.
World class technology
The benefits that IQAX Focus generates are derived, in large part, from its underlying technology, powered by machine learning and AI. This industry-leading technology infrastructure sets IQAX Focus apart from other solutions in the industry, allowing it to provide faster alerts and more predictive visibility. Just as importantly, the solution is easier to implement than others in the market with short adoption timelines.
Another IQAX customer, a freight forwarder that works throughout the shipping ecosystem, experienced all this firsthand. The customer managed to quickly adopt IQAX Focus to track shipments. IQAX Focus is a software-as-a-service (SaaS) solution that does not require in-house development, making it easier to implement and adopt.
IQAX develops its SaaS solutions with the benefit of extensive expertise and knowledge of shipping and logistics. As a result, solutions like IQAX Focus easily fit within the operations of freight forwarders like the customer and are, as a result, more user friendly that other solutions developed either without the benefit of extensive industry expertise or in house.
Ultimately, the customer managed to implement IQAX Focus within a month, tapping into a solution that fit its operations. This was a relatively fast adoption timeline given that most tailored development solutions often take a year or more.
At the same time, because IQAX Focus works with different devices depending on customer needs, the effort required to source and integrate devices was minimized. The use of the technology helps save at least a month of time for each type of device that customers adopt, such as disposal devices to track temperatures in cold chains, rechargeable devices to track temperature and humidity throughout cold chains or tracking devices that can help inform customers on the location of shipments.
These different devices are all integrated, making it possible to track both dry and reefer shipments, trace multiple carrier shipments and tap into different tracking devices all through a single platform. By integrating all this data into a single platform, the effort customers spend on tracking and staying informed on the condition of their shipments can be cut down enormously.
IQAX Focus supports end-to-end visibility of reefer transport over land and sea, essentially from door to door with real time locations regardless of where the cargo is. The technology solutions provide constant ETAs, including next stop ETAs and final destination arrival times.
This information, along with data about the condition of cargo, can also help users of IQAX Focus strengthen the security and regulatory compliance of their cargo, for example by providing temperature compliance reports at anytime and anywhere. The solution can provide information about container location, handover or custody as well as information about disruptions and cargo claims, make audits easier along with ensuring fulfillment of container routing compliance, and verify the legitimacy of cargo while ensuring it does not pose a security risk.
IQAX Focus can make viewing the status of reefer cargo easier and from a single platform, strengthen visibility through a cloud-based service, provide alerts based on historical and contextual data and facilitate immediate action when the condition of cargo changes by integrating sailing schedules and terminal data with reefer device information to provide a contextual picture.
By tapping into the technology that drives IQAX Focus, the customer managed to save staff time and cut costs, while maintaining top notch customer service, preserving the quality of cargo and gaining visibility and predictability in timelines and ETAs.
IQAX Focus: An easy-to-adopt solution
Ultimately, the easy to adopt IQAX Focus solution can significantly strengthen food shipping operations, or all kinds of shipping that require cold chains and end-to-end quality control and monitoring, through deep, industry-leading technology infrastructure that gives shippers and logistics providers a range of benefits, streamlines operations and lowers costs.
First, IQAX Focus is an easy to adopt platform that shippers can have up and running in about a month, a fraction of the time it takes to implement other solutions. As a result, IQAX Focus can start generating dividends for shippers and logistics operators almost immediately.
Second, IQAX Focus can significantly cut down on the amount of time staff at shippers and logistics operators spend tracking and monitoring sensitive cargo. Customer experience shows that users can cut the time spent on monitoring and tracking by as much as 99 percent, from hours to just a few minutes.
Finally, IQAX Focus not only provides timely alerts about shifting conditions of cargo, such as rising temperatures or humidity, but also route deviations or schedule modifications. More importantly, these alerts not only happen virtually in real time but, in the case of route or schedule changes, can be predictive.
With easy adoption, lower costs of monitoring and fast, even predictive, alerts, shippers and logistics operators can tap into IQAX Focus to better protect the integrity and quality of their shipments, strengthen customer service and shore up profit margins.
Shippers and logistics providers constantly struggle to build more predictability into their shipping arrangements and solidify schedules. More immediately, industry players have to deal with a slew of emerging challenges, including increasingly noticeable log jams at ports and changing weather patterns, all of which are making delays more common and creating unexpected costs.
Increasingly complex supply chains and a difficult current environment for shipping and logistics are exacerbating old challenges for shippers and logistics providers and creating new ones. Addressing all of them efficiently and proactively will remain key to preserve the integrity of supply chains, ensure the quality of reefer cargo, maintain the highest quality of customer service, minimize costs and support margins. IQAX Focus can help food shippers and logistic providers achieve all these aims.
**Content brought to you in partnership with IQAX**