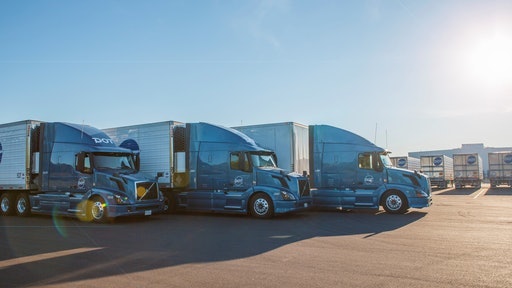 Dot Foods
Dot Foods is the largest foodservice redistribution organization in North America, offering more than 134,000 products from 1,000 manufacturers and maintaining more than 3.7 million square feet of warehouse space nationwide.
Challenge
Cold chain suppliers must ensure that perishable products are consistently kept at the appropriate temperatures. Dot needed a solution that would closely monitor setpoint temperatures in refrigerated trailers. Dot had monitoring in place for its fleet, but the equipment was unreliable, leading to costly inefficiencies.
Solution
Dot implemented a GPS refrigerated trailer monitoring system from Barcoding Inc. that integrates with broader fleet management, regulating and maintaining ideal temperatures in refrigerated trailers via a wireless monitoring system. The equipment records temperatures throughout the course of the route, alerting the driver and carrier when it fluctuates above or below set thresholds.
Result
Doing so resulted in improved productivity of workers with more reliable equipment and reduced cargo waste and driver downtime by eliminating manual processes. The solution to be rolled out at additional Dot sites based on the success of the initial project.
"We're seeing a real boost in productivity because our people aren't slowed down by equipment that's cumbersome and unreliable. Having seen the accuracy and reliability, we're now eager to roll this out to more of our facilities," says Troy Schenk, Dot Foods' director of automation.