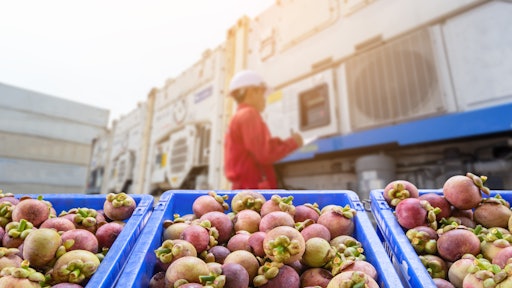 SeaCube Container Leasing
It was utter panic for many global urbanized communities to see empty freezer shelves, scant produce product aisles and limited frozen items in most grocery stores. This was the first indicator that a transformative shift in cold chain processes would soon emerge as a result of the Coronavirus disease (COVID-19). It was only a year ago that the heightened awareness of the global impact of the pandemic quickly changed cold chain trends forever, adding complexity as well as growth opportunities within this supply chain industry.
With the cold chain industry considered "essential" and early lockdowns quickly ensuing from the first outbreak of the virus, the advent of new cold chain trends quickly became a fast-paced phenomenon, proving how resilient the cold chain industry can be when faced with a challenge. Swiftly adopted solutions are now part of the cold chain supplier DNA as essential perishable refrigerated items continue to be delivered through the pandemic-stricken global regions.
The global pandemic tested and put pressure on supply chains like no other event had done before, creating uncertainty and little time to react to ever-changing conditions. The trends that emerged in the cold chain are a testimony to how companies could adapt, pivot strategies and quickly find solutions to keep the essential supply chains intact.
Cold chain growth trends that accelerated as a result of the pandemic
The pandemic has created growth opportunities within the cold chain industry, resulting in propelling the demand for cold chain outsourcing, refrigerated transportation, warehousing and many other areas that quickly became amplified immediately following the pandemic lockdowns. While the restaurant/food delivery services suffered, the accelerated demand for packaged food, fueled by the shift to the food retail environment more than offset the restaurant segment downturn. This shift also impacted the supply chain planning process for ensuring that delays in the supply chain could be absorbed by higher demand for cold chain storage and longer dwell times for source to shelf cycle times. Large food retailers experienced a surge in sales by upwards of 20-30% during the peak of the pandemic lockdown periods. Some of this was due to the run on key cold commodities, food purchase stockpiling and the increased demand for food because of the stay at homework environment.
International shipping delays create an increase in cold chain warehousing capacity
International movement of refrigerated products continue to be delayed as a result of the pandemic. With the advent of new foreign food inspection regulations, port congestion, reefer container shortages and port congestion being the nemesis of expedited food delivery, cold chain storage has been a hot growth area. Investment in cold chain storage and refrigerated food conveyance is on the top of the charts for investors with double-digit growth projections for the next few years.
Other hot trends for cold chain management and transportation
Several catalysts are expected for fueling the growth in the cold chain sector. The pandemic has created many food category demand shifts, with the most prominent being a shift from high-end gourmet specialty food products associated with travel, restaurants and entertainment business to retail packaged frozen and perishable products. There are also several other key areas that are driving exponential growth and trend shifts in the cold chain markets. Some of these key cold chain trends include the following:
1. Consumers have an insatiable appetite for fresh foods. Health trends are pushing more and more consumers toward healthier diets, resulting in an increased demand for specialty foods. Some of this has been accelerated by people wanting healthier choices when spending more time at home. Most data are now pointing to consumers demanding fresh diet choices moving forward, which will be dependent on cold chain capacity. With this demand acceleration for fresh and organic diets, grocers must ensure perishable foods are ripe, appealing and that the selection is abundant to stay competitive.
2. Technology plays a more significant role in the cold chain. With COVID-19 and global regulatory framework constantly changing, technology will expand its critical role in visibility, monitoring and compliance going forward. The need for tracing food sources and monitoring environmental conditions of food cargo events will be elevated since inspection processes will be streamlined as compliance rigor increases. In addition, as transit times increase due to the supply chain challenges connected to COVID-19, controlled-atmosphere refrigerated technology will become more necessary.
3. Access to additional labor, transportation capacity planning and redundancy will be a priority for the cold chain to be reliable. Until the vaccine is widely distributed and available, the cold chain transportation networks will continue to be disrupted. Labor shortages, quarantine impacts and delivery conveyance will continue to be challenged with inconsistent performance and reliability as a result of the virus. These pandemic-related impacts will create the need for companies to re-visit their planning strategy, incorporating redundancy and contingency options. This will also create demand for incremental outsourcing with services being necessary to accommodate for virus prevention cold chain related activities.
With the COVID-19 pandemic outbreak occurring just a year ago, we need to take away as much as we can from the last 12 months as we plan for the future, learning from our missteps and building on our successes. Efficient and effective cold chain management will be an ongoing challenge for all cold chain stakeholders who bear the responsibility for ensuring uninterrupted delivery of temperature-controlled products to key markets throughout the world. Fortunately, it has already been proven that the cold chain industry can quickly adapt and innovate to serve the increasingly more complex supply chain. Recent trends, emerging innovation and nascent cold chain technology will continue to shape the ever-changing requirement for the refrigerated and cold chain markets.