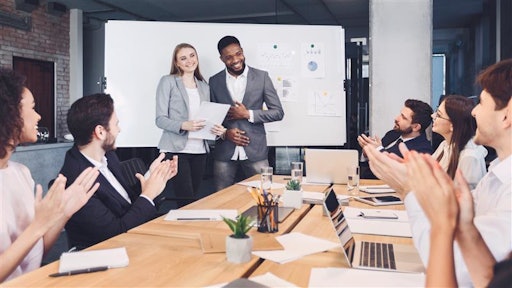 Prostock Studio
BEMA Elects 2020-21 Chairman, Board of Directors
Eric Riggle, president, Rademaker USA, Clay Miller president of Burford Corp., Mark Podl, CEO of Doran Scales and Mike Pierce, President, The Austin Company, were elected to serve a second term on BEMA's board of directors. The Committee also elected Craig Souser, Owner, JLS Automation, for a first term nomination.
Patrice Painchaud, vice president of sales & marketing at Rexfab was elected to the role of 3rd vice chairman on the Board. All nominations put forth by the nominating committee, chaired by Paul Lattan, Publisher, Sosland Publishing, passed by unanimous vote.
Jason Moore Joins Stellar as West U.S. Business Developer
Stellar has named Jason Moore as corporate business developer for the Western United States.
Moore will develop new business relationships in the western part of the country, particularly for the company's food and beverage division. He's tasked with growing sales and serving clients in a region that has seen significant growth and innovation within the food industry. Before joining Stellar, Moore worked for a global food processing equipment company where he deepened his knowledge of plant operations and forged relationships with major food companies from Texas to the Southeast.
Kurt Krauss Joins HNTB As Vice President in New National Advisory Practice
Kurt Krauss joined HNTB Corporation as vice president, national strategic initiatives, in the firm's new national advisory practice. He specializes in national initiatives centered on program management, rapid mobilization and expert delivery.
With 25 years of infrastructure strategic, commercial and financial consulting experience, Krauss has led complex, interdisciplinary groups to deliver $12 billion in major transportation infrastructure programs, $2.5 billion in successful infrastructure acquisitions, $5 billion in potential infrastructure investment assessments and multiple major infrastructure innovation initiatives.
Protos Security Promotes Kris Vece, LPQ to Vice President, Strategic Account Management
Security Services Holdings announced that Kris Vece has been promoted to vice president, strategic account management. In this new role, Kris will be responsible for building a formal strategic accounts management program for the company.
Vece has been a security and investigation industry professional since 2004. She joined Protos Security in 2015 as Director of Client Relations and was promoted to vice president of client relations in 2018.
The Fresh Market, Inc. Announces Appointment of Jim Heaney as Chief Financial Officer
The Fresh Market, Inc. has appointed Jim Heaney as chief financial officer (CFO), effective Sept. 2, 2020, replacing Oded Shein, who has resigned as CFO. The Fresh Market thanks Mr. Shein for his service as CFO over the last two years and offers him best wishes in his future endeavors.
NEPC Announces Board of Director Changes
The New England Produce Council Inc. announced Sept. 1st the results of its yearly board of directors election. Veterans Tony Barreira of Del Monte Fresh Produce and Michael Strock of S. Strock & Co. Inc. were re-elected to another three-year term as directors, and Matt Boulanger of Whole Foods Market was elected to the board for the first time. Boulanger is a Northeast/North Atlantic regional produce buyer for Whole Foods. He has been with the retailer since 1987, but began his career as a produce clerk with Bread & Circus.