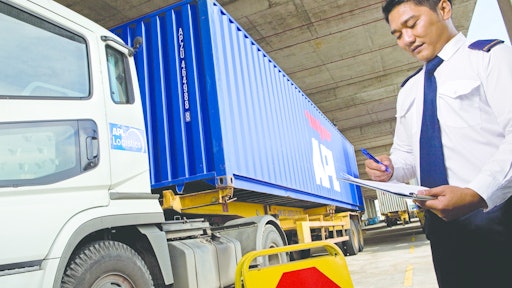 The Food and Drug Administration's (FDA) sanitary transportation rule under the Food Safety Modernization Act (FSMA) applies broadly to food products that are temperature-controlled for safety (meat, poultry, seafood, unpasteurized juices and processed produce), as well as food that is at risk for spoiling if not held under specific temperature conditions.
The FDA is scheduled to publish the final rule on March 31, 2016. This article reflects Sensitech Inc.'s understanding of the rule at the time of this writing and it is not a substitute for reviewing the final rule's full text.
The rule emphasizes prevention as the best approach to food safety problems, supporting this by setting requirements for companies engaged in the ground transportation of food. Specific requirements are outlined for shippers, carriers and receivers, yet the rule makes carriers the primary focus since they are performing the transportation activity.
Tightening control of the cold chain can deliver business benefits such as improved efficiency, reduced perishable cargo shrink and better quality of temperature-sensitive cargo.
The rule identifies three themes of interest to customers:
1) Documentation
This includes monitoring and recording information that shows whether a process or action was in compliance. Examples include monitoring temperature during transportation, product temperature prior to loading or pre-cool temperature of a truck. Documentation is subject to auditing and must be accessible within certain time frames and maintained for a minimum length of time. Record-keeping and data collection are an integral part of good cold chain management. Without good records, an operation cannot be measured and improved.
Customers have been asking about moving from paper to electronic record-keeping. Key benefits of electronic record-keeping include ease of access, security and centralized control. Companies are encouraged to work with a solution offering an Internet-enabled application designed and built to comply with 21 CFR Part 11 FDA guidance and to meet current Good Manufacturing Practices (cGMP) guidelines for electronic recording keeping. Shippers, for instance, can use this system to document pre-loading inspections and product pre-cooling.
2) Training
Written procedures and agreements are required under the rule, which necessitate the need to provide and verify training for shippers, carriers and receivers involved in transportation. Furthermore, the rule requires that "competent supervisory personnel" are responsible for ensuring that transportation operations are carried out in compliance with all requirements. This requirement provides a way to clearly identify the critical supply chain tasks to satisfy the food safety plan, the rule's requirements and who is accountable for them.
Notably, the rule applies broadly to food products that are temperature-controlled for safety (meat, poultry, seafood, unpasteurized juices and processed produce), as well as food that is at risk for spoiling if not held under specific temperature conditions. The rule also applies to ground transport that originates outside of the U.S. Companies are addressing this challenge by utilizing purpose-built, complementary monitoring technologies and by leveraging local expertise from industry solution providers.
3) Communication
The rule specifies that the shipper is responsible for communicating to the carrier, in writing, all conditions necessary to protect food from adulteration during transport, including trailer condition and sanitation, refrigeration settings, and pre-cool temperature. At the end of transportation, the carrier must demonstrate that temperature conditions have been maintained, by "any appropriate means agreeable to the carrier and the shipper." This allows the shipper to take responsibility for acquiring and maintaining temperature records. The rule places emphasis on the communication between shippers and carriers, the two entities who need to work closely together to ensure good transportation outcomes.
Automation of data collection is a useful strategy. Many customers are utilizing the benefits of wireless temperature monitoring, which eliminates the need to physically interact with a device. Wireless downloads, whether using infrastructure installed in a facility or real-time devices that transmit data using cellular networks, capture data consistently and without labor. This enables the data, such as end-of-trip reports and email alerts, to be shared with appropriate partners at the moment a temperature excursion occurs, an appointment will be missed, a door is opened, or the truck arrives at the receiver's location.
Food technologists and application specialists are also helping customers to prepare for FSMA. The teams conduct studies, analyze procedures, perform training and optimize the use of technology by shippers, carriers and receivers. Customers can benefit from enhanced information to identify root causes, increase operational efficiency and implement continuous improvement.
Together, these activities can minimize the risk of foodborne illness, secure the integrity and safety of food, comply with standards and regulations, and increase supply chain visibility for all participants.
Sensitech submitted feedback to the FDA in 2014 on the proposed Section 1.908(d) regarding demonstration of proper temperature regulation during transportation, suggesting adding more flexibility for shippers, carriers and receivers to allocate the various responsibilities for the safe transportation of food amongst themselves in the manner that best suited their particular situation.
Marc Beasley is vice president of strategy and business development for food at Sensitech Inc.