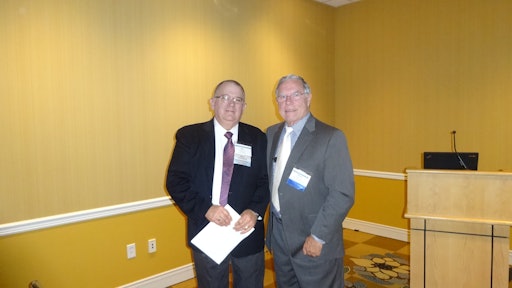 In an effort to streamline the process of identifying key areas of potential concern for refrigerated fleets and carriers, we reviewed and carefully evaluated the FDA's Food Safety Modernization Act's (FSMA) "Sanitary Transportation of Human and Animal Food" proposed rule, line by line.
As we plowed through the proposed rule, we relied on decades of direct involvement and experience with food safety, best practices and management of domestic and international refrigerated fleets. As result of our evaluation, we identified and highlighted sections of the proposed rule that refrigerated fleets and carriers can easily access and review without undertaking the burdensome task of meticulously reviewing the entire proposed rule.
Before expanding on the sanitary transport rule, keep in mind that this rule is one of two that the FDA has not yet finalized. In mid-November, FDA finalized rules that establish safety standards for produce farms, make importers accountable for verifying that imported meats meet U.S. safety standards, and establishes a program for accrediting third-party certification bodies to conduct safety audits in foreign facilities. The sanitary transportation rule and the intentional adulteration rule were scheduled to become final in spring of 2016.
Transporters to be regulated uniformly
The sanitary transport rule would regulate all food transportation in a similar manner regardless of the risk. It would establish the responsibilities for shippers, carriers and receivers. These definitions, roles and responsibilities are confusing and, if implemented, will adversely affect how operations are conducted and the bottom line. The proposed FDA transport rule outlines broad expectations without being specific about the means of accomplishing those requirements. The FDA also addressed time and temperature as an overly protective and redundant preventive control. Time and temperature should certainly be considered during transport to maintain food quality and condition, but it is of questionable relevancy regarding food safety for many food items. In fact, minor breaks in temperature management do not conclusively mean that a food is unsafe for human consumption.
Still another concern is how the FDA identifies the "shipper." The definition of "shipper" is unclear as to whether or not certain entities in the supply chain meet the definition and would be covered by this regulation. It is unrealistic and inaccurate to assume that the "shipper" always controls the transportation of the food and specifies the transport conditions.
Shippers must specify to carriers in writing the sanitary requirements for transportation equipment to be provided for all food and the temperature requirements for foods subject to temperature control requirements.
Procedures subject to recordkeeping must specify practices for cleaning, sanitizing, and inspecting transportation equipment as required by this rule.
Training requirements
The rule also establishes requirements for training carrier personnel engaged in transportation operations, and must document the training.
The term "carrier" means a person who owns, leases, or is otherwise responsible for the use of a motor vehicle or rail vehicle to transport food. A carrier may also be a receiver or a shipper if the person also performs the functions of those respective persons.
Thus the carrier, being ultimately responsible for the use of the vehicle, would be responsible for ensuring that a driver functions in a manner that enables the carrier to comply with all of his responsibilities.
"Transportation equipment" is defined as equipment used in transportation operations, other than vehicles, e.g., bulk and non-bulk containers, bins, totes, pallets, pumps, fittings, hoses, gaskets, and loading and unloading systems and also state that transportation equipment would include a railcar not attached to a locomotive or a trailer not attached to a tractor.
Individuals accountable
Shippers, receivers, and carriers will establish accountability at the individual level for ensuring that transportation is carried out in compliance with those requirements and in a way that prevents food from becoming adulterated during transportation.
The shipper must specify to the carrier, in writing, all necessary sanitary requirements for the carrier's transportation equipment, including any specific design requirements and cleaning procedures deemed necessary by the shipper.
The FDA's standards for cleaning and sanitizing equipment are an area of uncertainty relating to the standard of cleanliness. How clean is clean? The rule requires that transportation equipment be "adequately" cleanable for their intended use to prevent the food that they transport from becoming filthy, putrid, decomposed or otherwise unfit. For example, shippers of fresh produce in non-enclosed containers may determine that a standard power washing procedure for a refrigerated trailer with a sanitization procedure is necessary to remove and treat any residues from a previous load that could contaminate the shipment.
Regardless of the standard, cleaning of equipment poses possible conflicts with environmental laws. "Container cleaning and 'sanitizing' also raises the issue of local, state and federal water use and water drainage/runoff issues," the Global Cold Chain Alliance has said. "In many jurisdictions, carriers are prohibited from washing their trucks because of local regulations designed to protect from water runoff and water quality issues. This places carriers in the position of having to choose which regulation to follow."
The carrier must demonstrate to the shipper and, if requested, to the receiver, that it has maintained temperature conditions during the transportation operation consistent with those specified by the shipper.
The carrier can be exempt from this requirement if the carrier and shipper agree, in writing and before transportation operations, that the shipper is responsible for monitoring the temperature conditions or otherwise assuring that the food was held under acceptable temperature conditions during the transportation operation.
More training is needed
There are training requirements for carriers in this proposed rule. The training could potentially be provided in a half-day, online format similar to training referred to as DOT HM 181 – basic hazmat employee training – which is readily available in the private sector. The provision would require that the training be provided upon hiring and as needed thereafter.
Carriers will be required to establish and maintain records that document training. Such records would include the date of the training, the type of training, and the person(s) trained. Given the importance of adequate training to the conduct of sanitary transportation operations, we believe this rule should also require that carriers maintain records documenting they have provided the required training.
Patrick Brecht, Ph.D. is president of P.E.B. Commodities Inc. and Bud Rodowick is manager of strategic relations for food safety and OEMs for Thermo King Corp.