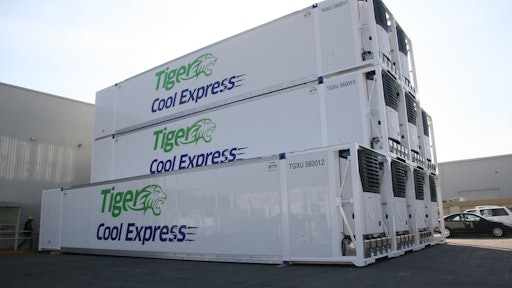 The growing consumer demand for chilled and frozen food continues to challenge the cold chain as living standards rise worldwide and developing countries acquire a taste for protein. Setbacks, including port labor strikes, food recalls, etc., don't even register on the global cold chain's growth curve.
The Global Cold Chain Alliance's Global Cold Storage Capacity Report by the International Association of Refrigerated Warehouses (IARW) confirms the cold chain has been on a consistent growth curve, even during the recent recession, and the growth expected to continue despite economic stagnation in some parts of the globe. The total capacity of refrigerated warehouses was estimated at 552 million cubic meters worldwide in 2014, an increase of 92 million cubic meters (20 percent) over 2012.
Even in the U.S., the most developed market, posted a gain in gross cold storage capacity. In 2013, there were fewer warehouses in the smallest size category compared with the previous U.S. national survey. But the capacity gained from a boost in the number of larger warehouses was greater than the capacity lost from the decline in smaller warehouses. Thus, there was a net increase in gross capacity.
The real challenges are in the need to manage a larger variety of temperature zones throughout the food supply chain. Consumer tastes continue to diversify as the world's population becomes increasingly mobile and e-commerce gives people faster access to more food choices. In particular, the rising market for fresh, organic, antibiotic-free, non-GMO, gluten-free foods demand a more versatile cold chain.
The need for food shippers to manage more types of food has unleashed new opportunities for cold storage and transportation providers. Most of the people at the starting point of the food supply chain – farmers and processors – lack the expertise and resources to manage the delivery of products to their destination points. For 3PLs and cold storage specialists, today's "world is your oyster."
Natural and fresh food expands
"There is a growing consumer demand for natural, fresher foods as opposed to shelf-stable or frozen foods," says Eric Pfeiffer, senior director, North American supply chain integration at HAVI Global Solutions, the Downers Grove, Ill.-based supply chain consultancy. "In an effort to meet this demand, retailers and grocers have started to offer fresher products and ingredients as options to consumers. This has led to new distribution requirements."
"No longer is a three-zone temperature controlled trailer sufficient to deliver products to restaurants and stores," Pfeiffer continues. "Beyond the standard frozen, refrigerated and ambient temperature zone, there is an increased need to move and deliver products requiring temperatures warmer than refrigerated, yet cooler than ambient. Many fruits and vegetables fall into this category."
Cold storage and transportation providers concur the demand is in their favor.
"We're seeing more of that (new demand) being for chilled space," says Daniel Cooke, director of marketing at Americold, the temperature-controlled storage and 3PL provider.
With more diverse temperature requirements, storage facilities and trailers will need to start to encompass abilities to accommodate more temperature ranges if they want to take advantage of these trends. They are also looking to add more value-added services to help streamline the supply chain.
Americold, for its part, has been providing wholesale customers aisle-ready pallets to make deliveries more efficient, and has further enhanced its supply chain control system to enable customers to trade inventory for information with significant cost savings for customers..
The Atlanta, Ga.-based company also recently enhanced its supply chain capabilities by integrating its WMS with Germany-based Software AG's integration server. This gives customers access to their orders at every stage of the order lifecycle, from the time of customer creation to final delivery.
Turkey Producer Cites Changing Consumer Demands
"How are we going to address the demand variability of millennial purchasing profiles?" asks Daniel DiGrazio, senior director of logistics at Butterball, a Garner, N.C.-based turkey producer doing business in 45 countries. Millennials want to receive orders in 48 hours. "Distribution networks of the future will have to be more agile," he says.
The demand for antibiotic-free meat challenges the supply chain nowadays, DiGrazio says. "We have to be on the shelf quicker and more frequently. There is a trending in the market for those type of products."
Butterball continues to post rapid growth in both the retail and foodservice sectors, according to DiGrazio. Voorhees, N.J.-based United States Cold Storage (USCS) has become an important Butterball partner. DiGrazio thinks United States Cold Storage's consolidated shipments have improved efficiencies and delivered higher levels of customer satisfaction. He also gives USCS high marks for providing training to his employees when needed.
One of Butterball's main goals is to provide visibility to customers throughout the supply chain. DiGrazio credits his 3PL partners for staying on the cutting edge of technology. "They (3PLs) are growing with information to help solve business solutions," he says. He estimates that 70 percent of Butterball's 3PL partners provide real-time temperature tracking.
With technology creating more tools, DiGrazio is concerned about the ongoing need to invest in equipment. "I think it is going to be a very expensive market," he says. The carriers Butterball uses have a variety of temperature recorders. In the future, he expects customers will want to be able to review these records over longer time periods throughout the supply chain. "We have all sorts of monitoring activities in our supply chain," he says. "How do we harness this information and how do we turn it into a format that customers want to see?"
Thanks to the professionalism of Butterball's 3PL partners, food safety regulations are not his top of mind concern. He is more concerned about motor carrier regulations and labor availability.
USCS, for its part, uses a TMS system from Cary, N.C.-based MercuryGate International for its 3PL operation, says Keith Mowery, senior director of transportation and logistics at USCS.
Safety Audits Gain Favor
USCS is also one of several cold storage and 3PL providers that is investing in third party safety audits to assure customers that facilities are safe. USCS has BRC certification to ensure the quality and safety of products during storage and transport.
Murphy Warehouse, the Twin Cities, Minn.-based cooler storage provider and 3PL, is also investing in third party safety audits to assure customers of quality and safety. Murphy Warehouse has had two facilities certified by Safe Quality Food (SQF) Level 2 in 2015 in the Minneapolis and Kansas City markets. The SQF certification marks an upgrade over the American Sanitation Institute (ASI) certification that the company has used in the past, says Richard Murphy, owner.
Murphy became interested in SQF after a long-time customer that supplies ingredients to confection processors made the suggestion.
Chilled Food Drives Intermodal
The growth of chilled food has also fueled demand for intermodal transport, notes Tom Finkbiner, CEO of Overland, Park, Kan.-based Tiger Cool Express, which launched in February of 2014. "It (food) is one of the faster growing intermodal commodities," he says. Even the West Coast port strike this year has not crimped the company's growth.
Finkbiner sees 3PLs taking on a bigger share of the nation's food shipments, a development that recognizes food delivery as a highly specialized service. But while 3PLs bring critical expertise to the supply chain, Finkbiner also sees some challenges for shippers to keep in mind.
"We (carriers in general) are not talking directly to the owner of the goods," he says. "You always risk missing a piece of information that's critical to the transit." This could include weight, temperature, delivery time or whether or not there are lumper fees involved in a delivery. "The more partners you get involved in handling shipments, the more potential for mistakes," Finkbiner says.
The movement of bulk food products is almost 100 percent outsourced to specialists, says Mark Casiano, senior vice president of global sales and marketing at Danbury, Conn.-based Odyssey Logistics & Technology Corp. The company operates a fleet of super-insulated and refrigerated, 6,340-gallon, ISO tank containers. Most customers are beverage companies needing the tight temperature control of their product(s) during transport. This fleet of ISO tanks delivers just that – temperature-controlled, logistics solutions for road, rail and ocean transport.
"People are looking for alternatives to OTR," Casiano says. "This (intermodal service) surely delivers that. Intermodal transport combines the economies of rail and/or ocean with the flexibility of truck. This is especially important during these times of tight driver capacity. It is also a way for shippers to reduce their carbon footprint and green their supply chains," he says.
Odyssey Logistics & Technology Corp. provides supply chain network evaluation and design; a patented, web-based information technology infrastructure; operational processes; and, volume aggregation. The company also offers truck brokerage, customs brokerage, freight forwarding, facilities management, rail fleet management, sample and small order distribution services.
Lineage Offers High Pressure Processing
Lineage Logistics, the Irvine, Calif.-based 3PL, recently began installing high pressure processing (HPP) machines and packaging equipment at its Allentown, Pa. and Mira Loma, Calif. locations. The capacity expansion follows an increase in consumer preference for clean labels and demand from companies wanting to protect their brands, preserve product condition and extend product shelf life.
HPP is a post-packaging, non-thermal pasteurization method of killing potentially harmful pathogens using isostatic pressures of up to 87,000 psi. The flavors and other characteristics of products remain unaltered because HPP doesn't use heat.
The outlook for refrigerated and frozen food remains positive as global demand for protein and other perishable food grows. But the demand for fresh, natural and organic food calls on the cold chain to manage more temperature zones. Hence, the cold chain must invest in temperature management tools in addition to increased storage capacity.
Fruit Processor Reaps Savings In Refrigeration Costs With Solar Power And New Software
ShoEi Foods USA, an Olivehurst, Calif.-based walnut processor, overhauled its energy management system and has saved thousands of dollars. The business requires energy intensive refrigerated warehouses that operate 24/7.
ShoEi reviewed its energy use after installing a new refrigeration system when it expanded its cold storage space to 30,000 square feet, says Dwight Davis, director of plant operations. "We needed more cold storage because we are now handling a different commodity in walnuts," he says. They installed an 80-hp compressor refrigeration system.
ShoEi originally engaged Cenergy Power, a Carlsbad, Calif.-based solar energy provider, after a competitive solicitation. When Cenergy Power saw ShoEi's energy profile, they suggested a combined solar-storage solution.
Cenergy then partnered with Stem, a Milbrae, Calif.-based solutions provider, to develop a combined solar-storage energy management system for ShoEi.
In order to move to the preferable energy rate class, ShoEi needed to stay below the qualifying maximum demand level of 500kW for one full year.
Stem's system also includes its PowerScope software that monitors ShoEi's energy use in real time. The software enabled ShoEi to understand the energy impacts of specific equipment, identify patterns, and make adjustments to smooth usage peaks throughout the day.
Stem then installed a battery-based storage system. The software and battery work in concert to lower ShoEi's maximum demand: when the software detects a spike in energy use that would cause ShoEi to exceed the 500kW demand threshold, it automatically notifies ShoEi facility managers, who can then choose to reconfigure operations and reduce demand. A manager has the option to either take some capacity offline or use the Stem battery to keep electricity usage from entering the higher rate tier. Concurrently, Stem's storage units automatically release stored energy, bringing more time for the team to adjust.
"Real-time is key, especially when every 15-minute interval counts," Davis says. "If you have one 15-minute interval in a month that exceeds maximum demand for your current rate, it's a strike against you. If you get three strikes in consecutive months, you're back up to the higher rate immediately."
New Jersey 3PL Creates Temperature-Controlled Room For Olive Oil Without Permanent Walls
Port Jersey Logistics, A Cranbury, N.J.-based 3PL, found a way to store olive oil in a temperature-controlled room without constructing permanent walls at its 700,000-square-foot, food-grade, public warehousing space.
Olive oil, due the temperature fluctuations during transit, changes color after it arrives from Italy. In order to regain its natural color, it must warm to 80 degrees F for a period of 24 to 48 hours. Typically, adding a temperature-controlled room requires installing permanent walls.
"We were initially using an industrial vinyl wall to partition the space," says Galo Panchi, facilities manager for Port Jersey Logistics. "Our heating expenses were through the roof."
Instead of building permanent walls, Port Jersey Logistics used InsulWall from Elmhurst, Ill.-based Randall Manufacturing to create a heated room for olive oil, as well as additional cooler rooms. InsulWall's interior insulation sandwiched between exterior vinyl forms a flexible, insulated wall that creates temperature- and humidity-controlled rooms.
By not building a permanent wall, Port Jersey Logistics maintained the ability to reconfigure its warehouse space without costly wall removal and construction.
Based on the savings realized in energy costs, InsulWall paid for itself in one year.
"InsulWall helps us meet our clients' demands with its ease of installation, ease of maintenance, and ability to create cooler and heated rooms economically," says Panchi.
For more information
Americold, Americold.com
Cenergy Power, cenergypower.com
HAVI Global Solutions, havigs.com
International Association of Refrigerated Warehouses, gcca.org
Lineage Logistics, lineagelogistics.com
MercuryGate International, mercurygate.com
Murphy Warehouse, murphywarehouse.com
Odyssey Logistics & Technology Corp., odysseylogistics.com
Port Jersey Logistics, portjersey.com
Randall Manufacturing, randallmfg.com
Software AG, softwareag.com
Stem, stem.com
Tiger Cool Express, tigercoolexpress.com