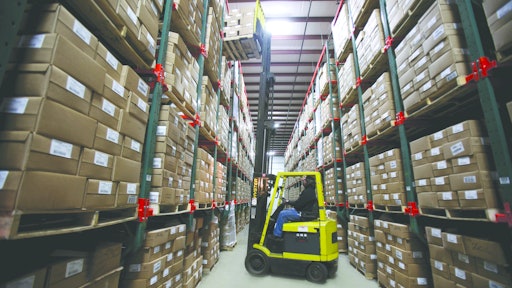 Moving temperature-sensitive products through the supply chain presents a variety of challenges for food companies—from storage and transportation to selecting carriers and monitoring loads.
Small variances can produce big headaches. A temperature difference of a few degrees during transportation, a slightly longer stay on a loading dock, or a faulty refrigeration unit can turn a large product investment into a hefty liability.
Jeff Battle, vice president of transportation services for OHL, sums up the challenge succinctly. "When it comes to cold storage supply chains, there is no room for error."
Operating a world-class cold supply chain is about information management.

To gain insight into how food companies can attain the necessary best-in-class performance in transporting temperature-sensitive products and materials, we asked several third-party logistics providers for their advice. Here's what they shared:
1. Carrier relationships
For starters, pay careful attention to carrier selection. This isn't the time to pick the bidder with the lowest price. The best practice, says Brent Witte, president of Witte Bros. Exchange, Inc., involves working with a small, carefully selected pool of carriers that meet stringent criteria, including on-time performance, equipment reliability, and communication.
Selecting carriers must be done with your company's reputation and performance in mind. The wrong choices can be damaging. "We have experienced companies using many different carriers at the cheapest rates possible only to find that product was not being moved because carriers were late for pickup," says Witte.
The Importance of Carrier Relationship Management

Investing time in carrier selection paid off for a food-manufacturing facility that worked with Witte Bros. The facility moved from using multiple carriers to a dedicated fleet for short movements and an alliance of carriers for long hauls. Implementing a new process with the selected carriers eliminated the line of trucks that once waited for loading and unloading, helped move products swiftly from the loading docks, and virtually eliminated overtime, and the "shipping bottleneck."
"Working with quality and reliable carriers is crucial," says Witte. "While utilizing 'load boards' to access the vast number of trucking companies in the marketplace may seem easier and cheaper to move product, the practice lends itself to many problems. These carriers tend to not be screened for safety, equipment reliability, and service. Each of these areas plays a vital role in maintaining the integrity of the sensitive product being handled."
Next, it's important to measure carrier performance. Once you select the best carriers, you want to monitor their performance while they're hauling your temperature-sensitive products. A third-party logistics (3PL) firm has the tools to create the necessary report cards.
OHL created a sophisticated carrier management scorecard that measures major competencies, including equipment reliability, on-time pickup, and delivery histories.
Total Quality Logistics (TQL) grades carriers based on on-time performance, communication with the driver and the dispatcher, and other real-time data sent to the company's systems by the Federal Motor Carrier Safety Administration (FMCSA), says Kerry Byrne, TQL's executive vice president.
Carriers that know they're being rated will remain in top shape. More importantly, you're likely to see improved service to your customer.
It's also important to know when to get expert advice. Getting a 3PL provider's input on your cold storage supply chain can pay off in important ways. Inviting an expert to the table means having someone who knows how to research carrier selection, carrier capabilities, and performance, says OHL's Battle. It means you can off-load development of routing guides, negotiating lane pricing, and even executing the day-to-day management of your cold supply chain. It also means that you're free to focus on doing what you do best.
Third Party Logistics: 6 Tips for Choosing a 3PL
How To Find The Right Third-Party Logistics Provider
Audits and procedures
It's always wise to have clear procedures in place. Good business practices follow standard operating procedures (SOPs) to protect temperature-sensitive products. That means being clear about required trailer temperatures, pre-cooling before loading, and following food-grade inspection processes. Be sure that your SOPs are precise and ensure that everyone understands them.
Conduct regular audits, too, say the experts. It's not enough to have SOPs in place; you have to know that they're being followed. Self-audits are a good place to start. These monthly check-ups should verify employee training and practices, ensure that you're compliant with food industry requirements for pest control, warehouse sanitation, and security. You should also review and verify supporting documentation, says Frank Ahern, director of safety, health, and environment for Burris Logistics.
Surprise audits of any third-party warehouses you're using is another best practice. "We get audited by our larger customers every year," says Rick Schlapman, national sales manager of refrigerated warehousing for WOW Logistics. According to Schlapman, some customer audits are more stringent than those performed by third-party industry auditors, such as the American Institute of Baking (AIB) or the American Sanitation Institute (ASI). If you're without the resources to create or conduct these audits, consider hiring a third-party firm.
Audits also include reviews of trailer inspection reports, temperature monitors, and random inspections of particular facilities. "That's pretty standard," says Schlapman. "Sometimes customers ask to see temperature histories for a particular cooler or a computer history showing temperature histories over the last ninety days."
Storage
When it comes to storage operations, ensure certification of cold-storage facilities and equipment. Heightened consumer awareness is creating an increased demand for assurances about food safety. An independent third-party firm should regularly certify any facilities storing temperature-sensitive products your company uses to verify that they are clean and that their daily operations comply with the appropriate food safety requirements.
Don't overlook a chance to warm up to technology. There's no need to have an employee don a coat, hat, and gloves to check that cold storage temperatures are accurate. Keeping tabs on freezer and refrigerator temperatures can be accomplished easily with technical solutions.
A few degrees of temperature difference during loading or unloading is all it takes to ruin certain items.

Continuous temperature monitoring systems are available that can keep track of changes in refrigerated storage temperatures, providing alerts to employees whenever something seems amiss. Some systems provide alerts using email or by sending text messages to cell phone or pagers.
A temperature monitoring system allows you to decide when you want to be alerted about temperature changes, which can provide your employees with sufficient advance notice to remedy a problem situation. Getting advance warning can also mean that you have the necessary time to either fix the problem or move the products to another area before damage occurs.
Some systems can provide access to data over the Internet, while others can provide the documentation you may need to meet any compliance or audit requirements.
Ahern of Burris Logistics notes that it's also important to use certified thermometers to track temperatures, as well as to be sure that these devices are calibrated on a regular basis.
And, it's a good idea to have someone sweat the details. Anyone working with temperature-sensitive products has to pay attention to what may seem like minor issues. A few degrees of temperature difference during loading or unloading is all it takes to ruin certain items.
Total Quality Logistics cites the challenges of cold storage as sufficient reason to have personnel available to handle both major and minor emergencies around the clock.
"Our processes and our people are set up to provide the extra attention temperature-sensitive products need and to ensure the cold chain remains intact from pick up to delivery," says Byrne. "Having people physically on site handling issues all day, all night, and over every weekend ensures our customers that we will immediately handle any temperature issue that might arise during loading, transportation and delivery."
Transportation
Another tip is to shoot for improved loading and unloading. In many cases, the loading dock is cited as the weakest link in the cold storage supply chain. Some experts think that the loading and receiving practices of warehouse providers pose the biggest threat to temperature-sensitive items.
"The temperature of the docks, coupled with the time spent on the dock, can affect the integrity of the product," says Witte. "A clear practice to minimize the amount of time the product is kept on the dock and not in the controlled temperature of the storage area is essential."
Witte also recommends that the loading dock's temperature should always be checked against customer requirements prior to loading or unloading.
Six Supply Chain Best Practices For Temperature-Sensitive Freight
It's also helpful to pre-cool trailers before loading. Putting a temperature-sensitive product in to a trailer that's not pre-cooled is a recipe for disaster. Prior to loading a trailer, it should be checked to ensure that the refrigeration unit is running so that it's pre-cooled to the appropriate temperature. Trailer temperatures can be regularly monitored using trailer temperature recorders. If you have any doubts about a trailer's performance, ask to see a temperature history.
Take the time to check product temperatures as well. Running random temperature checks on shipments can tell you whether a product was at the agreed upon temperature the entire time it was shipped, says WOW Logistics' Schlapman. He recommends looking for telltale signs of temperature changes, such as condensation on a stretch-wrapped product.
Schlapman also sees a benefit in using product temperature monitors. "We have one customer that randomly puts temperature sensors on products," he says. "They can tell whether the product spiked above or below the required temperature. And, they can also tell whether the driver turned off the refrigerator to save on fuel costs."
Finally, make sure to manage supply chain information. Operating a world-class cold supply chain is about information management, emphasizes OHL's Battle. "The flow of information about freight is just as important as the movement of freight," he says. "Understanding when, where, and how your shipments are moving is integral to managing a best-in-class cold supply chain."