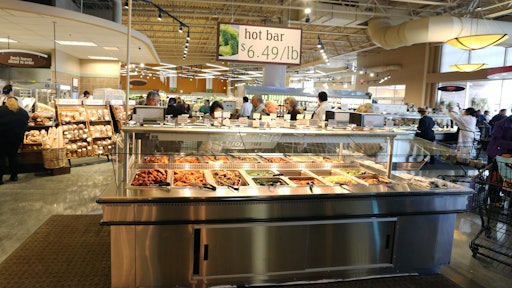 These are exciting times in the food industry. The consumer media and the business press are filled with colorful reports on how supermarkets are dressing up delis to attract more home meal shoppers. A highlight of this year's Food Marketing Institute (FMI) Connect Conference in Chicago was a tour of Mariano's Fresh Market. According to many observers, supermarkets recognize in-store deli as the best opportunity to improve sales in today's retail environment.
Supermarket takeout delis are not new. But in recent years, retailers have gained a better understanding of the quality and variety consumers look for since they began offering home meal replacement in the 1990s. Bob Goldin, executive vice president of Technomic, the food research firm, says "It's the big growth area" for supermarkets.
Much of the focus falls on merchandising, as supermarkets mix fresh, frozen-prepared and refrigerated foods to create enticing takeout meals for time-pressed shoppers. But a big reason so many retailers are fighting back in this arena is a much improved cold chain, notes Dave Donnan, a partner at the Chicago-based consultancy A.T. Kearney. Donnan claims supply chain advancements have revolutionized the speed and scale of food delivery.
Cold Supply Chain Expands
A quick check in the field confirms Donnan's observations.
Manny Rangel, Jr., CFO at Amigos Foods, a refrigerated meat distributor with facilities in Houston, Texas, Chicago, Ill., Atlanta, Ga. and Phoenix, Ariz., says the cold supply chain has allowed his company to deliver last-minute "fill-in" orders to supermarkets in just about every region of the country. In addition to filling last-minute orders, the company has been able to capitalize on a healthy demand for cross docking at its warehouses.
Freedom Fresh, a Miami, Fla.-based fresh produce and dairy distributor that opened in 2001, now serves six segments: retail, foodservice, wholesale, cruise ships, exports and cross docking from importers. Jimmy Perez, company vice president, says sales have been growing 10 to 15 percentage points a year. He credits much of the growth to software integration. After deploying GreenMile's routing solution last year, Perez is able to track deliveries as they happen, provide real-time updates to customers, and analyze driver and route productivity.
As retailers expand their prepared food offerings, food has to be prepared closer to the point of sale, A.T. Kearney's Donnan says. To do this, retailers are using the following three strategies: 1) In-store finish, whereby the retailer takes delivery of components of final product and completes cooking and assembly in-house; 2) Buying from a commercial commissary, whereby a central kitchen develops food in finished or semi-finished form for delivery to retailers, and 3) Buying from a food processor that delivers the finished product directly in ready-to-eat or heat-and-eat form.
The growth in freshly-prepared food dovetails with the opportunities cold chain managers are finding in fresh produce. Tom Stenzel, president and CEO of the United Fresh Produce Association, says more fresh produce is being purchased from local growers. The growth in supermarket delis supports this growth as many deli offerings include fresh fruit and vegetables, he says. "Increasingly, just-in-time to retail is important," Stenzel says.
Stenzel also sees more growers cashing in on cross docking opportunities, serving as forward distribution centers for other growers. He thinks 3PLs have the expertise to help growers comply with the refrigerated transport rules under the Food Safety Modernization Act (FSMA).
The growth is still in its early stages, but the food industry isn't wasting time.
'Perimeter' Is The Growth Area
FMI recently tabbed 30-year Safeway veteran Rick Stein to head up an executive fresh foods council to focus on what supermarket insiders refer to as the "perimeter" of the store – the produce, seafood, meat, in-store bakery, deli foodservice and floral. The "perimeter" already accounts for more than half of supermarket sales, he says, and is growing. He says e-commerce will further drive this trend since food e-tailers are pulling traffic away from the longer-shelf-life center store segments. "The perimeter is the differentiator," Stein says.
FMI and Technomic are developing a survey to get a better handle on the freshly-prepared food business. The survey will benchmark fresh-prepared food product sales, staffing, labor rates, space allocation, product sourcing, shrink management, merchandising and other key performance indicators for prepared food.
Survey questions were not finalized at the time of this report, but Stein says he wants input from supply chain and logistics specialists. The study's main goal is to find ways to make fresh food profitable, which depends heavily on logistics. He says it's important for supply chain and logistics people to know what retailers are concerned about, just as retailers should know more about third party logistic capabilities.
As for what happened in the 1990s with home meal replacement, times have changed. Technomic's Goldin says retailers in the 1990s tried to be all things to all people and focused more on variety than quality. A.T. Kearney's Donnan says they focused on extending shelf life and failed to deliver on consumer expectations.
A more capable supply chain is clearly one of the key reasons retailers are now more confident in their ability to serve the growing freshly-prepared food market. A larger network of cold storage facilities, better warehouse and transportation management tools, and more all-around professionalism have changed the playing field.
Elliot Maras is managing editor of Food Logistics.