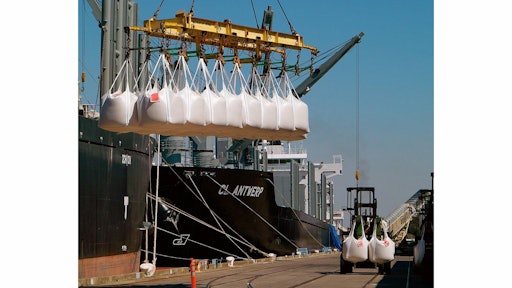 Here's a quick snapshot of some of the key U.S. ports in the global food supply chain along with some of the leading ocean carriers who are making waves in this important and growing sector…
Port of Baltimore (MD)
The Port of Baltimore is the 13th largest container port in the U.S., according to Zepol's latest ranking. In 2013, the Port handled 328,269 import TEUs from companies such as Costco Wholesale and Heineken. Currently, Baltimore is one of only two ports on the East Coast ready to accept the newly defined Panamax vessels, which positions the port to take advantage of increased business opportunities ushered in with the expansion of the Panama Canal, noted MTC Logistics' president Brooks Royster. MTC Logistics, an operator of temperature-controlled facilities, is expanding its Port of Baltimore distribution center. The project is due for completion at the end of the third quarter of 2014, boosting the facility's capacity to 9 million cubic feet with approximately 32,000 racked pallet positions.
Port of Beaumont (TX)
Bulk grains are the leading agricultural export for the Port of Beaumont, with most shipments headed to markets in Nigeria (28 percent), Israel (22 percent), Peru (14 percent) and Iraq (12 percent). The Port features a 3.5 million bushel grain elevator capable of loading 80,000 bushels per hour. On the import side, the Port handled just over 47,000 metric tons of canned pineapple on bulk vessels in 2011, according to the latest figures from the U.S. Department of Agriculture's Agricultural Marketing Service (AMS). Beaumont is served by three major rail carriers, five major roadways and is connected to the U.S. interior by the Intercoastal Waterway and Mississippi River.
Port of Boston (MA)
The Port of Boston is one of the 20 largest container ports in the U.S. Among the Port's top import customers are Heineken, United Liquors, Anheuser Busch, and BJs Wholesale Club. Seafood processing operations generate significant revenue for the Port and local economy, supporting hundreds of jobs at/near the Port, including Boston Logan International Airport. The Port's close proximity to Logan Airport allows quick distribution of fresh fish and seafood products such as haddock and lobster. MSC, COSCO, K-Line, Hanjin Shipping and Yang Ming are among the top carriers serving the Port of Boston.
Port of Corpus Christi (TX)
Agricultural exports at the Port of Corpus Christi are led by bulk grains and oilseeds destined primarily for Nigeria, Mexico and China. The Port also handles 2 percent of total U.S. soybean exports (534,553 metric tons). With rail traffic experiencing a 100 percent jump over the last five years, Port officials are in the midst of expanding rail infrastructure to meet growing demand. In June, the Port awarded construction of the first phase of its Nueces River Rail Yard project to Haas-Anderson Construction.
Port Everglades (FL)
Florida's Port Everglades' top agriculture importers include Chiquita and Dole Fresh Fruit and Crowley and Mediterranean Shipping Company (MSC) are among the top carriers. On the export side, grocery items make up nearly half (48 percent) of the shipments, followed by poultry, non-alcoholic beverages and fruit. Leading markets for the Port's export shipments include the Netherlands Antilles, the Bahamas and Cuba. Port Everglades Cold Storage provides nearly 100,000 square feet of variable temperature-controlled refrigerated storage.
Port Freeport (TX)
Boasting a 45-foot deep channel, the Gulf Coast's Port Freeport is a key port for banana importers Dole Fresh Fruit and Chiquita Brands International. Annually, the Port handles about 60,000 TUEs, mostly bananas. Two newly received cranes at the Port could potentially double its productivity and help retain business from Chiquita and Mediterranean Shipping Company (MSC). The 80-foot wide cranes have a lifting capacity of 75 tons and will occupy a portion of Berth 7 at Velasco Terminal.
Port of Galveston (TX)
Agricultural exports shipped from the Port of Galveston are comprised mostly of bulk, unrefrigerated commodities such as grain and grain products (cereal, flour) destined primarily for Mexico, Egypt and Nigeria. Imports of agricultural commodities are led by bananas, pineapple and other fruit with Guatemala the top origin country (75 percent), as well as sugar and tea. Recently, Gulf Stevedoring Service invested in a mobile harbor crane for its operations at Del Monte Fresh Produce at Pier 18/Galveston Wharves.
Port of Houston (TX)
Red Bull and Heineken are among the top importers at the Port of Houston, which ranks as the eighth-largest U.S. port for containerized import shipments. The Port is also a major import gateway for guar gum, molasses and beer. Recently, the Port launched a pilot program to import summer citrus from South Africa, one of the world's largest citrus exporters. South African citrus exporters see the Port of Houston as strategically positioned to serve consumers in the U.S. Southwest and Midwest. The growing/shipping season for South African citrus also complements domestically produced citrus, which is less available from June through October.
Port of Hueneme (CA)
Last October, Del Monte Fresh Produce signed a five-year lease extension with the Port of Hueneme, located about 65 miles north of Los Angeles. Del Monte ships fresh bananas, pineapple, honeydew and cantaloupe through the Port, which offers perishable shippers a total 223,000 square feet of refrigerated terminal space along with the ability to handle containerized chilled and frozen cargoes through dedicated on-dock yards. Yara, one of the world's largest fertilizer suppliers, operates 9.3 million gallon tank farm at the Port to distribute fertilizer products throughout the U.S. Southwest.
Port of Jacksonville (FL)
The Port of Jacksonville ranked 20th in the U.S. for total waterborne agricultural exports and 10th for containerized waterborne agricultural exports, according to the most recent stats from the U.S. Department of Agriculture's Agricultural Marketing Service (AMS). Lumber, phosphate, paper, cigars, and wood pulp are the primary exports with coffee a major import. Among the Port's infrastructure project, JAXPORT is constructing an intermodal container transfer facility next to the Dames Point Marine Terminal to speed containers from vessels to rail carriers.
Port of Kalama (WA)
With a strategic location on the Columbia River, Washington State's Port of Kalama is a major export port for bulk grains, soybeans, and other grain products destined mostly for China and Japan. Between 8 and 11 million tons of grain are exported from the Port annually, supplied by states such as Oregon, Washington, Idaho, Montana and North Dakota. The Port of Kalama's industrial area features seven miles of riverfront property adjacent to the Columbia River with rail service from BNSF and Union Pacific.
Port of Long Beach (CA)
One of the U.S.' leading box ports is a major trade gateway for containerized agricultural imports and exports. The top export commodity (by volume) is animal feed, which comprises 28 percent of the Port of Long Beach's agricultural exports. Other leading export commodities include soybeans, grain products, cotton, meat, grocery items, and oranges. Mediterranean Shipping Company (MSC) is the Port's number one carrier for agricultural exports.
Port of Los Angeles (CA)
Similar to the Port of Long Beach, the Port of L.A. is a major export gateway for containerized animal feed shipments headed to Asian markets, especially alfalfa hay for China's burgeoning dairy industry. China ranks as the top global importer of U.S. alfalfa, surpassing the United Arab Emirates and Japan. The Port of L.A. also handles imports of fruit, beverages, shrimp/prawns, grocery items, rice/crackers/pasta, and beer/ale.
Port Manatee (FL)
Primary cargoes at Port Manatee include tropical fruits and vegetables along with citrus juices and beverages. Located on Florida's Gulf Coast, the Port is the closest U.S. deepwater port to the Panama Canal. Port Manatee offers 202,000 square feet of refrigerated space, including 30,000 square feet of freezer space.
Port of Miami (FL)
Grocery items, non-alcoholic beverages and grapefruit comprise the majority (60 percent) of the Port of Miami's agricultural exports with Japan, the Dominican Republic and Haiti making up the top destinations for these shipments. Seaboard Marine, which offers direct, regular service between the U.S. and the Caribbean Basin, Central and South America, is a major ocean carrier at the Port. Its fleet of refrigerated containers, which uses only ozone-friendly refrigerants, is one of the newest in the industry.
Port of Mobile (AL)
Alabama's Port of Mobile is a major export port for poultry and the top port for shipments bound for Russia. Poultry is the leading agricultural export for the state. The Port also exports shipments of Alabama-produced cotton, soybeans and peanuts. Cold storage provider Seaonus operates a two million cubic foot on-dock facility at the Port to handle perishable imports/exports.
Port of New Orleans (LA)
Agricultural exports for the Port of New Orleans are posting a strong rebound this year following a drop in oilseed and grain exports in 2013. As a whole, the New Orleans Port Region and the Mississippi River supplies global markets with two billion bushels (on average) of corn, wheat, oilseeds and grain products annually. Nearly all the Port Region's agricultural exports are shipped via bulk vessels.
Port of New York/New Jersey (NY)
The Port of NY/NJ is a leading import hub for containerized shipments of Brazilian coffee and tea along with fish, fruit, and coffee/tea from Vietnam. Nigeria is a top destination for food preparations exported from the Port. Bulk exports of animal feed are a growing commodity for the Port of NY/NJ. Three on-dock intermodal terminals expedite ocean shipments to rail carriers CSX, Norfolk Southern and Canadian Pacific.
Port of Norfolk (VA)
In 2013, beverage imports and exports of food waste/animal feed and cereals were among the top commodity shipments handled at the Port of Norfolk (which includes Newport News, Portsmouth, Chesapeake and Richmond). The Port shipped 81 percent of U.S. waterborne tobacco exports and 25 percent of wine exports in 2011. It also boasts the largest intermodal facility on the U.S. East Coast.
Port of Oakland (CA)
The Port of Oakland handled roughly half a million TEUs of agriculture related shipments in 2011 and is ships over 60 percent of the U.S.' nut and tomato exports. Nuts, meat and wine are the major export commodities by volume and leading markets include Japan, Korea and China. Wine is also a top import commodity at the Port of Oakland as are sugar and coffee.
Port of Philadelphia (PA)
Fresh fruits and vegetables as well as meats are among the top commodities imported/exported through the Port of Philadelphia. Meat is the leading agricultural export commodity and top shipping lines for the Port's agricultural exports include Sea Star Line and Naviera Interamerica. The Port is served by three Class I railroads—CSX, Norfolk Southern and Canadian Pacific and is supported by numerous refrigeration, processing and packaging facilities.
Port of Portland (OR)
The Port of Portland is the leading U.S. port for wheat exports. Louis Dreyfus, Cargill and Columbia Grain all provide elevator storage at the Port, offering more than 7.1 million bushels of storage capacity, states the U.S. Department of Agriculture's Agricultural Marketing Service (AMS). In addition to wheat, grain products, wine and soybeans are among the top export commodities shipped through the Port of Portland.
Port of San Diego (CA)
Dole Fresh Fruit is a key tenant at the Port of San Diego, importing approximately two billion bananas annually and operating a weekly service from Latin America to San Diego to support consumers in the Western U.S. and Canada. Port officials forecast continued growth in perishables trade, particularly fresh fruit from Latin America, and have identified Peru as one of the biggest prospects.
Port of San Francisco (CA)
The Port of San Francisco features five deep water berths, on-dock rail, a Foreign Trade Zone and cold storage facilities to accommodate a variety of import/export cargo. Commercial fishing operations are supported by the largest concentration of commercial fish processors and distributors on the U.S. West Coast.
Port of Savannah (GA)
Ranked as the fourth largest container port in the U.S., the Port of Savannah is a leading export gateway for food (including poultry), cotton and animal feed. Approximately one-third of U.S. poultry exports are shipped through the Port to markets such as Hong Kong, China and Korea. Primary shipping lines for poultry exports include Maersk, CMA CGM, and Hapag Lloyd. The Port is also a leading import hub for sugar, palm oil and beer from countries that include Panama, Malaysia and Brazil.
Port of Seattle (WA)
Agricultural exports are an important business segment for the Port of Seattle, valued at nearly $4.3 billion annually. The top commodities include apples, pears, sweet cherries, potatoes, onions, red raspberries, hay and hops. The Port ranks as one of the top 10 container ports in the U.S. and features bulk transload facilities adjacent to terminals and nearby cold storage facilities to support agriculture shippers.
Port of Stockton (CA)
The Port of Stockton has grown to become the second busiest inland port on the U.S. West Coast handling approximately three million metric tons of cargo annually. Over 90 percent of the chemical fertilizer used by California's Central Valley agriculture sector is imported through the Port. Bulk molasses and foodgrade edible oils are also key imports. The Port of Stockton's Marine Highway Demonstration Project, known as M-580, was launched in June 2013 to provide a barge transportation alternative from Stockton to the Port of Oakland. M-580 helps remove truck traffic on Interstate 580 while simultaneously slashing greenhouse gas emissions. Although the Port transitioned M-580 to an "as needed" service effective September 1, Port Commission Chairman Victor Mow said, "we look forward to the day we can bring the weekly service back to benefit our communities."
Port of Tacoma (WA)
According to the U.S. Department of Agriculture's Agricultural Marketing Service (AMS), the Port of Tacoma moved almost 3.8 million metric tons of agricultural exports in 2011, nearly three-fourths of which were moved in bulk. Grain products accounted for over half of the Port's agriculture exports, while Blue Water Shipping Co. and Evergreen together shipped 62 percent of the Port's agricultural exports. Tacoma's top agricultural imports include grocery items, frozen fish, vegetables, canned fruit and beverages.
Port of Vancouver (WA)
Washington State's Port of Vancouver is a key bulk grain (mostly wheat) exporter with most shipments destined for the Philippines, Indonesia and Korea. Grain products, including cereal and flour, as well as soybeans, are also key export commodities. In August, the Port of Vancouver signed a memorandum of understanding with North Dakota's Department of Agriculture to provide dedicated rail service for westbound agricultural shipments from North Dakota, utilizing otherwise empty railcars returning from eastbound shipments. Bulk agricultural products are one of the Port's key business segments and grain the top export commodity by weight.
Delaware's Port of Wilmington is a key port in the global food supply chain. The Port features the largest dock-side cold storage facility in the U.S., comprised of six separate warehouses aggregating approximately 800,000 square feet of chilled and freezer storage space and 16,000 square feet of controlled atmosphere capability. Delaware's Port is the top gateway for imports of fresh fruit, bananas, and juice concentrate. In December, Dole Food Company signed a 15-year agreement to continue doing business with the Port. Dole is the Port of Wilmington's largest customer, importing bananas, pineapples and other fruit and exporting forest products and general cargo.