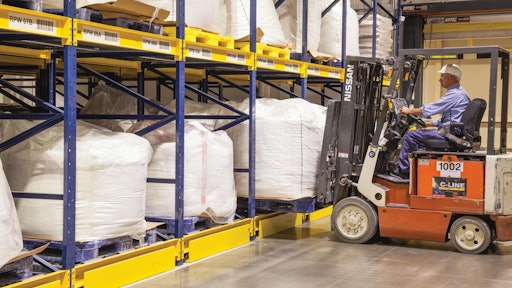 Food and beverage warehouse managers stand at a crossroad of challenges and opportunities. Rising costs and heightened public awareness of food safety bear harder than ever on all points of the supply chain. New technologies enable warehouse managers to monitor food transport more accurately and in a timelier manner. But these tools, while helpful, call on professionals to educate themselves about constantly evolving technology.
Keeping up with the onslaught of tools designed to manage product transport from production through the supply chain to the end user has become a daunting task in itself. Supply chain professionals have no choice but to roll up their sleeves and learn the intricacies of warehouse management software, warehouse control software, automated materials handling equipment and other evolving technologies.
The regulatory requirements under the Food Safety Modernization Act (FMSA) alone require food transporters to gather more information with greater frequency. Food distribution facilities must have written plans to manage possible food safety issues. Facilities will soon be required to implement a written preventive control plan, provide for the monitoring of the performance of those controls, and specify the corrective actions the facility will take when necessary.
Meanwhile, the growth of ecommerce gives new urgency for food and beverage companies to reach customers through more points of sale than the traditional retail store. This foists upon them the need to manage more SKUs, more case loads, and more varying (and often unpredictable) workloads in just about all aspects of warehouse operations. Companies that want to survive in the "omnichannel" age need warehouse management software that will allow them to manage more complex warehouse operations.
The "omnichannel," in requiring a greater variety of SKUs and package sizes, builds on a host of market forces pushing food and beverage manufacturers to reconsider their warehousing and transportation needs. These "drivers" include global trade (representing both new competition and growth opportunities) and the disproportionate growth in recent years of the foodservice market in addition to the retail market.
Equipment and technology players have responded to these challenges with an array of offerings. Everything from to evolving robotic palletizing, real-time vehicle locating, laser-guided vehicles, optical and RFID vehicle tracking, RFID temperature monitoring, customized business intelligence dashboards, and more.
The quest to improve efficiency, meet new government regulations and stay on top of changing customer expectations and market conditions places the food logistics decision maker in a highly challenging position. Decision makers already know that today's business conditions call on them to partner proactively with equipment and technology providers. There is no single solution to make a warehouse run more efficiently and address the demands of today's marketplace. The optimum solution typically requires extensive planning with integrators, software providers and 3PLs.
"Automation may not be the way to go," notes Jason Minghini, vice president of best practices at Kenco, a 3PL provider that works with many product manufacturers. While product manufacturers are generally more automated than wholesale distributors due to their high throughput volumes, Minghini says some warehouses find semi-automated picking makes more sense than fully automated solutions. "Typically, automation is not very flexible," he says.
"Before you go put in a lot of automation, you have to make sure that your profile is stable enough to handle the automation and make sure the automation is flexible," Minghini notes. He says this has been important to manufacturers that are filling more ecommerce orders, which are often single product buys.
John B. Sanfilippo & Son, Inc., the Elgin, Ill.-based manufacturer of Fisher Nuts, with plants in five states, well understands the challenges of today's warehouse technology. The company uses robotic packaging equipment in its manufacturing operation, notes Tom Kirkham, director of business applications. But it removed its warehouse conveyor and case pick modules after just one year. Had it opted to install a fully- automated picking and palletizing system, it would have cost $1.5 million, which he says would not have delivered a good ROI.
John B. Sanfilippo & Son Inc. relies on its High Jump WMS software for labor management, Kirkham says. Since installing the WMS in 2006, the software has helped the company meet safety reporting rules. The software continues to come in handy as they increase their export trade, since countries require certificates of authenticity (COA). "They (High Jump) have enabled us to segregate the COA product and prevent it from being picked with non-COA product," Kirkham says. "It is a very critical system to us."
Minghini of Kenco notes that many food and beverage makers are finding new markets overseas, which requires them to expand their SKUs. "The taste in the American market is sometimes vastly different than the European or Asian market," he says. "The more globalization happens, the larger your SKU proliferation."
A burgeoning foodservice market also affects food SKU counts, Minghini notes. In the last decade, away-from-home food outlets (restaurants, institutions and convenience stores) have grabbed "share of stomach" dollars from food retailers, forcing product manufacturers to adjust their offerings if they wanted to be where the growth is. (Who cooks at home anymore?) Repackaging is the least that is called for when a foodmaker that is used to selling to supermarkets decides to tackle the restaurant trade. For such manufacturers, Minghini observes that expansion into foodservice results in more private label SKUs.
But SKU proliferation is only one challenge facing food and beverage warehouse managers. Different retail channels usually require different case loads. Picking systems have to be more flexible to pick to order different case loads.
All of which has requires more dynamic WMS systems, a challenge that Minghini claims the technology players have met head on. "If you don't have a really good WMS, you're going to struggle over the long term," he says.
Real-time data will make labor more efficient, notes Jim Chamberlain, senior director of industrial engineering and continual improvement at DSC Logistics, a 3PL based in Des Plaines, Ill. This will be especially beneficial to food companies seeking to expand into new distribution channels. Chamberlain notes that his own company is able to share metrics such as "cost to serve" with its customers. Such data can allow a company to adjust volume or shipment frequency on quick notice. "It allows us to say: Are there other ways we could internally approach this or in conjunction with our external customers?" he asks.
Tim Talarico, senior director of design sales and supply chain solutions at enVista, a Carmel, Ind.-based supply chain consulting and IT services firm, agrees the push to serve more distribution channels makes a WMS/WCS more invaluable to a company's direction of serving their clients at multiple venues. As a company expands into more channels, it must reconsider the methodology of handling customer orders from receiving to shipping while providing total visibility throughout the process. These methodologies can change as functions automate. Voice technology, for instance, has expanded from picking functions to real time replenishment, quality control, and is being utilized in both receiving and shipping processes.
"It (voice technology) has almost become a stand-alone WCS (warehouse control system)," Talarico says.
Meanwhile, automation keeps evolving, creating more opportunities to improve warehouse efficiency. Chamberlain of DSC Logistics says automated vehicle navigation systems are now available that offer a 1- to 3-year ROI.
Talarico thinks the Internet cloud will play a role for second- and third-tier WMS systems, but not the first tier WMS.