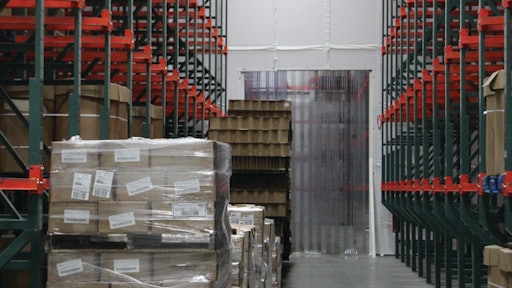 Randall Manufacturing has been a partner to WOW Logistics, a nationally recognized leader in the third-party logistics (3PL) industry, helping to maximize warehouse space and create different temperature rooms with its flexible, thermal curtain wall, InsulWall.
The growth of WOW's business and breadth of the products their customers are storing in its cooler locations necessitate being able to divide space and provide flexible temperature options. Randall's InsulWall enables WOW to offer a broader temperature range and help WOW meet its customers'' requirements, as well as maximize the utilization of cooler space.
Notable Project:
Wisconsin Rapids Cooler Location
7.1 million cubic feet of multi-temperature storage
InsulWall helped create temperature-controlled areas of cooler space for a highly temperature-sensitive dairy product. application included temperature-controlled rooms within the warehouse, a sample vacuum-sealing room, and hanging strip doors.
Why 3PLs, like WOW Logistics, use InsulWall:
1. Modularity – 3PLs appreciate the ability to reconfigure their space to meet to clients' needs. InsulWall can be easily expanded, relocated, reconfigured to quickly maximize space and generate income.
2. Flexibility – the flexible nature of InsulWall is not only forgiving to contact from forklifts and other equipment, but is most cost-effective than rigid wall systems or traditional walls.
3. Energy efficiency – InsulWall is made with insulation and is available with a variety of R values which helps maximize a facility's energy usage and reduce costs.
4. LEED-contributing - InsulWall is constructed with recycled insulation which contributes to LEED scores.
5. Installation – InsulWall is installed many times with two men, a drill, and a forklift with little to no business interruption or dust. InsulWall easily works around the building's existing infrastructure, between racking, and doorways.
6. Maintenance – InsulWall requires minimal maintenance. You will want to inspect it regularly for any signs of damage and to ensure the Velcro® is secure. Any tears or punctures are easily repairable.
About Randall Manufacturing
For over ten years, Randall Manufacturing has been providing innovative temperature control products to warehouses, facilities, and workplaces. With an eye for sustainability, Randall has been the first to utilize recycled materials in its products to meet the growing need for GREEN building materials.
Randall's flexible, modular curtain wall solutions include GREEN InsulWall®, Randall Industrial Curtain Walls, Randall Noise Curtain Wall and insulated pallet covers.
About WOW Logistics
Headquartered in Appleton, Wisconsin, WOW is a nationally recognized leader in the third-party logistics (3PL) industry. As an expert in storing and handling food-grade products, WOW is the only 3PL in the U.S. that has all refrigerated warehouses audited by ASI at the food processor level and consistently scored above 90 percent. WOW's leadership position also carries into Trade Financing. The company is one of the world's largest private financers of dairy products and has extended the program into other types of inventory in a variety of markets. WOW maintains a total of 6 million square feet of warehouse space, including 22 million cubic feet of refrigerated area, throughout 21 locations in three states. It also offers build-to-suit options, transportation management, and a variety of value-added services.
Companies in this article