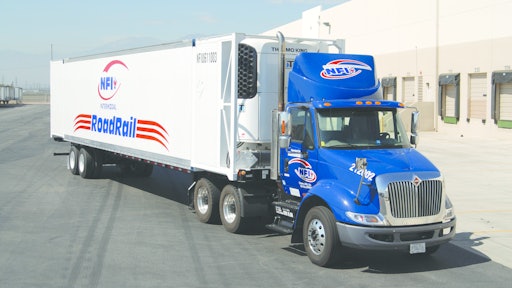 The trend to convert truck freight to rail shows no signs of slowing down, with rising fuel prices, capacity concerns and sustainability initiatives putting more pressure on companies to look for alternative transportation options.
While trains played a significant role in the domestic food supply chain decades ago, especially for refrigerated shipments, that business segment withered during the 1970's and 80's when railroads ceded to the trucking sector.
However, there are dramatic changes underway.
Competing against OTR
"We're seeing a bit of a renaissance," observes Dave Howland, vice president for land transport services at APL Logistics. "The rail carriers are realizing that if they go back to the concept of running unit train operations, they can compete very nicely with the truckload world and in some cases even beat them."
He offers an example: "If you can load a unit train out of California and the next stop is Chicago, with that service the rail carriers are now 'highway competitive.'" And because it's a much faster service, the railroads are getting a much higher utilization on those rail cars, he points out.
"Instead of the usual four- to six-week turn on their assets, now they're looking at a two-week turnaround on that L.A. to Chicago route," and it's forcing the railroads to view their business model differently, says Howland. The result is that railroads are recapturing some of their lost market share, which in turn supports their willingness to make capital investments in new equipment, including refrigerated cars, making rail even more attractive to food shippers.
Meanwhile, it's not just the railroads that are investing in new refrigerated services and equipment, but other intermodal transportation providers too, including major players like Alliance Shippers, Stevens Transport and J.B. Hunt, to name a few.
"It's a fairly easy conversion for [the OTR carriers] in the markets that make sense," says Howland, and it's opening up and expanding intermodal services for markets like Kansas City, Dallas, Atlanta and Memphis.
Howland expects this trend will "move down from the long haul lanes to the short haul lanes just like dry freight did before." He says that just as recent as three years ago, nobody would have considered offering a refrigerated intermodal service from Chicago to Atlanta to move beef, pork and dairy products out of the upper Midwest to the Southeast, "yet now it's definitely a viable option."
In general, it's the eastern railroads that are moving more aggressively to open up these tier-two markets, says Howland.
"Both NS and CSX have opened a lot of new service lanes east of the Mississippi, while Kansas City Southern has opened up new market capabilities in conjunction with those rail carriers. As for the western railroads, they're still relying on their long haul transcontinental service, at least for the time being."
Better equipment, better tracking
It's not just new service lanes that are attracting food shippers and others to rail, more sophisticated refrigeration equipment and real time tracking and monitoring are sweetening the value proposition.
Veteran rail industry executive and consultant Tom Finkbiner says technology advancements in several key areas are worth watching, starting with the refrigeration units, which will continue to become more fuel efficient.
"Next are advances in telemetrics that provide information such as remote temperature monitoring and data on the fuel level in the reefer tank," he adds.
Thirdly, Finkbiner sees improved GPS monitoring as another technology advancement that is helping sell refrigerated intermodal.
Even packaging is playing a role in driving more food to rail, he notes. "Years ago, lettuce was shipped in full heads. But today, about one-quarter of it is shipped pre-packaged and ready to eat, just like a lot of other fruits and vegetables, which extends the shelf life and presents more options when it comes to transportation."
There are also more options—and cost savings—when it comes to the refrigerated rail cars and intermodal boxes themselves, says Finkbiner. For instance, the 72-foot rail boxcar (the biggest currently available) can hold up to four truckloads of palletized food when the boxcar is double-decked inside.
Union Pacific owns the largest fleet of refrigerated boxcars, says Finkbiner, most of which are 50-foot cars along with some 69-foot cars. However, earlier this year the company announced it would purchase 225 72-foot refrigerated boxcars.
"It was a great move on UP's part, because railroads generally aren't investing in rail cars these days. It also signals a huge vote of confidence in the intermodal reefer business, and I think that confidence is well placed when you see what's happening with truck capacity," says Finkbiner.
Ike Brown, vice chairman and president at NFI Intermodal, along with Scott Webb, senior vice president at NFI Intermodal, also credit North America's Class I railroads for enhancing rail's attractiveness to food shippers.
"Union Pacific and CSX are leading the charge to offer new and innovative temperature-controlled rail solutions to food shippers. They are embracing carload solutions, such as Railex, and leveraging their highly efficient intermodal container networks to enable low cost temperature-controlled containers for customers that need more frequent service or ship in smaller lot sizes," the executives remark.
From their perspective, Brown and Webb believe the 53-foot temperature-controlled container has been a game changer in the industry.
"NFI is proud to lead the way with this equipment, which has fundamentally changed the cost structure of reefer truckload transportation—whether over-the-road (OTR) or rail," say the two.
"Typical domestic intermodal trains can hold 140 trailers or 250 containers. The ability to spread the fixed cost of the train over more container loads is simply more efficient than traditional trailer-on-flatcar service."
They add that, "Initially, the trade off—as it is with dry intermodal—was weight. The container/chassis combination is heavier than a trailer. NFI has worked with our partner, Hyundai, to reduce the weight of temperature-controlled containers from the initial build by over 750 pounds. Coupled with our network of ultra lightweight dray trucks, we have all but eliminated any weight disadvantage in the core intermodal lanes."
NFI has made other improvements to temperature-controlled containers, according to Brown and Webb.
"They include working with Hyundai to improve the thermal efficiency of the reefer containers by almost 20 percent; loading reefer containers in the bottom well of the rail car to reduce fuel burn and improve security; and collaborating with our refrigeration unit partner, Thermo King, to customize our units to achieve industry-leading fuel consumption."
Even something as seemingly simple as an insulated blanket can be improved upon, points out APL Logistics' Howland.
"We've been able to move in to the new generation of insulated blankets to provide 'freeze protect' for products, rather than having to use a fully refrigerated unit," he explains. For products that don't require a constant temperature, just protection from extreme hot or cold temperatures, "then these blankets do a very good job on a five- to seven-day transit, and in intermodal that's all you need."
Overall, Howland says APL Logistics is getting more inquiries from customers about refrigerated capabilities. In the meantime, the company is continuing to make sizeable investments in information technology, particularly in load optimization and routing.
Companies in this article