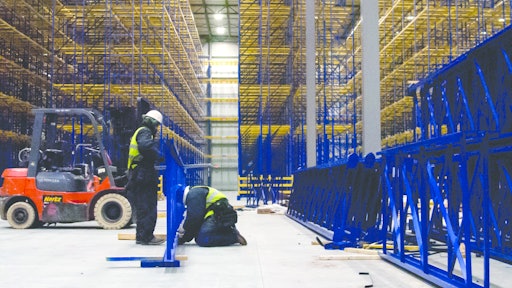 Now that the global economy is on the rebound, construction and expansion of refrigerated warehouses in the U.S. and abroad is picking up to stay ahead of growing demand. A number of high-profile projects offer a glimpse into who's expanding where and how these state-of-the-art facilities are supporting the cold chain.
Activity in the PRW sector
In the public refrigerated warehouse (PRW) sector, several key projects have recently come online or are near completion. In Dallas, US Cold Storage is close to wrapping up construction on a new 500,000 square-foot facility. The company purchased the site in 2007, but delayed construction because of the recession.
US Cold Storage already runs a facility in Dallas, but it's been operating at maximum capacity for the past few years, according to the company's Dallas general manager. The new facility features six 42-pallet blast cells, a temperature-controlled dock with 21 doors, and rail accessibility.
It's also highly energy efficient. A CO2 cascade refrigeration system will use hot gas defrost, instead of electric defrost, allowing the system to operate at optimum efficiency.
Boosting energy efficiency is key for cold storage operators, and was a determining factor behind a partnership between Lineage Logistics and Cascade Energy, which aims to lower resource utilization and costs for Lineage by 10 to 15 percent.
Cascade Energy's CEO Marcus Wilcox explained that, "Lineage is taking both an aggressive and comprehensive approach to energy management." Acknowledging the high energy costs associated with running?a cold storage facility, he added that Cascade is working with Lineage "shoulder-to-shoulder" to "strategically control utilization and costs that are second only to labor in the industry."
Central to Cascade's approach to reducing its clients' energy costs is the facility "tune up," which identifies opportunities for energy savings through proper maintenance and operations, all of which is captured by Cascade's proprietary energy tracking software and efficiency platform called SENSEI.
According to Cascade, the company has saved its industrial clients approximately $125 million, and two billion kilowatt hours per year with its energy savings solutions.
To date, Cascade has completed more than 3,000 projects across a variety of industries, including cold storage, foodservice distribution, food processing, agribusiness, oil and gas, pulp and paper, and general manufacturing.
Meanwhile, Lineage Logistics has been steadily building out its network. Most recently, it acquired Seattle Cold Storage (SCS) and its business in Algona, Washington and the Port of Tacoma. Between the two locations, SCS has 420,000 square feet with services ranging from temperature- controlled storage, to import/export, retail distribution, and transportation services.
Bill Hendrickson, Lineage CEO, said the acquisition of SCS "complements our existing Seafreeze and CityIce operations in Seattle and enables us to provide our customers with unparalleled service and supply chain capabilities in the Puget Sound. Our Lineage Freight Management division has also expanded its market leading transportation-freight consolidation solutions to these new locations."
In the meantime, Lineage really boosted its network last July when it acquired California-based Castle & Cooke Cold Storage (CCCS), positioning itself as the third-largest refrigerated warehouse company in North America.The acquisition of CCCS included 24 facilities totaling 112 million cubic feet located across California, Illinois, Maryland, Missouri, Georgia and Texas.
Foreign trade adding to demand
An increase in U.S. imports and exports is also adding to demand for cold storage. Although Portland, Maine has been without direct ocean container service to Europe for 33 years, that changed in late March when Iceland's liner company Eimskip added the city as a port of call—the only U.S. city currently served by Eimskip.
The liner's expertise in shipping frozen seafood is a boon for the region's seafood companies. However, it's causing some to question whether Portland has the cold storage capacity to support the new traffic (Eimskip estimates it will move 5,000 containers through Portland annually with the new service).
Right now, the port has only one cold storage facility, a 1.7 million cubic-foot warehouse operated by Americold Logistics. Most seafood companies in New England use cold storage providers in the Boston area. There are reports that Americold will invest in its Portland-based cold storage operations, but no details are available yet.
Meanwhile, there are other developments in the works resulting from the new Eimskip service. For one, the Maine Port Authority is installing 150 reefer container plugs at the port terminal to power the reefers discharged from the Eimskip vessels. In addition, a Maine-based lobster company says it may export some of its Europe-bound product out of Maine instead of trucking it down to Boston now that more cold chain services and shipping are available in Portland. Other cold storage operators are watching the latest developments too, but say they won't commit to adding any cold storage capacity to Portland unless more business starts to materialize.
Foreign trade is also driving cold storage construction in the U.S. Southeast. Last month, the Georgia Ports Authority celebrated the grand opening of Nordic Cold Storage's new facility near the Port of Savannah. The facility features more than 200,000 square feet of convertible temperature-controlled storage space and is capable of blasting more than 10 million pounds of product, ranging from fresh poultry to produce, per week. Nordic plans to start on a second phase of the facility by the end of the year.
The new facility is a win for the state's poultry producers, according to Curtis Foltz, Georgia Ports Authority's executive director.
"The Port of Savannah handles nearly 40 percent of the nation's containerized poultry exports, supplied largely by Georgia's farms. Quality providers like Nordic will give shippers more cost effective options for moving refrigerated commodities to and from international markets," he remarked.
Reefer business is central to the Port of Savannah's cargo mix. In 2012, the port's refrigerated cargo exports grew 3.9 percent to nearly 108,000 TEUs. Over the last seven years, refrigerated cargo exports through Savannah have risen 130 percent.
The Georgia Ports Authority says that more than 80 cold storage facilities around the state rely on the Port of Savannah, with a combined storage capacity greater than 16 million square feet.
"These private investments help to grow Savannah's market reach, to attract a greater base of cold storage commodities, and to make Savannah a hub for refrigerated cargo," noted Cliff Pyron, Georgia Ports Authority's chief commercial officer.
In neighboring South Carolina, Millard Refrigerated Services is breaking ground on a new cold storage facility in Charleston County that will begin operating in 2014. "The team at Millard is excited about the business opportunities with our new operation in Charleston County. The facility will give us access to the world class port in Charleston and provide an efficient hub for our customers along the East Coast and throughout the Southeast," said Lance Larson, the company's president and CEO.
Millard's new cold storage facility will be used to freeze and store poultry, pork and beef products that will be exported to foreign markets.
South Carolina's Secretary of Commerce Bobby Hitt added that, "Distribution and logistics companies are increasingly coming to understand that South Carolina is just right for their operations. Being centrally located between Miami and New York City, having solid infrastructure and one of the busiest ports on the East Coast makes the Palmetto State ideal for reaching customers and markets."
South Carolina's exports last year rose more than 21 percent to $24.6 billion worth of goods sold to 198 countries around the world.