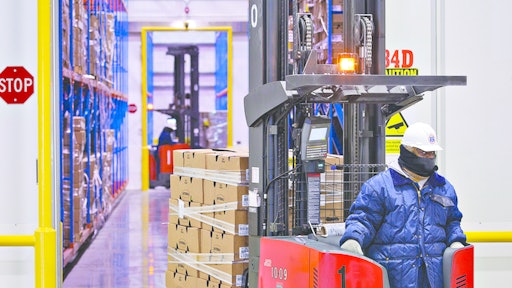 The global demand for the cold chain equipment market was valued at $67 billion in 2014 is expected to reach $118.0 billion in 2020 and is anticipated to grow at a compound annual growth rate of 9.8 percent between 2015 and 2020, according to a report by Zion Market Research titled "Cold Chain Equipment (Storage and Transport) Market for Meat, Fish & Seafood, Dairy & Frozen Desserts, Vegetables & Fruits, Bakery & Confectionary and Others End-Uses: Global Industry Perspective, Comprehensive Analysis and Forecast, 2014 – 2020."
The cold chain is an unbroken supply chain which exclusively serves storage and distribution facilities with a temperature-controlled range to extend and to help ensure the shelf life of products. In cold chain process, the cold chain equipment is a vital entity of the supply chain. The global cold chain market is primarily driven by increased need to reduce food wastage across the globe. Secondly, the rapid growth of frozen food segment is expected to drive the cold chain equipment market. However, high installation cost coupled with stringent government policies and regulation is expected to hinder the growth of cold chain equipment market. Nonetheless, increased demand for food in emerging countries is likely to open new avenues for cold chain equipment market in near future.
Storage equipment segment dominated the cold chain equipment market in 2014, which accounted for more than 50 percent share of the global market. Storage equipment is followed by transport equipment segment of the market in 2014. Moreover, storage equipment is expected to continue this trend during the coming years due to growing need of storage equipment to fulfill the increasing demand for food coupled with strong demand for frozen food across the globe.
Based on end-uses segment, the global cold chain equipment market was dominated by meat, fish and seafood segment. It accounted over 35 percent share of the entire revenue generated in 2014. Furthermore, it is also expected to remain prolong segment owing to robust demand for meat, fish and seafood on a global basis. Moreover, dairy and frozen dessert is another important outlet that is expected to witness the significant growth in near future.
Asia Pacific is expected to be one of the fastest growing regional markets for cold chain equipment market within the forecast period. This market growth is expected to be driven by the increase in the deployment of cold chain management in India and China. Thus, the increased demand for cold chain logistics in emerging economies is one of the major trends that are expected to contribute to the growth of the global cold chain market during the years to come.
Key players involved globally in cold chain market include Americold Logistics, Lineage Logistics, Preferred Freezer Services, and Swire Cold Storage, A.B. Oxford Cold Storage, Bring Frigoscandia AS, Burris Logistics, Claus Sorensen, Cloverleaf Cold Storage, ColdEX and Columbia Colstor amongst others.
For information, click here.