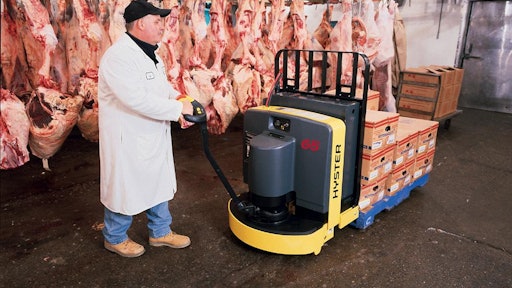 The International Association of Refrigerated Warehouses (IARW) reports that OSHA's newly instituted policy changes have a significant impact on public refrigerated warehouses (PRW) and will levy stronger enforcement practices than ever before. "The atmosphere has definitely changed in the regulatory arena," notes Lowell Randel, director of government affairs for IARW, Alexandria, VA. These policy changes started to emerge a bit over a year ago.
In the past when inspectors discovered deficiencies, many times they issued the company a warning and allowed reasonable time to remedy the problem. Today, however, there are fewer warnings and more severe fines with the intention of strengthening the compliance component to deter future violations, explains Randel. The new policies will increase penalties while decreasing the flexibility area directors used to take a variety of factors into account in assessing fine levels. "Penalties for a serious violation would increase from $1,000 to between $3,000 and $4,000," he notes. "It used to be that area offices were able to use their discretion in considering a number of factors to determine fines."
The OSHA program that is significantly impacting the refrigerated warehouse industry is the Chemical NEP (National Emphasis Program) as it applies to anhydrous ammonia. "This was a pilot program that began in July 2009 which impacts our industry because over 90 percent of our facilities utilize ammonia as the primary refrigerant," explains Randel. Facilities with over 10,000 pounds of ammonia are subject to inspection. Although the NEP is currently operating as a pilot program, Randel indicates that it likely will be expanded so that facilities across the country will be subject to the program.
Whereas in the past, the focus had been on compliance assistance and providing educational tools to improve compliance, now there is more of a philosophy of deterrence as a compliance incentive, notes Randel.
The higher fines and increased inspections are causing a lot of concern in the industry. "The indications are that OSHA is stepping up its activities which will impact our industry," Randel says. "This is why we feel it is important to be in front of that and to work with the agency and let them know we are our members are working in good faith."
To this end, IARW is a core partner of the Global Cold Chain Alliance with whom OSHA signed an alliance that will build better relations with the agency to assure constructive communications between OSHA and IARW. "We are developing compliance assistance materials and safety related materials as part of that alliance to demonstrate that we are an industry focused on safety," Randel explains. "Through the alliance we are communicating the unique aspects of our industry to OSHA so when an OSHA inspector visits a refrigerated warehouse it does not apply a petroleum refinery mindset to a refrigerated warehouse."
Through the alliance, IARW and its members are confident that industry concerns will be heard at the local level at OSHA field offices. "We are taking a variety of approaches to communicate with OSHA in order to develop a solid relationship with the agency," says Randel. "We are hopeful that the more we can build these relationships and have good lines of communication open, more of our members will have the information they need to be compliant so they will not be negatively impacted by these policy changes."
Associated Grocers Of Maine
Goes Out Of Business
Associated Grocers of Maine (AGM) Inc., Gardiner, ME, is closing after 57 years supplying small, independent grocers in the New England.
More than 100 workers will lose their jobs in Gardiner and hundreds of retailers are scrambling to fill shelves after a judge granted Savings Bank of Maine's request last month to wrest control of the member-owned cooperative, according to published reports.
Court documents show AGM owed the Savings Bank of Maine more than $6 million, plus $138,000 in interest.
The receiver, James C. Ebbert of Aurora Management Partners Inc., Rockland, ME, is empowered to manage the bank's property, protect the bank's interests "and to conduct an orderly shutdown of business operations until a sale or other disposition," the court document says.
AGM has been in financial trouble for at least three years. More than 300 stores in Maine, New Hampshire, Vermont and Massachusetts are affected.
In a statement issued by Ebbert last week, AGM's last delivery of cigarettes and tobacco was on April 28. He said that Pine State Trading Co. is willing to supply AGM's customers with cigarettes, tobacco, candy and other items.
U.S. Foodservice Acquires
Ritter Food Service
U.S. Foodservice has purchased Ritter Food Service, a division of The Pennfield Corp. Ritter, based in Mount Joy, PA, is a specialty distributor of high quality poultry, meats and seafood, including the Pennfield Farms brand.
Ritter serves more than 1,000 customers which include local retailers and restaurants in Pennsylvania, Maryland and New Jersey. Ritter's operations will become part of the U.S. Foodservice Allentown, PA, division.
"We look forward to welcoming Ritter customers to U.S. Foodservice," says Jeff Baldasano, division president, U.S. Foodservice-Allentown. "This acquisition gives our customers access to Ritter's broad selection of high-quality poultry, beef, pork, fresh and frozen seafood. As important, Ritter customers now have access to more than 40,000 national brand products and U.S. Foodservice's own high-quality private label items, along with other food-related items."
Mike Horn, Pennfield president and CEO, says, "We are grateful for our customers' trust over these past years and confident that U.S. Foodservice will continue providing high-quality products and services."
Terms of the acquisition were not disclosed.