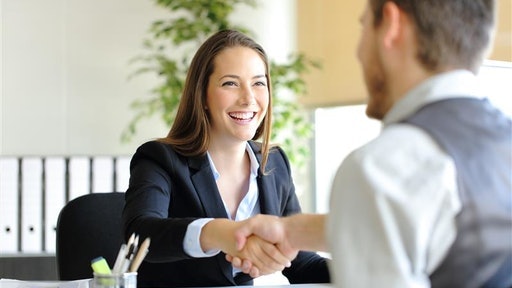 Antonioguillem___Adobe_Stock___Shaking_hands.6064e3e5bba8e
Logistics is still a male-dominated industry, but it's less so now than it was in 2020, according to a survey conducted by Gartner, Inc. and AWESOME. The survey found that between 2020-2021, women's overall representation in the industry ticked up from 39-41%. However, the same survey found that women only fill 15% of executive roles in the industry.
As part of that 15%, women's opportunities in the logistics space continue to grow, including their prospects for taking on a greater share of senior leadership roles. The supply chain industry is changing for the better, and that's great news for all stakeholders, including the women working in the industry now, the logistics companies we work for and the customers we serve. As forward-thinking logistics companies continue to invest in women, women's leadership will transform the industry.
How women are improving the industry
Study after study confirms the benefits of having a diverse workforce, including gender diversity. A breadth of experience and perspectives is better for the bottom line. It also makes sense from a societal-success perspective: If opportunities are distributed equitably and approximately one-half of the total population reaches its professional potential, overall productivity will rise.
The industry is already seeing the positive effects in real time as women take on more leadership roles in the supply chain. With data and technology playing a greater role in logistics, new career paths are opening up for women, and they're bringing their unique perspectives to the job.
Whether contributing a new point of view about an internal initiative, sharing their ideas about a product or service launch or voicing a previously unconsidered perspective on a business decision, women are making an impact. When you serve a diverse customer base, decisions that consider a variety of viewpoints will almost always lead to a better customer experience.
Women in leadership roles are also making in the logistics industry. These women leaders have spoken up to represent the workforce more broadly in moments that matter. They've helped their teams and organizations make better decisions, creating a profound impact on communication and business results.
Women leaders in logistics companies are also inspirational. These women make any company more competitive by nurturing the next generation of leaders (male or female), and making the business a more welcoming place by demonstrating that multiple career paths are possible.
How logistics companies can increase gender diversity
If you are in a position to help women develop professionally in the logistics space, now is a great time to step up. One way you can take positive action is to engage and leverage employee resource groups at your company. These influential groups can help build a workforce that is more diverse and a better reflection of the surrounding community.
Employee resource groups can also help you identify colleges, interest organizations and non-profits that can partner to build brand awareness and attract diverse talent. That can help you bring more women into the hiring pipeline.
If you want to help the women already on staff at your company build professional networks and find support, recommend they check out organizations that serve women in logistics, such as AWESOME and Women in Trucking. There they will find a welcoming community and extensive resources to leverage as your business builds up its own community of women.
Another positive step to achieve greater gender parity is to invest in women, whether by giving your time or making more resources available. There's a difference between saying your goal is an inclusive workforce and taking steps to actually build an inclusive workforce. Employees can sense if the commitment is genuine right away.
Let the women who are part of your workforce now know you're serious about their potential by sponsoring mentorship programs, holding internal networking events and making employee resource groups available. Have conversations with women about possible career paths and give them opportunities to develop professionally and obtain industry certifications.
We won't reach gender parity in the logistics industry this year or next year, but we are making progress. Giving women a fair shot at leadership roles is not only good for their careers, but it's good for your business and for customers.
The logistics industry is changing — becoming more data-driven, more efficient and more focused on the customer experience. Women are helping to drive that change, and women in leadership roles will help transform the industry over the long haul.