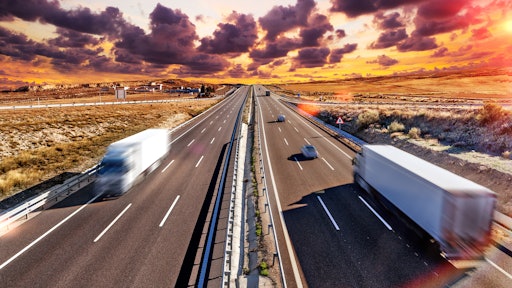 carloscastilla - stock.adobe.com
Long before smartphones' ubiquitous influence in our daily lives, Nokia launched the first iteration of the smart device – the Nokia 9000 Communicator in 1996. It was the first time a flip phone offered a keyboard and screen – innovative for its time – and allowed users to send email and browse the Internet. Of course, this was long before responsive websites, mobile apps and touchscreen technology were available, but it paved the way for companies to eventually create and reshape the entire smartphone industry a decade later.
Similarly, the trucking industry finds itself in the early stages of its digital transformation, but unlike Nokia, the technology already exists for trucking companies to make the leap. This is a critical time for the trucking sector to do so. Truck freight between the United States and Mexico/Canada was down 49% in May compared to 2019. Hundreds of companies have shuttered their doors or consolidated, and a weakened economy due to the Coronavirus disease (COVID-19) are causing a Darwinian shift within the transportation sector.
However, it's not all doom and gloom for the trucking industry. There is plenty of opportunity to improve workforce safety, create efficiencies in the supply chain with contactless payments and automation and inevitably create room for the future of trucking with emerging technology.
Trucking's transformation to technology
The safety of the trucking industry's workforce is now paramount and has thus carved out a new market for trucking-as-a-service (TaaS) revenue model. TaaS refers to the digitization of trucking services and solutions, which will create $79.42 billion by 2025 according to Frost and Sullivan. This shift is attracting investments and pushing OEMs to this TaaS revenue model to meet new, urgent demands brought on by COVID-19. Not only will TaaS produce new efficiencies for the trucking supply chain, but it has the potential for revamping trucking as a technology industry. Furthermore, this updated iteration of the transportation industry will create new jobs that will require a fresh set of skills from a techy-savvy and digital workforce.
Fleets have accelerated their adoption of more sophisticated technologies to bring transparency and insights to their fleet operations while dramatically improving fleet efficiency. Seemingly simple things like reducing "deadhead" miles, ensuring drivers are making the most economical fuel stops and reducing equipment downtime become increasingly complex for larger fleets. These are all things that technology can help improve. New digital brokers and new "freight tech" companies have now come to the forefront with both positive and negative consequences for the industry. Most importantly, these companies have encouraged the industry to adopt cost saving technology and embrace new business models.
Out with the old and in with the new
The FinTech industry is an excellent example of what happens when you combine the old with the new. Merger and acquisition activity is in a frenzy this year with high-profile acquisitions taking place. Well-established financial firms and institutions (the old) resisted FinTech (the new) for years, much like the trucking sector has resisted modernizing its payments structure. That is, until now.
In of the aftermath of COVID-19, contactless mobile payments have become the norm and expected from consumers, including among employees in the trucking sector. While the industry is notoriously risk-averse and highly regulated, employers have a moral responsibility to protect employees and provide them the best tools possible to lower their risk of COVID-19 infection. Consequently, there has been a ground swell of demand for contactless and virtual payments since March. This year has seen continued adoption and higher use of digital payments on platforms such as peer-to-peer and mobile app contactless payments at point-of-sale systems.
The digital payments industry has invested millions in the last decade to provide enhancements like real-time data, dashboard analytics and instant payments to the trucking industry. It has eliminated the manual process of payments, improved security and offered detailed reporting and anti-fraud measures to the entire supply chain. This is great news for the over-the-road (OTR) trucking segment, which has a historical "payment-first" philosophy regarding payments.
Under the "old" approach, lumpers, carriers and drivers require partial, in-route or up-front payment before fulfilling their specific order or duty. This keeps key players in the supply chain moving, but when the majority of OTR firms are still using a paper check system, the process is slow and problematic during a pandemic. In the current environment, the dangers of exchanging paper checks or waiting for payment means the key players in trucking are at far greater risk of not getting paid on time and losing money.
The new reality of trucking is bright
As the trucking industry moves forward in its technological evolution, new emerging technology like autonomous or electric-powered trucking may very well become a part of the future. Self-driving trucks have a lot of challenges to overcome, specifically around insurance, liability and regulation. We are still a long way from seeing a 40-ton truck drive itself safely on U.S. highways, but if we are to learn anything from the smartphone industry, it's this—better to be prepared and outlandish than to resist change and lose market share.
The trucking industry will likely embrace electric vehicles first, a trend that is slowly moving into the mainstream. We have already started to see momentum behind this trend as fleets explore the potential of these new models to drive significant savings to the fleet. Adopting this technology could help trucking companies become more competitive with lower or diminished fuel costs, which can vary state-to-state and is unpredictable even in the best economic environment. It would also help decrease vehicle emissions that some states have prioritized in an effort to reduce global warming. Finally, electric freight can increase profitability overall thanks to the return on competitive cost structures.
It could be years before these vehicles make their way to long-haul trucking at scale (limited largely by infrastructure and manufacturing capacity). In addition, higher upfront costs and regulatory structure required to make these safe and affordable enough for trucking companies to adopt is still in its infancy. However, the technology and demand for these futuristic models is there, making other digital investments a smart investment to make now.
There are plenty of positive changes and developments taking place that will carry over into the transportation sector and its supply chain. The road ahead is a bit unclear, but the growth outlook is bright for the trucking sector.