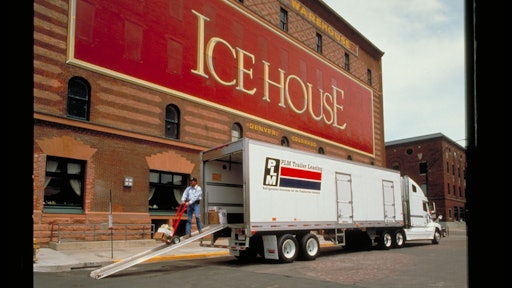 STATUS REPORT: TRANSPORTION
TRAILER LEASING UPDATE
With transportation costs mounting, today's grocery and foodservice distributors are more likely to lease dry and refrigerated trailers than they were in the past, However, cost reduction is only the tip of the iceburg in terms of leasing benefits, according to experts.
"Fuel consumption is driving the trend," says Don Durm, director of agency development, PLM Trailer Leasing Inc., Dallas. But conserving capital, reducing in-house maintenance and flexibility are also advantages that make leasing a sound business choice—for both small and large fleets.
Companies are looking at leasing as an alternative way of financing what they're currently doing." Tom James, president and CEO of Truck Renting and Leasing Association (TRALA), Alexandria, VA, adds: "In general, they're only in the transportation business to move their products."
According to Dave Gilliland, vice president of branch operations, Great Dane Trailers, Chicago, "A large number of the foodservice trailers are bought through the leasing companies and they lease them the tractors and trailers, and handle all of the maintenance and that way the foodservice companies can concentrate on their business."
Many experts agree this trend is driven by other financial reasons. "The trend is driven by a need to retain capital and improve cash flow," says Adriano Melluzzo, group director of industry sales, food and beverage of Ryder System Inc., Miami. Along with the need to retain capital, Melluzzo believes the Food Safety Modernization Act (FSMA) , which is putting pressure on food companies to ensure the integrity of their product, is also a contributing factor for the current trend.
"Grocery and foodservice companies in general are more likely to lease trailers today, especially if it comes with some type of service attached to it," says Chris Maccio, director of sales, PacLease, Bellevue, WA.
"In today's economy and today's world leasing just makes better sense," says PLM's Durm.
Benefits Of Leasing
So how do you know if leasing a trailer is right for your company? Start by deciding how much time and expense you want to invest in your fleet."You have less concerns about down time and you can focus more on your core business," says PacLease's Maccio. "From a financial perspective, you can structure leases so that they're off balance sheets." Experts agree it is an advantage to be able to change the way leases are viewed on balance sheets.
1.Reduces risk: "One thing that leasing does for you is that it drives out risk; it's risk mitigation," explains PLM's Durm. "It's a lot more flexible than ownership."
James of TRALA adds that leasing is a way to ensure your costs are fixed. "There's typically no down payment with a lease," says Maccio, "so that you can conserve your capital for growth and other things that help you focus more specifically on your own business. If your core business is produce or groceries in general, or foodservice, then you should consider outsourcing the asset management to a professional organization that focuses on that."
Melluzzo adds: "When you lease, no working capital is required to support your fleet. You avoid bank covenants, and you avoid taking on the residual risk that comes with owning a vehicle." Additionally Durm mentions when your lease is up, you have the option to walk away from your lease. "You don't have an asset at that point," says Durm.
2. Help with maintenance: Maintaining your own trailer fleet can prove to be not only costly, but time consuming and difficult as well. Leasing a dry or refrigerated trailer, can help alleviate this. "All of our lease programs are full-service turnkey programs that include services such as: maintenance, roadside assistance, and licensing, permitting, and fuel tax reporting," states Ryder's Melluzzo.
"A company, such as Ryder, has a vast network of more than 800 maintenance facilities in North America, which provide strong maintenance capabilities to service leased vehicles," continues Melluzzo.
3.Convenient: Alongside with the maintenance benefit, there is also a convenience benefit as well. "[Through PLM] you get mobile services all the time," says PLM's Durm. "We can do all of the basic preventative maintenance right there at your facility and that drives out cost."
Leasing Vs. Owning
Some food companies may not fully distinguish if leasing their fleet is the right decision for their business. "A Ryder food industry specialist can offer a lease vs. ownership analysis," says Melluzzo. Doing a lease vs. ownership analysis will help determine the best solution for your company, he adds.
Analyzing leases: "We at PacLease sit down with a customer and analyze what are the true costs of the vehicle [and] what are the true costs of leasing a vehicle, and then comparing them side-by-side to see if it makes financial, operational, and good sense from a customer service perspective," states PacLease's Maccio.
Evaluating longevity: Understanding a trailers' average lifespan will also help you decide whether or not leasing is right for your company. "With really good maintenance and preventative maintenance practices, you can see trailers last anywhere from 10 to 15 years and it depends an awful lot on the application if it's a very difficult application in a [harsh] environment," says Maccio.
There are many determining factors such as the cargo, how it is being loaded and off loaded, annual mileage driven, annual refrigerated hours, and whether the trailer is equipped with a railgate," says Ryder's Melluzzo
"On average, a lifespan of a refrigerated trailer is eight years and 10 years for a dry van depending on the quality of maintenance through its life," Melluzzo continues.
"The trailer insulation degradation within the first five years can be as much as 40 percent," says PLM's Durm. "So that means the refrigeration trailer has to run longer to chill down the product—at some point it loses its capacity to do that and then you start to have product integrity issues."
"A number of companies today will lease their tractors but not their trailers, which is a little bit backwards," states Durm. "The most highly depreciable piece of equipment they have is that refrigerated trailer." Durm also mentions that unlike the tractor, a refrigerated trailer never gets a break.
No credit strain: When considering a dry/refrigerated trailer lease, one may wonder what this may do to the leasers' credit. "Typically a lease is structured in line with a company's financial strategy and financial goals, so depending on how the lease is structured, it can take the strain off of a customer's credit or balance sheet because it's a footnote still," explains PacLease's Maccio.
"Ryder offers an off balance sheet fair market value lease that improves financial ratios such as return on assets (ROA) and return on investment (ROI)," says Melluzzo. "These improvements serve to bolster the customer's overall credit."
Better gas mileage: With the ongoing increase in gas prices, there is a noticeable difference the when utilizing newer equipment vs. older equipment. "A brand new refrigeration unit uses approximately 0.7 gallons per runtime hour; an older unit will run about 1.2 to 1.4 gallons per runtime hour, and that's a huge-huge difference," says PLM's Durm.."
"All of the monitoring and technology that has gone into refrigerated equipment has improved fuel economy as well as the power," states Maccio.
Trailer temperature controls: As new refrigerated trailers become more advanced, it also becomes easier to maintain the temperatures of your fleet. PLM offers a service called Cold-Link. "Cold-Link does a number of things for our customers," says Durm. "You can take a look at not only where the trailer's at in the delivery route, but you could also take a look at the temperature." Cold-Link is also able to notify you via computer or smart phone if the temperatures change.
Ryder similarly offers this type of service to their customers as well. "Ryder offers this program through a third party partner PAR Technology," says Melluzzo. "A large portion of Ryder's rental trailers are equipped with this service."
Focus on customer needs: Searching for the right kind of lease program is essential in order to take advantage of the best program possible. PLM offers customizable leasing programs to fully assist in the customers' needs. "PLM is willing to tailor any of our programs to a customer's specific need, so we're not locked into the what's-on-the-shelf type of leasing program," comments PLM's Durm. "What we do is we listen to the customer, and they tell us what their needs are and the business challenges and we tailor make a leasing program to it that need."
Leasing your dry and refrigerated trailers are not only cost effective for your company, but are convenient and customizable to fit your needs. "You get back to what you do best, which is deliver the food product within the compliance of your contract. You're not in the trucking business anymore, because we're taking care of that end of the business for you," concludes Durm.
[SideBar]
Is Leasing For You? Four Questions To Ask
Depending on company size, accounting requirements, tax benefits, residual risk, balance sheet treatment and other factors, services can be tailored to support a variety of financial needs, according to Ryder System Inc., Orlando. Many companies still believe that owning and operating their own private fleet is cost and time-effective. But that can deplete working capital and leave your company with residual risk at the time of sale.
On the other hand, leasing doesn't require a large capital investment that could be used for other business activities.You also have to consider how outsourcing will impact your customer service and satisfaction, says Ryder. Your answers to these questions can help you make informed business decisions today to enhance your operations tomorrow:
Can you afford the time and resources required to properly manage and control fleet costs?
Are you up to date on new engine and transportation technologies?
Do you manage your maintenance costs as a predictable monthly expense?
Are you using capital for vehicles that could be better invested elsewhere?
Companies in this article