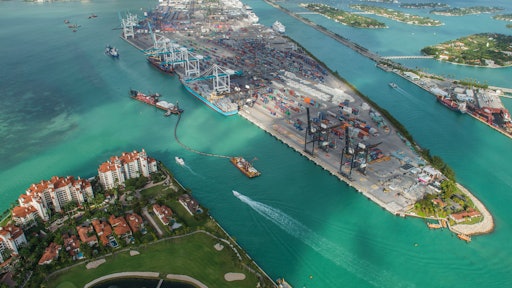 Despite the recent news from Panama about leaky locks and cargo ships being backed up on both sides of the Panama Canal for up to 11 days waiting to go through while they make repairs, it's hard to temper the anticipation of the expanded Panama Canal in Florida.
After all, Florida is home to four of the country's 10 fastest growing ports, and when the Post-Panamax ships start crossing the expanded canal sometime in the spring of 2016, those numbers are only going to rise.
According to Miami, Fla.-based import/export trade data provider Datamyne, perishables coming from Latin America and South America are already coming into Florida ports in droves. Fruit and perishables are already up 44 percent over 2014 numbers at PortMiami, and Port Everglades is the state's largest refrigerated cargo port and seventh largest in the country, which makes it the number one gateway for trade with Latin America.
Better yet, thanks to the foresight of port leaders and legislators throughout Florida, the state stands to gain a considerable share of trade with the Americas once the expanded Panama Canal opens in the spring.
USDA program puts Florida out front
Up until 2013, perishables, regardless of their destination, were required to enter Northeastern ports for cold treatment and clearance. This increased costs across the board because the cargo then had to be transported to southern states for distribution to stores.
But late in 2013, the Florida Perishables Coalition, a non-profit association developed to increase trade in perishable products through Florida's airports and seaports, kicked off a new, 6-month pilot program that allowed for the clearance of cold-treatment perishables, such as blueberries and grapes from Peru and Uruguay, through south Florida, as an alternative to Northeast ports.
The U.S. Department of Agriculture cold treatment pilot program has benefitted shippers and consumers alike, with shippers seeing lower transportation costs and a longer shelf-life for their products while southern-based consumers have enjoyed lower grocery store prices on fruits and vegetables. Additionally, there are environmental benefits from reduced emissions related to the shortened transportation of these perishables.
Late in 2014, the USDA Animal and Plant Health Inspection Service (APHIS) added new commodities to the program, including citrus fruits from Peru and blueberries, apples and pears from Argentina. The program also expanded in October when the USDA added Port Manatee and Port Tampa Bay to the cold treatment program, giving shippers multiple destinations across the state to ship their perishables.
According to Coral Gabels, Fla.-based Flagler Global Logistics CEO Chris Scott, the shorter route for perishables through south Florida ports can save customers up to $2,000 per truckload or container, as well as an intangible value of offering higher quality fruits that can last up to seven days longer.
This is important as countries in Central America and Peru plan to increase production of fruit in perishables as the Panama Canal expansion ramps up and gets closer to completion.
"Peru is planning to increase its blueberry production while also continuing to supply the U.S.' growing demand for avocados, grapes, mango and asparagus," says Nelly Yunta, vice president of logistics at Crowley, the Jacksonville, Fla.-based logistics provider. "Central America will continue to be an important supplier of fresh fruits and vegetables for the U.S. as well. So Crowley is investing in new equipment and additional sailings and will continue to provide full logistics services including ocean, customs clearance, warehousing and trucking in the region to serve the increasing trend."
Improving infrastructure on their own
One of the biggest reasons Florida is ahead of the curve in preparations for the expanded Panama Canal opening is because most of the logistics providers in the state didn't wait for the federal government to allocate funds for infrastructure improvements. Leaders and legislators realized the importance of upgrading facilities, roads and cold storage facilities right away without wading through all of the red tape and restrictions in securing federal funds.
Port Everglades increased its chances at securing more traffic from the Americas when it partnered with Jacksonville-based Florida East Coast Railway (FECR) on a brand new $72 million intermodal container facility on 43 acres near the seaport. The facility, constructed with the help of $48 million in loans from the state, not only can transfer goods across the FECR's 351-mile rail network across Florida, but also connects with Eastern railroads operated by CSX Corp. and Norfolk Southern Railway. This allows delivery as far north as Cincinnati, Ohio and as far west as Dallas, Texas to reach 70 percent of the U.S. population within four days.
Port Everglades will also begin a project to extend the turning basin to 2,400 feet and add five new cranes to the seven-crane infrastructure in late 2016 and early 2017 to accommodate the megaships coming through the expanded canal.
Flagler Global Logistics and Port Canaveral broke ground back in July on the new Titusville Logistics Center aimed at attracting new traffic to the inland port facility. The state-of-the-art 246,240-square-foot facility is set to be completed in early 2016 and offers quick and easy access to US1 and I-95 highways and is also connected to the FECR railroad network.
PortMiami stands to be the biggest benefactor in all of Florida due to all of its recent infrastructure upgrades, which include a new Miami Access Tunnel that offers a direct connection to and from the port to the airport and the Interstate I-395 highway. In September PortMiami also celebrated the completion of its deep dredge and on-dock intermodal rail project that positions the port into a major U.S. global gateway.
When leaders celebrated the completion of the deep dredge project, Gov. Rick Scott emphasized the most important part the $1 billion capital improvement.
"We did not wait on the federal government to fund this important project, we stepped up because we want Florida to be the global leader in trade," Scott stated. "The completion of the PortMiami deep dredge project is historic for all of Florida as PortMiami becomes the only major global trade hub south of Virginia capable of handling bigger, more modern post-Panamax ships."
When the expanded Panama Canal finally does open for business sometime in 2016, there's little to no doubt that the state of Florida will be in a prime position to reap the rewards and gain their share of the expanded refrigerated cargo traffic coming to and from the Americas.
Bring On The Big Ships!
Trade with Latin America and the Caribbean accounted for approximately 50 percent of PortMiami's shipping traffic in 2015, so now that over $1 billion of capital infrastructure projects are now completed, the port is no doubt ready for the post-Panamax ship era and potential increased perishables trade with the Americas.
Back in 2011, PortMiami started installing super post-Panamax gantry cranes that can service cargo vessels up to 22 containers wide and up to nine containers above deck and 11 containers below.
The recently-completed 50- to 52-foot dredge project now allows the Port to accommodate the largest container vessels sailing the oceans, including neo-Panamax vessels that can carry up to 13,000 TEUs that will be able to transit the new Panama Canal. In addition, the on-dock intermodal rail service in partnership with Florida East Coast Railway links PortMiami to 70 percent of the U.S. population in four days or less.
Plus, a recently completed fast-access tunnel connects the Port directly to the Interstate Highway System, providing rapid turnaround time for the movement of import and export goods. The tunnel provides two dedicated lanes in each direction connecting the airport and Interstate highway I-395 directly to and from PortMiami. Prior to the tunnel being built, the only way into the port was through Port Boulevard, which caused heavy truck traffic and congestion in the narrow Central Business District in downtown Miami.
"I am proud to say that PortMiami is now able to berth Post-Panamax ships; and we are able to expedite the movement of goods throughout Florida, the continental U.S., and the world, fast and efficiently," PortMiami director and CEO Juan M. Kuryla said at the celebration in September. "We are grateful to the vision of our state and local leaders for making this critical infrastructure project a reality. The completion of PortMiami's Deep Dredge and Intermodal On-dock Rail projects cannot be overstated. PortMiami is now positioned as the most reliable, convenient and efficient global hub on the North American East Coast ready to service the world's leading ocean carriers."
For More Information
Crowley, crowley.com
Datamyne, datamyne.com
Flagler Global Logistics, flaglergl.com
Florida East Coast Railway, fecwry.com
Port Canaveral, portcanaveral.com
Port Everglades, porteverglades.net
PortMiami, miamidade.gov/portmiami
USDA APHIS, aphis.usda.gov
Companies in this article