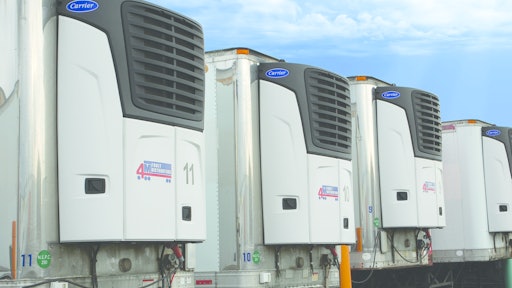 Pending changes to rules and regulations that will affect refrigerated trailers are among several key items that the industry is currently watching.
Specifically, on January 1, 2013 new Environmental Protection Agency (EPA) regulations on compliant engine solutions will come into force. This is the compliance date for the Tier IV standards, which requires that emissions of particulate matter (PM) and nitrogen oxides (NOx) be reduced by approximately 90 percent.
But, how will this impact the industry?
"Our Tier IV compliant units are going to consume significantly less fuel, operate quieter, and deliver better performance all while running cleaner than anything that we've offered before," says Dave Kiefer, director of marketing and product management of Carrier Transicold, Athens, Georgia.
Meanwhile, another trend in the transportation industry has been an increasing demand for fuel savings. Food and beverage customers have been requesting side skirts in order to decrease the drag of the trailer.
According to Adriano Melluzzo, group director of industry sales, fleet management solutions for Miami-based Ryder System Inc., side skirts can create fuel savings from between 5 to 8 percent. Utilizing electric standby units is another way food and beverage customers are looking to save on fuel.
Temperature controls and monitoring
Many truck companies provide customers with the ability to monitor the temperature inside of the trailer, resulting in better monitoring and visibility. One example of a temperature monitoring program is PLM's Cold-Link service. This allows a customer to see what's going on inside of the trailer remotely. A customer can also view historical data about the freight and ascertain more information about the shipment's condition.
Thermo Kings' OptiSet Plus is an advanced monitoring system that enables a customer to easily customize a specific temperature for their trailers. Using OptiSet Plus, customers can select either a named profile, product (e.g. strawberries), or a specific temperature, says Tom Kampf, product manager for Bloomington, Minnesota-based Thermo King.
Mayo Rude, vice president of sales and marketing for Johnson Refrigeration, Rice Lake, Wisconsin, believes that, "The cheapest form of refrigeration is good insulation and a well made body."
One way a company can decrease the amount of heat transfer is by utilizing Johnson Refrigeration's Arctic Therm Liner, which is a seamless fiberglass interior liner designed for superior insulation. This seamless liner prevents any possible gaps and as a result there is a high level of thermal efficiency.
In conjunction with good trailer insulation, interior curtains are a low-cost way to maintain and control temperature. Interior curtains, while not new to the industry, are becoming increasingly popular, in part because they are a relatively affordable investment.
2013 Regulations and CARB
January 1, 2013 marks the start of the new EPA regulations on engines. This will impact transport refrigeration unit (TRU) diesel engines, which will need to be compliant with the new emission standards.
TRU engine manufacturers will need to utilize emission control technologies, which are similar to the technologies used in standard truck engines. In addition to this new federal regulation are those from the California Air Resource Board (CARB), which introduced emission regulations that require the trucking industry to become more fuel-efficient and limit the weight of their loads.
These regulations, combined with rising diesel prices and an ongoing interest to operate more sustainably, have helped drive interest in electric standby units.
Sustainable alternatives
According to the U.S. Department of Energy, approximately 650,000 long-haul heavy-duty trucks idle during rest stops.
For its part, Shorepower Technologies (formerly Shurepower) is currently deploying Electrified Parking Spaces (EPS) across North America. Shorepower provides EPS for Truck Stop Electrification (TSE) as well as electric vehicles and plug-in hybrid electric vehicles. Shorepower TSE allows truck drivers to turn off their engines and plug into all weather electrical and communication outlets during mandatory rest periods. This reduces fuel costs, toxic exhaust emissions, maintenance costs, and noise pollution.
"The elevated cost of fuel has made companies more willing to consider these technologies despite the higher initial cost of these assets," says Ryder's Melluzzo. "Companies are seeing the cost-saving benefit of using electricity to run units in their yards and some have also qualified for government rebate programs, that promote the use of the electric standby and hybrid units."
Another sustainability advancement is Carrier Transicold's ecoFORWARD technologies for Tier IV compliance, which coordinates refrigeration with a "smarter" engine, resulting in up to 20 percent better fuel efficiency than current units.
Thermo King's evaporator blower, called the Smooth Air Blower, can lower fuel usage by approximately 7 percent while also increasing cooling capacity by about 4 percent. The Smooth Air Blower's blade profile is an airfoil design that helps improve efficiency. This evaporator blower, which is standard on Spectrum multi-temp units, is also available as an aftermarket solution.
Art Trahan, senior manager maintenance technical, national accounts, at Ryder, notes that food and beverage customers are showing an interest in alternative fuel vehicles, such as compressed natural gas (CNG) and liquid natural gas (LNG) vehicles.
"We've got more and more natural gas powered vehicles coming onboard," says Trahan. "[Customers] are asking about natural gas reefers to couple up with all electric units."
The road ahead
What should be expected in the future for refrigerated trucking? The industry experts say we're likely to see more rules and regulations geared towards promoting a cleaner environment and safer transportation of food and beverages.
"I see more and more regulatory requirements," says Don Durm, director, strategic customer solutions, Montvale, New Jersey-based PLM Trailer Leasing. "I know that traceability will continue to be a big thing and the ability to document temperatures."
Having the ability to accurately track and trace refrigerated products remains a key concern. Monitoring the temperatures and locations of refrigerated food and beverages is essential to make sure that the products are maintained and transported properly. Accurately tracking and tracing product is important to prevent possible mishaps that may occur with refrigerated trailers and to maintain the products' shelf life.
Lastly, the interest in CNG and LNG vehicles will continue to grow, especially as the fuel network and infrastructure is built out across the U.S.
Leasing Options Available
When trucking isn't a company's core profession, leasing a fleet of refrigerated vehicles is a smart way to keep up with the latest technological advances while increasing the cost-effectiveness of operating a fleet.
"In many situations a firm is better off investing capital in other areas of their business that generate a higher return instead of investing in a depreciating asset like a truck," says Olen Hunter, director of sales for PacLease, Bellevue, Washington. "Food and beverage companies aren't in the trucking business; they need a reliable partner that keeps their trucks running so they can focus on their core business."
One of the benefits that leasing has to offer is ease of maintenance. Leasing companies offer programs that can include maintenance coverage and assistance during the leasing term. This is beneficial for a company since they won't have to spend time and money training their mechanics on the ins and outs of the new fleet equipment.
"Oftentimes, a major cost savings comes from a reduction in maintenance expense because leasing companies have predictive and preventative maintenance down to a science," says Hunter.
Companies in this article