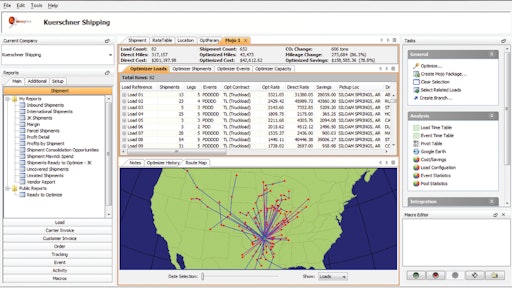 Transporting food and beverage products can pose various challenges within the supply chain, including on-time delivery, traceability, and managing fuel costs. Companies that don't fully address these challenges risk losing out on higher profits and increased customer satisfaction.
Fortunately, with the use of a robust transportation management system (TMS), these obstacles can be handled with ease and give companies greater control over their fleets at the same time.
A maturing TMS solution
TMS systems are constantly improving, including the software platform options. Currently, TMS systems are available on multiple software platforms, with the two most common being on-premise installations and hosted SaaS (Software-as-a-Service) models. According to LeanLogistics, based in Holland, Michigan, the current inclination is toward SaaS, which compared to on-premise installations, offers more benefits.
"Supply chain visibility, cost structure, flexibility, and scalability, as well as business intelligence are key benefits of a true SaaS platform," states the LeanLogistics team. A SaaS-based TMS system is also deployed much faster than a hosted installation.
Rik Schrader, senior vice president for global sales and supply chain at Plano, Texas-based Retalix, explains that one of the more recent trends in the industry is the ability for clients to completely manage their business on one TMS system.
"We see more of a focus being put on optimizing inbound and outbound operations together from a transport standpoint," he says. Combining inbound and outbound operations is an important optimization strategy.
What food/bev professionals want
Simply put, there are many advantages to implementing a TMS solution. For starters, having the ability to view your assets while your fleet is en route is highly important, especially when transporting perishable food or beverage items.
"Food and beverage companies have to monitor logistics costs closely," says Bill Pritz, vice president of transportation solutions for Atlanta, Georgia-based Logility. "Every dollar in savings goes straight to increasing bottom line profitability."
With the 2011 Food Safety Modernization Act (FSMA) in place, the ability to easily locate where your cargo is can be important from a safety and regulatory perspective.
"A lot of distributors within this market are really looking to get better at honoring traceability initiatives across the board," says Retalix's Schrader. "It seems to be a very hot topic with a lot of clients." Tracking your cargo is also beneficial in order to guarantee the products are going to the correct destination.
"Proof of delivery is (also) a hot topic," adds Schrader. If something goes awry during a fleet's trip, the ability to immediately contact a customer is essential to maintain good customer relations and possibly remedy the situation.
Logility's Pritz states that the "top priority and the leading benefit of TMS" is cost reduction. "Many companies are increasingly concerned with rising fuel prices," he says. "Advanced solutions have the ability to leverage real-time fuel prices."
What service providers offer
In order to help perfect a driver's route, Cary, North Carolina-based MercuryGate offers an optimization tool called Mojo. The solution can help a company look at all of the "what if's" in route vehicles by creating routing scenarios with specific preferences.
"You can take your historical data, (and) your external data and you could pull all of this in together and look at your operational requirements," explains Jane Sandifeer, senior solutions manager for MercuryGate. "You could layer all of that information together and look at your strategy more holistically."
Retalix Transportation Optimization (RTO) is another product designed to improve a driver's route. RTO uses sophisticated algorithms in order to produce the best route planning possible. The solution is also designed to collaborate with existing management applications, which can make it easier to use. According to Schrader, this not only helps with the ease of doing business, but also drives up "the overall profitability of the operation."
TMW Systems of Cleveland, Ohio offers Appian DirectRoute to meet the needs of route management.
"It definitely has improved our ability to plan the route, delivery time and the delivery cost," says Mike Peterson, information technology director at Kohl's Wholesale, Quincy, Illinois. "We can also get a better handle on customer satisfaction and the number of trucks in our fleet."
With the use of TMW Systems' software, Kohl's Wholesale was able to merge more deliveries on their trucks, thereby making their fleet more efficient.
Logility's real-time software, Logility Voyager Transportation Planning & Management, is also a useful tool for fleet managers. The software is constantly monitoring activity and issues alerts for any exceptions that arise.
"Logility Voyager Transportation Planning & Management is designed to improve efficiency, reduce costs, and help increase service levels," says Pritz. "This increased visibility frees the team to focus on improving relationships with customers and carriers, creating a more productive end-to-end supply chain."
LeanLogistics' On-Demand TMS software aids in planning routes and also gives a company visibility into their fleets.
According to one customer, "The scalable environment of On-Demand TMS allows us to be flexible and efficient based on changing business needs."
Meanwhile, the most recent offering from LeanLogistics is their Web-based application, LeanFleet.
"With LeanFleet, companies are able to maximize asset utilization while minimizing costs," says Matt Ahearn, president of LeanLogistics. According to LeanLogistics, this technology helps shippers handle all aspects of their fleet by providing visibility into street-level routing.
Recently, Ruan Transportation Management Systems transitioned to a new, wholly integrated TMS called RTMS2.0. The product is a customized transportation management solution that combines software from one of the leading TMS providers, other best-of-breed logistics tools, including several load planning tools and a warehouse management application, and Ruan's custom intellectual property.
"Our goal was to replace our previous TMS with a leading transportation management system that will augment Ruan's competitive advantage in our core business of dedicated contract carriage and third-party logistics," noted vice president and CIO, Ben McLean. "This change in technology will allow us to continue to focus on providing customized solutions for our customers, while providing us with industry-wide functionality updates from a preferred software vendor. We evaluated many offerings from some of the largest software companies in the world, and the software we chose ultimately provided the functionality that was best suited to our dedicated and 3PL operations."
On the horizon
Industry experts are indicating that access to cloud-based services will continue to be a hot trend in the future in order to provide further connectivity for customers.
"The requirement of having visibility and reliability with managing your transportation cycle is critical," emphasizes MercuryGate's Sandifeer.
Along with an increase in cloud-based services, experts believe there will be a move toward the use of social media to facilitate easier communications and increase reliable service.
"I imagine that through the use of mobility and then some of the social media components, it will continue to have a play not only in the personal space, but also in the business space," concludes Retalix's Schrader.
Companies in this article