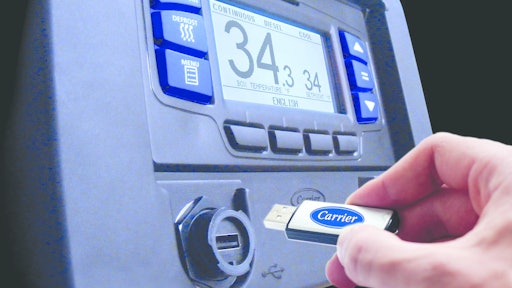 Since the California Air Resources Board (CARB) regulations, all dry-van and refrigerated trailers 53-feet and longer are expected to take an ecological initiative in order to reduce their fuel emissions. This initiative is one of the many recent trends in the trailer industry that revolve around sustainability innovations.

Hot temperature trends
There are many recent temperature trends and innovations ranging from new temperature software to improved lining. Thermo King, Bloomington MN, utilizes a control system known as an electric throttling valve, which can save customers up to 30 percent in fuel costs while reducing maintenance. This electronic throttling valve, which is new to multi-temp reefers, is known as OptiSet.

"It allows carriers to configure the temperature to meet specific customer needs, so they can customize the cargo space temperature based on what cargo they are carrying and what the specific temperature control requirements the customer has," says Doug Lenz, director of product management and marketing for Thermo King.

Thermo King also introduced temperature control units, the V-520 RT, which provides the customers with an increase of energy and cooling capacity that allows a user to manage their temperature usage.

PLM Trailer Leasing of Dallas, TX, employs a helpful web-based program called Cold Link that monitors the reefers temperatures and much more. Cold Link can remotely monitor your fleet and show historical data. "Cold Link helps our customers identify hazards, potential breakdowns or operating inefficiencies that would hurt sustainability and temperature monitoring," says Don Durm, director of agency development of PLM Trailer Leasing.

Recently in Utility trailers they installed a high impact lining made out of polypropylene, which is designed to prevent wear and tear from occurring. "The new standard high-impact lining is an excellent vapor barrier and is significantly stronger, which prevents most of the damage caused by forklift impacts," says Chuck Cole, manager of technical sales and product training at Utility Trailer Manufacturing Company, City of Industry, CA. "Preventing those cuts and tears in the lining helps keep the foam insulation dry and optimizes thermal efficiency."

Some other improvements include temperature hardware and software, which includes Carrier Transicold's APX control system. The APX control system helps to make transportation easier by gaining more control over the refrigeration system. The units' software is easy to use and has USB access for bringing information on the go. To fully make the most out of the APX control system Carrier Transicold recommends also utilizing their application software, such as IntelliSet and Range Protect.

IntelliSet helps a customer choose which product they will be hauling with an easy select-and-set option. This app also lets you customize temperatures and configurations for a specific product. Range Protect is another easy to use temperature control option. "For less sensitive loads we allow people to set one set point down low and then set another one up higher," says David Kiefer, director of marketing and product management of Carrier Transicold, Farmington, CT.

"In between the range the unit won't run because you don't need to keep the product at any particular temperature. That saves people a lot of fuel." Fuel savings are an important ongoing trend in the trailer industry.


Fuel trends
"A lot of sustainability issues revolve around reducing the fuel consumption, and lowering the greenhouse emissions to reduce that carbon footprint," says PLM's Durm. Fuel economy to the trailer industry is a very popular ongoing trend. Although there is an ongoing effort to lower greenhouse emissions, some of the newer innovations such as ultra low sulfur fuel have actually caused some issues.

"This has allowed contaminants to grow in the fuel tank," says Durm. When contaminants grow in the fuel tank, it causes the fuel systems to become clogged. In order to address this issue, Thermo King introduced a new fuel filtration system in order to help filter out both large and finer particles in the fuel system.

Another recent fuel initiative from Thermo King is the Smooth Air evaporator blower. "This allows our customers to see up to a seven percent fuel savings in their units," says Tom Kampf, product manager for Thermo King. "By running less, consuming less diesel fuel, we're emitting fewer pollutants into the environment." Another advantage of the Smoother Air Blower is that it needs 24 percent less power than the preceding evaporator blowers.

The use of compressed natural gas (CNG) is another form of a sustainable fuel trend in order to improve the emissions. CNG is very popular with the company Ryder System Inc., Miami FL.

"In the LA area we've got over 200 vehicles out there running on compressed natural gas," says Art Trahn, manager of technical support for national accounts of Ryder. "It's an alternative fuel source; we have engines that were purposely built to run on compressed natural gas."
A slowly growing trend toward electric standby units as an alternative fuel source is also being noticed among the industry experts.


Electric standby units
When companies want to reduce their costs and their carbon footprint, industry experts state that there is a slowly rising interest in electric standby units, commonly referred to as shore power.

"We think that's being driven by fuel pricing," states Olen Hunter, director of sales PACCAR Leasing (PacLease), Bellevue, WA. "The technology hasn't radically changed, but we've seen a lot more customers requesting it so the adoption rate of that type of specification has increased."

An electric standby unit is an all-electric system that can be plugged into a standard electric outlet in order to keep the idle trailer refrigerated without the use of the engine. By using an electric standby unit this lowers your fuel costs and also takes the stress off of the trucks engine. Along with remaining environmentally responsible, an electric standby unit is quieter than a diesel engine and also costs less to run.

"The operational savings could be anywhere from 40-70 percent because it's much less expensive to run that unit on electricity than it is to run that unit on diesel fuel," says Carrier Transicold's Kiefer.

There has also been an improvement of a hybrid diesel-electric unit coming into the marketplace.


Recent body updates
There have been many enhancements to the various components on the trailers. One of the recent enhancement includes tires becoming more eco-friendly that also offer less rolling resistance. There has also been a new type of tire that offers flat protection. Goodyear recently released their SmartWay-verified G392 SSD and G394 SST trailer tires that incorporate an inner lining from DuraSeal Technology. DuraSeal is a gel-like material that instantly seals punctures on the tread of the tire up to ¼-inch.

Aerodynamic trailer skirts are also a recent trailer update to help give you less resistance when driving. "We developed our own side skirts several years ago and have continued to revise and enhance the design," says Utility's Cole. "The newest skirt developed is the USS-120A model which is lighter than previous designs and is SmartWay verified as an Advanced Side Skirt design with over five percent fuel savings. The new USS-120A is constructed of recyclable fiberglass reinforced, UV protected plastic for maximum durability."


Let there be light!
LEDs (light-emitting diodes) are one of the most popular trends to watch in the trucking industry for both interior lighting and exterior lighting. Overall, LED technology surpasses the lighting that is currently used today. LEDs use much less power off of the batteries in comparison to incandescent and florescent lighting. "All exterior lights on our van trailers are now 100 percent LED including the license plate light and the mid-ship turn/clearance light," says Cole.

Along with LEDs drawing less power from the battery, they are also much more environmentally friendly and the illumination is much brighter than older lighting technologies. "It was daylight inside the truck, it was so bright!" says PacLease's Hunter. "LED lighting is also more resilient to road vibration or vibration caused by the truck sitting there with the engine on." LEDs can also work in cold and harsher environment, whereas florescent bulbs wouldn't be able to turn on properly.

Ryder is currently experimenting with motion sensor LED lights. "One of the issues that we have is drivers leaving the lights on," says Trahan. Although LED lights run on much less power, the power is still being wasted.
Companies in this article