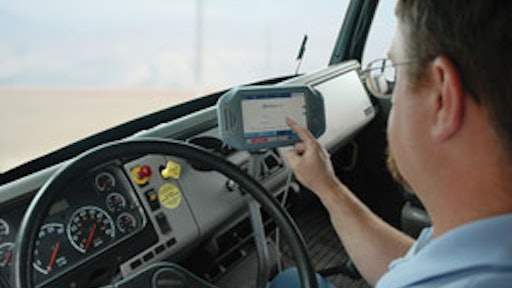 The price for a gallon of diesel fuel has reached $4 a gallon in many parts of the United States and there are few signs that this trend will reverse itself.
As a result, food and beverage distributors are becoming desperate to find ways to save on fuel. One way to accomplish this is to optimize delivery routes. Fortunately, thanks to advances in software and GPS technology, fleets of any size can take advantage of routing systems to cut down on miles traveled.
The mileage routing and mapping solutions offered by companies such as Prophesy Transportation Solutions Inc., Bloomfield, CT, allow fleets to generate the most effective routing plans possible.
"If my customer is a commercial carrier and he's going to take a load from Hartford, CT, to Los Angeles and he has 10 stops along the way, I can input those stops into the system and it will look at the different possibilities and then plot the route in the most logical way, making sure to hit all the stops in the fewest number of miles," explains William Ashburn, vice president of Prophesy.
"Companies can see a 10 to 15 percent reduction in fuel consumption, which is directly attributable to running fewer miles," says Karl Terry, product manger for Redlands, CA-based ESRI, whose ArcLogistics Route software optimizes routes.
"Today's routing systems are truck specific, they take into account traffic patterns," says Norm Ellis, vice president and general manager for Qualcomm Inc., San Diego. "If you're going from San Diego to downtown San Francisco, you probably don't want to go through downtown LA, even though that might be the shortest route. But if you're going to sit in traffic for four hours, vs. taking the 215 around Orange County and into San Francisco, you might go 30 miles further, but you might use less fuel."
One of the most effective ways of optimizing a route to save on fuel is taking the driver out of the equation, a tactic that will pay dividends for fleets of all sizes. Up until recently, fleets relied on the experience of the dispatcher, who was typically a seasoned truck driver himself before being bumped up to dispatcher. He knew the most efficient way to run routes first-hand, knew that a driver delivering seven to 10 orders should only be taking five hours and should be back at the DC by noon.
"However, the days of having employees at companies for 15 years are over. There's nobody in dispatching with that kind of experience anymore," says John Handler, president of Truck Dispatching Innovations (TDI), a local delivery consulting firm based in Chicago. TDI installs routing solutions provided by ESRI.
The upshot is nobody knows experientially how long routes should take. A route might take a driver five hours one day and seven hours the next. Enter the routing software program. It takes all the guesswork out and balances the loads for each route, so that every driver is given eight hours' worth of work.
"Of course eight hours in the South may only be five deliveries, because truckers have to drive a lot, while eight hours of work in downtown Seattle may be 20 deliveries," Handler explains, "but the software figures it out."
Monitoring Drivers
One of the obstacles to curbing a fleet's fuel consumption is out-of-route miles.
"We give drivers all this autonomy-'go run the routes, run them in the sequence you need'-but what if that sequence is five miles off the route to get lunch and back? That's 10 miles a day and if you have 10 drivers, that's 100 miles a day," explains Cindy Brandt, marketing manager for UPS Logistics in Baltimore.
She estimates that the average cost-per-mile per truck is $275. With 10 trucks it's up to $2,750. Multiply that by 261 delivery days and a company is looking at close to $750,000 per year in unnecessary fuel costs.
"What if you could put that much back to your bottom line?" Brandt asks. "Wouldn't that take care of your fuel consumption problem?"
Experts like James Stevenson, executive vice president for Appian Logistics Software Inc., explain that companies really don't know what a driver is doing from the time he leaves the route until he gets back. "There's no real back-end to see how he performed against the routing plan-the complete solution lies in not just optimizing the plan, but also in having accountability to it."
This is where companies like Peoplenet, Chaska, MN, come in. Utilizing its onboard, fleet tracking management system, companies can stay informed about how a driver is adhering to a routing plan.
"We'll actually track the location of the entire trip and send data back to a routing system like Appian's. The fleet can then run reports," says Brian McLaughlin, chief operating officer for Peoplenet. "The big thing we're able to do is tell a company that one of its trucks ran 'X' percent out of route, vs. a plan."
Optimizing Trucks
"You want to control fuel consumption however you can," says UPS' Brandt. She points out that fuel consumption can not only be lessened by running fewer miles, but also by minimizing the number of trucks a company has on the road.
Green Leaf Produce, a San Francisco client of TDI's recently had ESRI's ARCLogistics solution installed in its offices.
"The company had five trucks running to San Jose every day because all its customers wanted to be delivered to before 8 a.m.," says TDI's Handler. "Well, we were able to talk to a few customers who said they didn't really need to be delivered before 8 a.m. and, after we rerouted for Green Leaf, it was able to do the San Jose routes with only four trucks."
Thanks to the routing software, Green Leaf is now able to get 20 percent more stops done in the same eight hours and it's able to get more produce on each truck. Eliminating vehicles however, is easier when a company has a larger fleet. If a fleet consists of four trucks, one going east, one west, the others north and south, it's not so easy to eliminate trucks as it is for a fleet of 10 vehicles servicing a downtime metropolitan area.
Fuel Routing
A number of routing software programs offer fuel optimization in conjunction with routing, which allows companies to obtain the location of every fueling station in the country, along with up-to-date fuel prices.
"So if you were to take a trip from New York to LA and you had 100 gallons in the tank, but the capacity was 300 gallons, the program would figure out where the best places to stop for fuel were on the route in order to minimize cost," explains Prophesy Transportation's Ashburn.
This takes the decision of where to re-fuel away from the driver, which he usually bases on where the truck is and instead allows companies to decide where the most economical place to fuel up is.
One Size Fits All
Fortunately, fleets of any size can see some measure of fuel savings through the use of routing systems. The level of savings depends on the size of the fleet, however.
"We'll deal with a 10 truck fleet or a 5,000 truck fleet," says Peoplenet's McLaughlin. "Less than 10, however, doesn't make a lot of sense. These companies can still look at optimizing routes though. What we would do is work with a small fleet through its leasing company, perhaps offer it a telematic solution that is built into its lease."
Other than that, McLaughlin suggests fleets of that size might instead use a cell phone with a GPS system on it. "They're going to be able to get miles traveled at least."
Chris Jones, executive vice president of solutions and services for The Descartes Systems Group Inc., Waterloo, Ontario, agrees. "With something as simple as GPS tracking you can get a five percent reduction in miles run just by seeing what the drivers are doing with the routes you've created."
Several companies, including Descartes and UPS, are also offering routing solutions as Software as a Service (SaaS) models, which makes the programs easier for small companies to afford, since they are available through websites hosted by the providers themselves.
"All a company needs to have is a browser," says Descartes' Jones. "We'll send it the mobile apps and it's good to go-it can make plans, track its drivers and report its actuals in that integrated environment."
"Any size fleet, from one to 20,000 can get access to fuel optimization programs," says Qualcomm's Ellis.