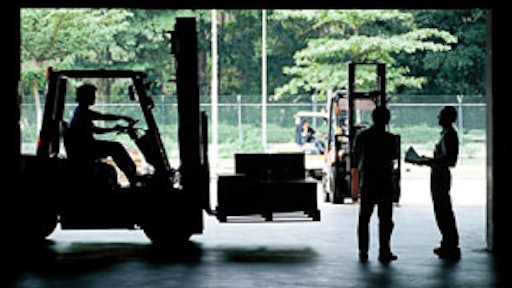 Today, third-party logistics providers fill broader and deeper roles in many supply chains than ever before, as companies continue to outsource larger portions of their distribution activities to better focus on core competencies.
It has thus become more urgent than ever for companies to do a thorough and accurate job when evaluating potential logistics providers, to make sure they identify the best partner for their specific needs.
Whether a corporation employs a highly structured, formal RFP process, or another less formal method of canvassing for and interviewing potential partners, the "courtship" has to focus on something beyond simple, cut-and-dried numbers, say executives of several highly successful 3PLs.
"You do find some companies who send out a very detailed RFP and when you try to find out more about the customer and its needs, try to set up a meeting or get them to tour your facility, they keep it strictly black and white-just fill out the form, send it in by next Thursday, we'll evaluate and get back to you," observes Carl Melville, vice president, marketing, for Total Logistic Control, Zeeland, MI. "But that's putting a commodity mentality on something you can't purchase as a commodity, because not all 3PLs are the same."
While cost is always part of the equation, in this era of integrated partnering with players outside one's four walls, companies need to dig deeper into the qualities behind the quoted numbers when deciding with whom to hitch their wagon.
What Do You Need?
Before assembling potential candidates for review, a company seeking to outsource needs to first look inward and perform a thorough and realistic assessment of its needs and goals.
"You have to ask yourself what needs do we have, what problems are we trying to solve and then, what firms have the capability to make the process better than it is today?" suggests Kerry Byrne, executive vice president of Total Quality Logistics, Cincinnati.
This may sound simple, but in the real world even seemingly basic considerations are somehow overlooked at times.
"I'm amazed sometimes at companies who come to us and say, we're going to be putting out an RFP, we need a 300,000-square foot DC, or a place to put inventory in a forward DC. And the first question I'll ask is where do you need the facility located? And sometimes the reply is, we don't know, where do you have facilities?" relates Stephen Cook, vice president, sales, for Saddle Creek Corp., Lakeland, FL. "As much as I'd like to steer them toward one of our existing locations, that's not the best way to enter into business."
Ideally, says Cook, the customer should have already completed their own network optimization study, taking into account not just the costs ssociated with a prospective DC, but also the transportation costs involved.
Cook suggests companies start their search process by creating "a matrix of their requirements.
"To begin they need to talk internally with all the people in their organization that will be affected, for example the purchasing people, supply chain management, production planners, salespeople, inventory managers and find out, from each of their perspectives as specifically as possible what they want to accomplish and what they need from the 3PL." All these factors should then go into the matrix of requirements that form the basis for the evaluation process, Cook says.
The Qualifying Round
Once a company knows what it's looking for, it can start searching out candidates who fit the bill.
In most cases, before an actual RFP goes out, customers should do some fairly extensive pre-qualification of potential targets.
"There's no reason to send out more than 10 requests for information at most, before putting out the RFP and I'm not sure in most cases most companies even need to put out that many," observes Cook. "Certainly no more than five to 10 and probably less than that if they've done enough homework up front."
Most companies, he adds, can start by going to knowledgeable resources for suggestions and recommendations, including their competitors, industry consultants and associations.
"I think if a company takes this approach to qualifying potential providers, it shouldn't perhaps even need to send out a preliminary RFI. But if it does, when it comes time to send out the actual RFP, it shouldn't go to more than three to four potential providers, who've already been qualified through the RFI or some other investigation." This more targeted approach can not only save considerable effort, but may actually result in better decisions.
"Having too much data to sort through can actually distract from the review and selection process," Cook notes.
Ray Smith, facilities and quality systems director for United Sugars Corp., Edina, MN, which deals with an extensive network of 3PL warehouses and transfer stations, says his initial round of information gathering typically involves word of mouth, such as recommendations from other 3PLs it already works with, if they don't have a location in the area. He may also visit providers' websites to glean information, or make some phone calls to potential candidates to check on a few basic requirements or request some other preliminary information from them.
"We know that our first priority is to find a food grade warehouse. We want a partner who has experience in handling, transporting and storing food, because that's going to enter into their mindset and culture," says Smith.
Secondly he screens for a few basic, necessary capabilities, "such as can they do both truck and rail and what kind of capacity they have. Are they already working at 85 percent, so that they're quite full, with just room to squeeze us in, or are they at 50 percent, with room left for us to grow with them?"
Some other qualifications that may go into the initial prescreening, according to representatives of several 3PLs, include:
Has the company done this specific kind of work before? And how much experience has it had in this sector?
Depth of management;
Financial strength;
Longevity of the management team, as well as the stability of the entire organization.
Once an initial pool of candidates has been whittled down to the true contenders-those companies with the necessary basic capabilities and other key qualities, comes the third stage, when things start to get serious.
For Smith, this means "really spending time up front with the provider, finding out what kinds of systems and processes they have in place and whether these are a good match for us."
TLC's Melville calls this step, "looking under the hood."
"You want to go in and do an inspection of some of their existing operations or capabilities, as well as check with some references."
In further narrowing down the pool, Cook adds, a prospective client might want to look at items such as what quality programs a 3PL has in place, what continuous improvement programs they have and their ISO certification.
Kerry suggests also digging into their training systems, personnel, and technology infrastructure.
"Also, what is their history of being in business? Are they really committed to this industry? Have they managed to grow their organization through different market cycles? You should also check out their industry credentials. How are they recognized by industry associations that may rank companies on performance, integrity, pay practices, etc."

Measured Success
Among the factors to look at in this closer stage are key performance indicators. What kind of measurements do they have?
"Most customers probably want a monthly report card from their 3PL, detailing how they are doing according to certain key performance indicators. A good 3PL will have that information readily available and will want to share it with potential customers," Saddle Creek's Cook comments.
For freight brokerage specifically, the arena in which TQL operates, common KPIs to be examined would include on-time performance and loss and damage claims, Byrne notes.
"Beyond just performance numbers, though, you should also use the discussion of KPIs as an occasion to ask about how they handle the exceptions. When trucks aren't on time, for example, how do they handle the situation? What's the communication like, and what's the availability of their staff to deal with the situation?
"Or on the subject of loss and damage claims, what programs do they have in place to help mitigate those risks?
"And what is their carrier scorecard? How do they qualify and evaluate the carriers they'll put on your loads?"
According to Melville, the single biggest measure a customer should look at is year-over-year continuous improvement in performance by the 3PL, "because that's something that the provider has control of."
The RFP
One good reason not to send out too many RFPs is that the proposals requested should be as detailed as possible.
For a warehousing project, for example, says Cook, "You'd want to start by talking about inventory levels, activity by item, SKU seasonality. You want to share all of that with the 3PL provider over a representative period of time, along with receipt and order characteristics, special storage requirements and any other unique requirements a customer might have
"If their customers have certain specific requirements, in terms of labeling on products, or advanced ship notices, all this needs to be conveyed to the 3PL upfront as well."
Depending on the specific situation, though, there may be some situations where an RFP can be too detailed.
"Sometimes these proposals are so nailed down, so specific, that they don't allow room for any out-of-the-box thinking," Melville comments. "You can tell me what you want done, or specifically how you want it done. The first option leaves room for innovation and creative solutions and can expose the company to a wider array of potential benefits. Ideally, you want to put together an RFP that does both, spelling out exactly what objectives you want to achieve, but encouraging the third party to use some creativity and perhaps bring some new ideas to the table.
A Meeting Of The Minds
Once the RFPs have been collected and analyzed, possibly after some further back and forth to clarify points on either side, the potential client should ideally be ready to narrow its choices down to the two strongest contenders, says Cook.
"At this point it's time to really start to work diligently with the finalists, in terms of face-to-face meetings.
"I don't care how well structured an RFP is and how much information the third party sends back. You just don't get the same kind of content and substance through written presentations as you can gather through face-to-face meetings, where there's an opportunity for real dialog back and forth, in terms of questions and answers," Cook emphasizes.
This is the opportunity, Cook and others stress, to experience first-hand each other's corporate cultures, to make sure there's a good fit between organizations."
"It's really important also to get to know the individuals who will be directly involved in your account and the team members that will be involved in running the operation, to make sure it's a proper fit," Byrne adds.
Such meetings and visits to each other's facilities can help the 3PL better understand the potential customer's needs, he points out, by giving them a fuller understanding of the client's business.
At this phase in the process, it's also desirable to bring together in some fashion the various counterparts at each organization, down through the hierarchies and in the specific departments, who will be working together if the partnership is formed, whether face to face or through other means.
Because it's cost-prohibitive to fly a whole team around, Smith notes, he generally visits short-list candidates himself, then sets up and facilitates conference calls between the appropriate staff members at the 3PLs and members of the United Sugars organization, such as customer service, inventory, transportation, warehouse and information systems, so together they can all discuss any questions or issues.
Another aspect of the late-stage qualification process should be a discussion of start-up planning.
"When you're having these face-to-face meetings to discuss the details of a potential arrangement, it's important that the 3PL bring to the table a well-thought-out implementation plan. Don't just let them sell you on a concept. Make them come in with a detailed plan as to how they will handle the transition or start-up, as well as what resources they will make available. You need to take into account the start-up process as a separate element from the ongoing implementation," Cook points out.
Major Private Fleets Considering Dedicated Contact Carriage: Study
Creating or maintaining relationships with dedicated contract carriage (DCC) providers in today's highly uncertain business environment is a high priority for virtually all heavy private fleet operators, according to a study conducted for SB Hirsch Inc., Newport Beach, CA.
In the study, two-thirds of the group of participating executive-level decision makers, controlling more than $2.7 billion in transportation spend in the food processing, retail/wholesale and manufacturing sectors, discussed a willingness to consider converting a portion of their private fleet to DCC providers.
Leading the list of considerations that contribute to expanding interest in DCC among users of private fleets is better management of liability exposure for the shipper, outsourcing of non-core business processes and flexible shipping solutions.
While driving down costs and/or increasing backhaul gain sharing continue to be key reasons to use DCCs, companies are looking to team with carriers that will make them more competitive in their respective markets and provide capacity as overall driver and equipment availability declines later this year.
These emerging, collaborative relationships require DCCs to build their services around client needs, rather than forcing shippers to using a "one size fits all" approach that generates criticism toward some asset-based DCCs.
"We learned that DCC shippers have historically placed a high value on operating private fleets, but are identifying with advantages provided by DCCs that can supply the necessary level of flexibility," says Bennett Hirsch, president of SB Hirsch.
"Even those shippers that have large private fleet operations are testing some routes with outsourced DCC solutions. From our discussions, unyielding attachment to any single model appears to be disappearing, presuming requisite expectations of maintaining high levels of service and safe delivery of freight are met."
Participants in the study conveyed a clear picture of what private fleet users believe constitutes a successful DCC alternative to private fleets. Carrier flexibility, commitment to high levels of service, low damage rates and cost effective services lead the list. Several respondents pointed out dissatisfaction in working with DCCs that required the client company to fit into their business model, not the other way around.
The industry executives surveyed articulated how DCCs utilizing owner-operators are often able to provide greater flexibility, while at the same time maintaining comparable levels of service and corporate identity standards as compared to asset-based DCCs.
Of equal importance is confidence in the DCC carrier's management, conducting quarterly or semi-annual business reviews involving the carrier and customer, carrier support for customer-directed changes and also continuous improvement through such practices as enhanced routing and increased backhaul, in addition to other cost savings achieved through broader transportation management.
According to Hirsch, these customers indicate that a substantial percentage of current private fleet shipping volume is in a position to migrate to DCC operators within the next three years. However, even in settings where no plans exist to increase utilization of outside fleet capabilities, virtually all participants want to maintain an open dialog with DCCs.
Through these ongoing conversations, shippers want to benchmark and learn from the experience of others, as well as to continue to assess whether DCC performance is superior to private fleet operations. Shippers have indictated that they also want to be prepared in the event corporate management should make a strategic decision that impacts shipping activities.
Taking Measure Of Your 3PL
On-Line Exclusive
Keeping a handle on supply chain operations is a formidable challenge-even when there's just one set of primary players. But how do you make sure the left hand knows what the right one is doing when one of those hands is attached to a 3PL's facility instead of an in-house operation? John Hurst, vice president of warehouse management services for APL Logistics in the Americas, offers five tips to help food companies get the most out of their ongoing relationships with 3PL providers.
Go to www.foodlogistics.com to read the story.