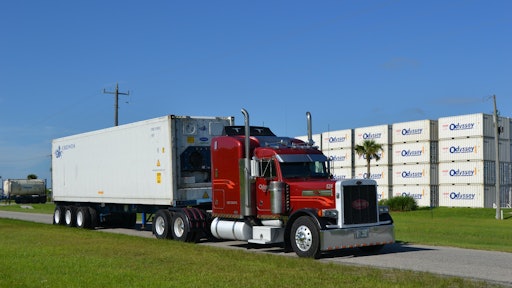 Odyssey Logistics & Technology Corporation
Odyssey Logistics & Technology Corporation opened the doors to a new operation in Laredo, Texas, enabling the company to provide logistics services in one of the main truck crossing points between the United States and Mexico.
The Laredo site will serve as a bonded container freight station, a hub for customs transactions and a warehouse to hold goods not yet cleared on the U.S. side.
"The expansion into Laredo powers up our logistics services to run door-to-door supply chain from Mexico into the U.S. with seamless control and transfer," says Bob Shellman, president and CEO, Odyssey. "Shippers of goods crossing the Southern border will now see our presence and can use our logistics services to grow their imported goods businesses."
"In Laredo, we have established a scalable operation that can adapt to our needs as we grow in the region," says Jason Totah, president of Odyssey International Services, Inc. "It's important that we meet the ever-changing needs of our customer base and expanding our physical presence is key. We're eager to continue providing Odyssey customers with a wide array of services crossing the border in order to support their businesses."
From Odyssey Logistics & Technology Corporation
Odyssey intends to leverage its regional knowledge and expertise at the new Laredo facility, offering North and Southbound freight forwarding, cross docking, bonded container freight station and customs brokerage services.

The site is located near Laredo International Airport, Highway 59 and the Loop 20.