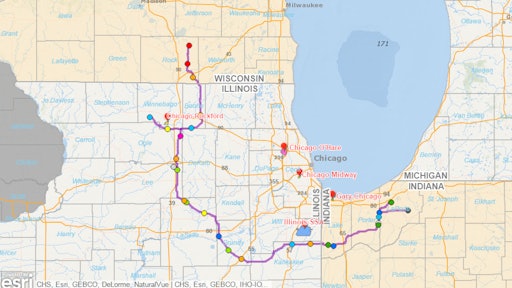 An official with Great Lakes Basin Transportation said the portion of a proposed, three-state freight train route from Southern Wisconsin to Northern Indiana could see 56 to 85 trains a day once the line is fully up and running.
The information comes in a response to a request for more information from the Federal Surface Transportation board about GLBT's plans for a freight train line from southern Wisconsin into LaPorte County.
The response also details maximum train speeds for the line, depending on what the trains are carrying, among other factors. The maximum speeds are 70 mph for intermodal; 50 mph for coal and grain; 45 mph for oil; and 55 mph for general carloads.
"You have to understand that what you're looking at is a guesstimate of what's going on," said Mike Blaszak, an attorney with GLBT. "It's intended to reflect our best estimate of traffic between connecting points."
The response is dated Thursday, the day it was due, and was filed by Jim Wilson, GLBT's president and CEO; it went up on the STB's website for the proposal Monday afternoon.
In September, the STB, which will determine whether the proposal moves forward as proposed, on an alternate route, or not at all, requested more information on the average number of trains per day, the anticipated average operating speed for trains, and the anticipated average train length.
"The volume of traffic that would be carried on the proposed line, and thus GLBT's forecast of that volume, depends on many factors," including economic activity when the line is completed, the type and volume of train traffic going through Chicago, and GLBT's business plans, Wilson said in the filing.
Wilson and Frank Patton, GLBT's founder and managing partner, are proposing the freight train line as a bypass for Chicago's congested rail yards and have said the $8 billion project would be privately funded.
To read more, click here.