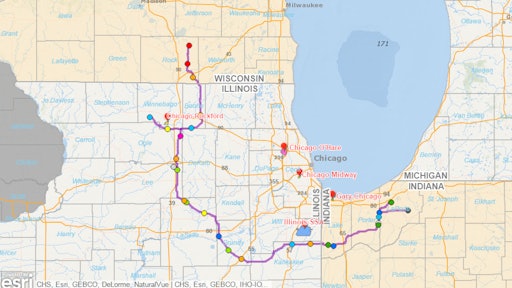 The Surface Transportation Board, ,federal agency charged with regulating railroads, has told Great Lakes Basin Transportation that it needs to detail alternatives to its preferred alignment for a proposed freight railroad around Chicago, according to The Northwest Indiana Times.
The Surface Transportation Board's Office of Environmental Analysis instructed the company in a July 5 letter to submit alternative alignments — or explain why there aren't any — along its 278-mile route from LaPorte to Milton, Wis.
"We are proceeding to respond to the board's inquiries," railroad counsel Michael Blaszak said.
The Great Lakes Basin Rail Line would serve as a bypass around Chicago, where congestion can cause a freight-rail trip through the city to take as long as 30 hours, according to the company.
The letter, signed by agency Director Victoria Rutson, said that more than 3,500 comments have been submitted regarding the proposed project since scoping meetings were held this spring.
Many of the comments suggest alternative alignments, according to Rutson's letter.
"The alternatives include using underutilized rail routes and existing transportation corridors that, in the commenters' view, could minimize impacts to farms, homes, and businesses that would result from construction of the GLBT's proposed route," Rutson wrote.
To read more, click here.