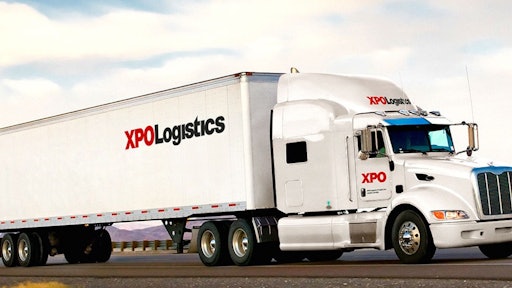 XPO Logistics Inc. announced yesterday that they have sold its truckload shipping business to TransForce Inc. for $558 million.
Greenwich, Conn.-based XPO, which took the business unit on as part of its $3 billion acquisition of Con-way Inc. last year, said proceeds of the sale will be used toward paying down $5.1 billion of outstanding debt used to make over a dozen acquisitions since 2011.
"Even though it's a good business, it's only the 19th largest trucking company in the U.S. We're No. 1, or close to No. 1, in all of our major businesses," XPO Chief Executive Bradley Jacobs said at the announcement. "We're going to concentrate on growing our value to customers where we're industry leaders."
The deal transfers about 3,000 tractors, 7,500 trailers and 29 locations to TransForce, which is Canada's largest trucking company and has expressed interest in expanding its U.S. truckload business.
XPO said it will retain Con-way's core less-than-truckload business as part of its broad portfolio of logistics businesses. XPO still aims to be a "one-stop shop" for shippers, but will focus on market segments where the company has a significant lead on competitors, according to Jacobs.
To read more, click here.