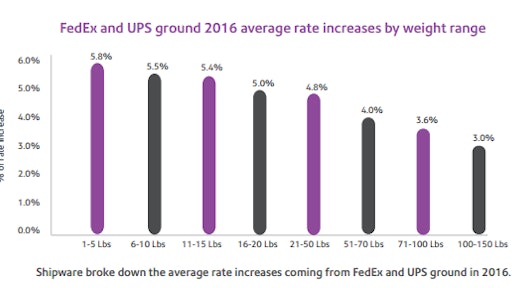 Despite falling fuel prices, shipping costs are increasing. In today's market, shippers have to weigh costs across among carriers with different services, benefits and drawbacks, according to a white paper titled, "The Carrier Landscape Is Changing" by Pitney Bowes.
Shippers that choose to go with the new savings USPS can help them achieve will need to manage the IMpb label process.
Shippers used to go with the carrier that gave them the best volume discount. This simply isn't the most effective approach anymore.
To download the paper, click here.
Editors Insight: One would think that falling fuel prices would be good news for shippers, but such is not the case. UPS announced a rate increase in December and FedEx followed suit in January. The U.S. postal service announced an increase in commercial shipping prices.
Another news story in today's newsletter notes that shipping activity has fallen to a two-year low as retailers hold back on replenishing inventory.
Planning deliveries requires a deep understanding of the numerous factors affecting the shipping market. This report provides insight on the factors transportation managers have to consider. It also points to the importance of the most robust transportation optimization engines and vehicle communications software. 2-12-16 By Elliot Maras