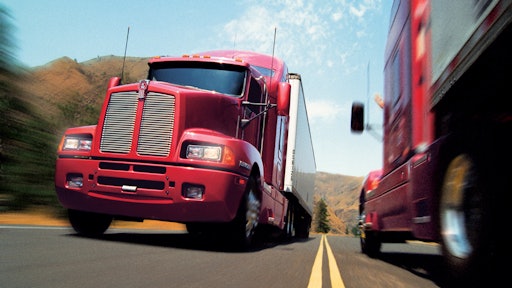 Radiant Logistics, Inc. has agreed to acquire Wheels Group, Inc., one of the largest non-asset based third party logistics providers based in Canada. Pursuant to an arrangement agreement and court administered plan of arrangement governed by Canadian law, Radiant, through its newly formed wholly-owned subsidiary Radiant Global Logistics ULC, has agreed to acquire all of the outstanding common shares of Wheels. The combined company will continue to trade on the NYSE MKT under the symbol "RLGT."
Under the arrangement, Radiant has agreed to purchase Wheels for CAD $0.77 per common share, payable either in cash or by delivery of Radiant shares valued at $4.25 per share, for a total equity value of approximately CAD $69 million. With historic Wheels debt expected to be refinanced, the transaction is expected to have an estimated total enterprise value of CAD $95 million.
The transaction is expected to close early in the second calendar quarter of 2015, subject to regulatory clearance, court approval of the arrangement, Wheels shareholder approval and other customary conditions. Wheels' board of directors unanimously approved the transaction.
Wheels, founded in 1988, provides intermodal and truck brokerage services throughout the U.S. and Canada along with third party logistics solutions and value added warehouse and distribution service offerings in support of U.S. shippers looking to access the Canadian markets. Wheels' Canadian operations are headquartered Toronto, Ontario, while its U.S. operations are headquartered in Chicago, Ill. For the trailing 12 months ended Sept. 30, 2014, Wheels generated total revenue of CAD $368 million, consisting of CAD $185 million in revenues attributed to its U.S. operations and CAD $187 million in revenues attributed to its Canadian operations, including CAD $4.0 million of intercompany transactions that will eliminate in consolidation.
For the purposes of determining the consideration payable to holders of common shares of Wheels, each Radiant Share will be valued at USD $4.25 and each common share of Wheels will entitle the holder thereof to elect to receive either CAD $0.77 in cash or 0.151384 of a Radiant Share. If the holders of common shares of Wheels elect to receive, in aggregate, greater than 6,900,000 Radiant shares, the number of Radiant shares will be prorated among the Wheels shareholders electing to receive Radiant Shares and the balance of the consideration will be paid in cash.
The consideration payable under the arrangement represents a 27.6 percent premium to the 20-day volume weighted average price of the common shares of Wheels on the TSX Venture Exchange as of Jan. 19, 2015 and a 35.1 percent premium to the closing price of Wheels' common shares on the TSXV, immediately prior to the announcement of the transaction.
In connection with financing the arrangement, Radiant has obtained commitments from Bank of America for a new $65.0 million senior secured revolving cross-border credit facility (replacing Radiant's existing $30.0 million facility); a new CAD $29.0 million senior secured Canadian term loan from Integrated Private Debt Fund IV LP; and a $25.0 million subordinated secured term loan from Alcentra Capital Corp. and Triangle Capital Corp. The financing is intended to fund the Wheels transaction and to provide capital for general corporate purposes, including potential future acquisitions.
Radiant has also secured voting support and lock-up agreements from certain officers, directors and shareholders of Wheels who collectively own 69,620,288 common shares, representing approximately 77.7 percent of the outstanding common shares of Wheels. Pursuant to these agreements, subject to certain fiduciary considerations, the members of the support group have agreed to vote their Wheels common shares in favor of the arrangement and elected to receive approximately 4.5 million shares of Radiant common stock representing approximately CAD $23.0 million of the CAD $69.0 million equity value of Wheels.
The arrangement contains customary deal protection provisions, including non-solicitation, superior proposal and right-to-match provisions in favor of Radiant and the payment to Radiant of a termination fee of $3.6 million together with an additional amount on account of Radiant's costs and expenses in connection with pursuing the Arrangement (up to a maximum of $1.0 million) if the acquisition is not completed in certain specified circumstances. In certain circumstances where the arrangement is not completed, as described in the arrangement agreement, Radiant has agreed to pay Wheels' costs and expenses up to a maximum of $1.0 million.
The board of directors of Wheels, on the recommendation of the independent special committee, has approved the arrangement and recommended that the Wheels shareholders vote in favor of the arrangement at a meeting of the Wheels shareholders to be called, subject to certain standard and customary fiduciary considerations.
The value of the transaction represents an aggregate consideration of approximately 8.3 times projected EBITDA for Wheels for the fiscal year ending June 30, 2016 of CAD $11.5 million which includes approximately CAD $3.0 million in cost synergies related to contractual reduction in Founders' compensation, redundant public company costs and facilities consolidation underway in Toronto. A reconciliation of adjusted EBITDA to the most directly comparable GAAP measure appears at the end of this release.
Bohn Crain, chairman and chief executive officer of Radiant, will retain these positions and lead the combined company.
Tim Boyce, president of Wheels' U.S operations will continue as the chief operating officer of the combined organization's North American brokerage operations and Peter Jamieson, president, Wheels Canada will continue as senior vice president and country manager for Canada.
Bohn Crain, founder and CEO of Radiant, commented: "We are very excited to partner with the Wheels organization, which represents a service line and geographic expansion for both companies. We have been looking for a truck brokerage and intermodal platform to complement our forwarding operations for some time and we expect this transaction to be accretive to our earnings (as adjusted for amortization of acquired intangibles) within the near term and accelerate our growth. For our fiscal year ending June 30, 2016, our preliminary estimates for the revenues of the combined group are projected at $750 million."
Crain continued, " Historically, our organization has focused on bringing new value to the agent based forwarding community by: (1) leveraging our status as a public company to provide our partners with an opportunity to share in the value they help to create; (2) providing a robust platform in terms of buy rates, technology and a differentiated service offering to support our end customers; and (3) offering a unique opportunity in terms of succession planning and liquidity for our station owners. We believe the acquisition further enhances the value proposition we offer our existing operating partners who will now have the opportunity to access a broad range of rail and truck brokerage capabilities while further differentiating us in the marketplace as we seek to attract additional operators to our platform.
"Wheels and Radiant share a common vision and provide complimentary services which will be leveraged to expand operational capabilities and geographic reach," said Doug Tozer, chief executive officer of Wheels. "We look forward to working with Radiant to introduce intermodal and truck brokerage capabilities to customers in their network, as well as support them with opportunities here in Canada while leveraging Radiant's domestic and international freight forwarding capabilities across our own customer base."