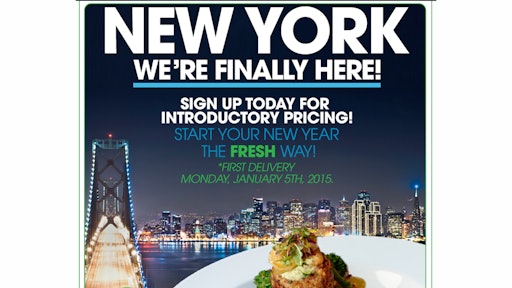 Fresh Meal Plan, LLC, a prepared meal plan company based in Florida, announced that it will initiate service in the New York metropolitan region commencing with deliveries on the night of Jan. 4, 2015. The company serves more than 3,000 customers in the South Florida and Central Florida markets. Fresh Meal Plan operates a 12,500-square-foot kitchen in Boca Raton, Fla.
Fresh Meal Plan's New York service area will begin with service to Manhattan, Brooklyn, Queens, the Bronx, Nassau and a western portion of Suffolk on Long Island, Westchester, Rockland, southern Fairfield County, Conn., and Bergen, Essex, Passaic, Hudson, Union, Middlesex and northern Monmouth Counties in New Jersey. Additional regions will be added in the spring.
Marc Elkman, CEO and co-founder of Fresh Meal Plan, said: "We are very excited to bring our program of healthy, delicious and very reasonably priced meals to the people of the New York area. The foods we consume play a large role in keeping ourselves fit and healthy. We hope to play a role in helping thousands of people in the New York area to lead healthier lives."
The company features two meals per day minimum, 5- and 6-day per week programs, one week contract period and the ability for customers to choose their meals.
Founded in 2011, Fresh Meal offers a traditional, paleo, and vegetarian menu with each meal developed and portioned to contain 500 or less calories. Meals are never frozen, canned or packaged. No additives or preservatives are used.
Fresh Meal Plan serves the South Florida market, Orlando and recently added service to Tampa/St. Petersburg.